3 Horses Dead In Just 9 Days At Racetrack! HOW MANY This Year?! WTF?!
What the eff is going on at Santa Anita Park?!
Officials at the Southern California racetrack (not pictured above) confirmed on Sunday another horse died in their care, a nine-year-old gelding named Kochees.
Kochees' leg was injured in a race on Saturday; he was taken off the course and put in his stall with a splint on his leg.
According to reports, surgeons decided there had been too much blood loss to the leg to bother attempting surgery — and the poor animal was euthanized on Sunday.
Santa Anita's director of publicity confirmed the details in early reports but insisted "every effort was made to save the animal."
Sadly this tragedy is not an isolated incident. More pertinently, it may even have been preventable!
See, Kochees is actually the third horse to die at Santa Anita Park in just nine days!
Even more horrifying, this makes 26 horse deaths just since December 26 of last year.
That's an average of more than one dead horse per week.
Those shocking statistics are not a coincidence.
Santa Anita Park was closed down for most of March (making the average number of deaths even higher) for authorities to conduct an investigation into the track's safety. They reportedly studied the racing surface and whether it was affected by the heavier than average rains in SoCal this year.
Strangely, though, they apparently found no issue with the track — and the park was reopened. All the state horse racing board did was add some safety measures, including a limit on horse medications.
Hmm…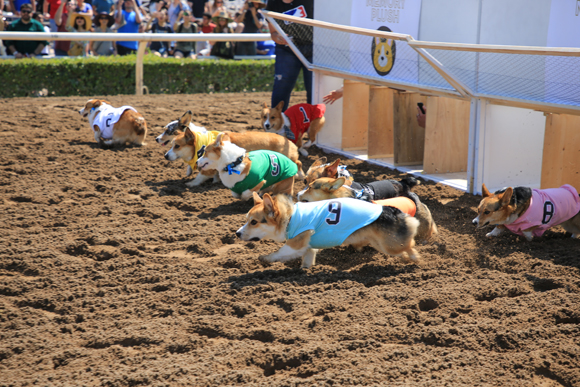 Then in April, Santa Anita officials announced even more safety measures: medication restrictions, stricter workout regulation, and the purchase of medical equipment to diagnose pre-existing conditions among the horses.
Fatalities apparently went down… for a while.
But three more deaths in the last week and a half surely imply the new regulations aren't getting the job done.
Kathy Guillermo, senior vice president of PETA, released a statement calling for the park to be closed down until stricter regulations can be put in place:
"Santa Anita and all California tracks must suspend racing until the ongoing investigation by the district attorney is complete and the new rules have been strengthened. Decreasing the number of broken bones is not enough. PETA and Social Compassion in Legislation are currently working with The Stronach Group and the California Horse Racing Board to enact new regulations and laws to stop all deaths. Nothing short of a zero-fatality rate is acceptable."
PETA isn't alone. Senator Dianne Feinstein added her voice to the calls to suspend racing at the park.
She released an official statement on Monday:
"Another horse has died at Santa Anita Race Track, the 26th in five months and the third in just nine days.
How many more horses must die before concrete steps are taken to address what is clearly an acute problem?
I once again call for an immediate moratorium on racing at Santa Anita. We need a thorough investigation of practices and conditions at the track before any more races are held."
California's senior Senator explains it's not just racing surfaces which need to be studied — but how the trainers are treating the animals:
"I believe we need to carefully review what medications horses are given and under what circumstances, as well as take a close look at the issue of overrunning horses, which may be contributing to deaths.
Tracks in the United States have significantly higher rates of death than tracks overseas. We need to determine what we're doing wrong in this country and fix it. If we can't, we need to consider whether horse racing has a future here."
DAYUM!
That's a pretty strong statement!
Do YOU think horse racing should be allowed to continue — at Santa Anita and beyond??
Source: Read Full Article