Ariana Grande Gets Fresh Ink With Jim Carrey's 'The Truman Show' Quote
Ariana Grande is sporting fresh ink!
The 7 Rings pop star revealed her latest tattoo — a quote inspired by The Truman Show starring Jim Carrey — to social media on Thursday.
Ari reposted a photo to her Instagram Story of her BFF/cousin Courtney Chipolone's fresh ink, writing:
"i got the same s**t but upside down."
"truman show"
The tat is a quote by Carrey from the dramedy that reads:
"In case I don't see ya good afternoon good evening and good night!"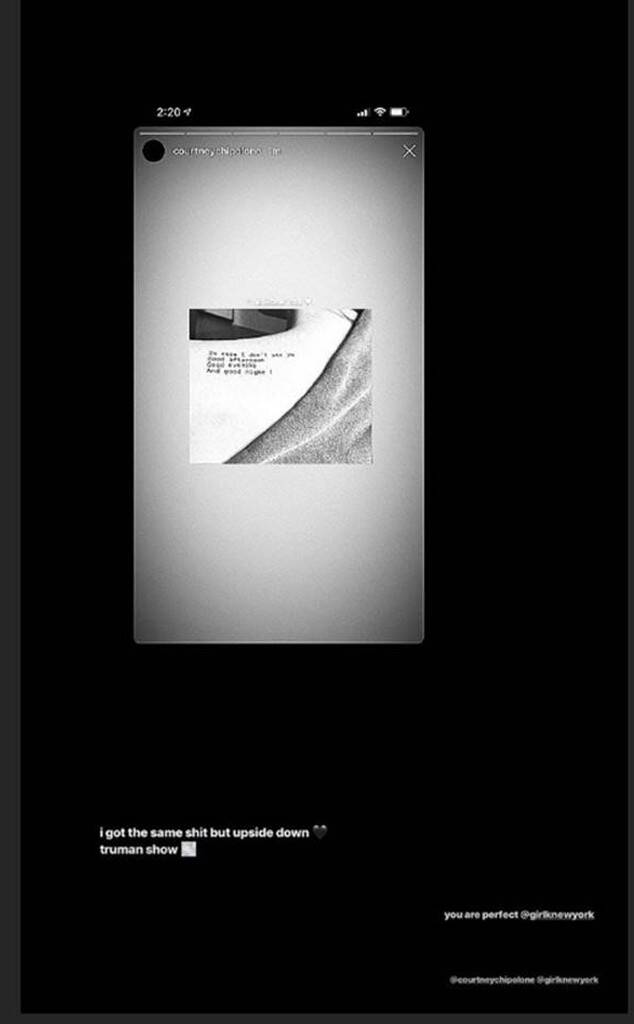 On Thursday, the thank u, next singer also revealed added dates to the Sweetener World Tour schedule, but some fans were less than pleased by her lack of European shows. One Twitter user wrote:
"i just can't understand why she's literally doing 4-5 shows in a STATE instead of going to other countries it really makes no sense to me"
The Victorious alum wrote:
"the truth is: european leg is going to be a big step. i'm really excited about it and grateful to do it! but since you're asking, this is simply the best i'm capable of at this time and keeping me closer to home for a majority of the dates is what's best for my health rn. love u!"
A second fan chimed in, assuring Miz Grande that her fans were "proud" of her:
"we love you much baby we understand and we're so proud of you for even adding on extra dates"
She responded:
"thank u ! i'm very excited about them tbh. doing the best i can do for right now and so grateful for my health and for this chapter and for my fans for supporting and understanding the pace i'm moving at. soooo grateful for u. thank u."
Ariana has continued to keep fans updated on her mental health and overall wellbeing via social media, especially in the months following the unexpected passing of her ex-boyfriend Mac Miller.
Thanks for always being so vulnerable with us, girl!
Arianators will remember that the the songstress and Carrey previously shared a touching moment on social media about depression. As we reported, it all started when the No Tears Left To Cry singer posted a series of photos of the actor, who she referred to as the "LOML" ("love of life").
In addition to admitting that her "first AIM username was jimcarreyfan42 when was in like 4th grade," Ari shared a quote credited to the Ace Ventura: Pet Detective star about depression:
"Depression is your body saying, 'I don't want to be this character anymore. I don't want to hold up this avatar that you've created in the world. It's too much for me.' You should think of the word 'depressed' as 'deep rest.' Your body needs to be depressed. It needs deep rest from the character you've been trying to play.'"
On Easter Sunday, the 57-year-old praised Ariana for her "lovely mention," sharing a quote from teacher/friend, Jeff Foster, about how the word "depression" should really be interpreted as "deep rest," writing:
"@ArianaGrande I read your lovely mention of me and things I've said about depression. A brilliant teacher and friend, Jeff Foster was OG on the 'Deep Rest' concept. I admire your openness. I wish you freedom and peace. I feel blessed to have such a gifted admirer. Happy Easter!'"
The self-proclaimed fan girl responded a day later, exclaiming:
"i can't process this or breathe hold on… thank u so much for your kindness. i don't think u understand how much i adore u or what u mean to me. thank u for taking the time to share this w me. you are such an inspiration. i can't wait to tattoo this tweet to my forehead. sending you lots of love & all things happy… jimcarreyfan42 is a very grateful girl rn"
Clearly, this was foreshadowing to her future ink!
Source: Read Full Article