Cardi B Plans to Go Vegan Following Stomach Virus
The 'Bodak Yellow' raptress takes to her social media account to ask her followers about the taste of vegan meat replacements as she wants to become a vegan due to health issue.
AceShowbiz –Cardi B is considering becoming a vegan. Taking to her social media platform, the "Bodak Yellow" hitmaker revealed that she's planning to avoid meat after she suffered a stomach virus.
On Sunday, December 12, the "WAP" raptress asked her 20.4 million followers on Twitter, "I want to go vegan but I love meat.. are vegan meat replacements similar to meat in taste or not really?" One fan in particular was quick to point out a big sacrifice would have to be made in order to become a vegan.
"You willing to let go of the seafood boil you LOVE?? With all that lemon?? Girl…," the said person wrote. The 29-year-old hip-hop star went on to explain, "I had a stomach virus not so long ago and I feel like my digestive system haven't been the same."
Cardi, whose real name is Belcalis Marlenis Almanzar, added, "I been drinking probiotics and I don't see a change much." The wife of Offset concluded her post, "I be lookin at raw food pages a lot but that will be a huge change for me to do that."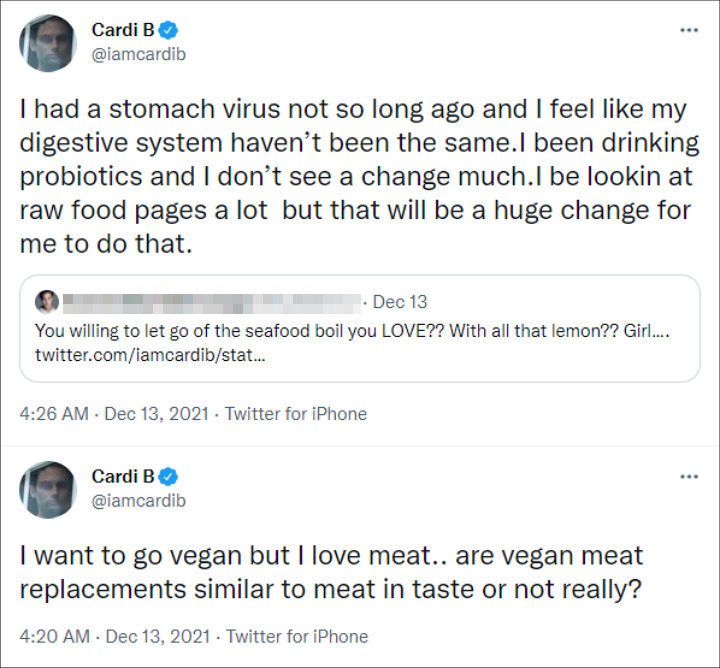 Cardi B asked her followers on Twitter about vegan's meal as she's considering becoming vegan.
The reaction to the rapper's tweets ranged from those congratulating her on becoming vegan-curious to those urging her not to go down the vegan path at all. "If you are going to go vegan… don't eat that processed vegan alternatives. It is full of soy and other unhealthy ingredients…. For all of that keep eating meat," one Twitter user advised the rap star.
Some suggested she simply drop factory-farmed meats from her diet. "Vegan food is usually made by monoculture farming techniques so it's unsustainable & unhealthy. Stick to meats mama! Just buy free range & local!" another person penned.
"Some of them are, some aren't even close. There's no denying it can take a minute to find what you like, but you will," one social media user added. "Even considering such a significant change is the hardest part, and you're already there. Go for it, gorgeous. You've got this."
Another fan urged Cardi to think about vegan foods not as a direct replacement for meats, but as something different altogether. "Yes and no. Like yesss they do but also the point is to leave meat behind," the said person tweeted. "So like it's good af but I always tell people who are transitioning into this lifestyle, to not necessarily COMPARE but to just see if you like the taste as it is."
Source: Read Full Article