Hailee Steinfeld Revealed The Rudest Celebrity Shes Ever Met
Hailee Steinfeld may be in her early 20s, but she's been working hard as an actor for over a decade now and is considered one of Hollywood's most talented entertainers of today.
As noted by her IMDb page, the "Love Myself" hitmaker made her television debut in 2007 by appearing in an episode of the sitcom "Back to You." A year later, she started to book herself roles in a number of short films. However, it wouldn't be until 2010 that she appeared on the big screen, playing the role of Mattie Ross in "True Grit." In 2011, Steinfeld earned herself her first Academy Award nomination for Best Supporting Actress in "True Grit" as well as a BAFTA nod. Since her breakthrough role, Steinfeld has continued to land herself more jobs in other successful films such as "Pitch Perfect," "Bumblebee," and "Spider-Man: Into the Spider-Verse," to name a few.
When auditioning for the role of Mattie Ross for "True Grit," Steinfeld bumped into another famous actor who she was already a big fan of. Unfortunately, the moment didn't leave a good memory for the rising star at the time. Keep reading to find out why.
Hailee Steinfeld meeting Lea Michele left her in tears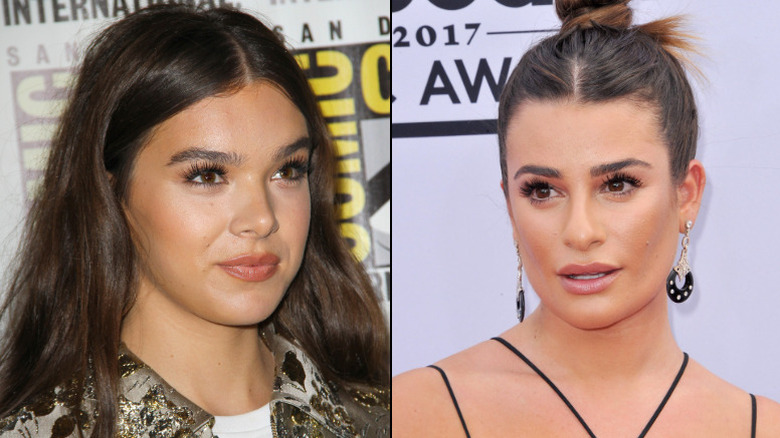 They say to never meet your idols, and in this scenario, that might have been the best for Hailee Steinfeld.
When Steinfeld was 13 years old, she auditioned for the role of Mattie Ross for "True Grit" and bumped into "Glee" star Lea Michele. Instead of being thrilled to have met her, Steinfeld was left in tears from the experience. In a 2011 interview with J-14 magazine (via The Daily Mail), the "I Love You's" singer explained when she was auditioning for the movie, she was on the Paramount set a lot, where many actors appear on the daily. "Glee also films on the lot and I love that show. I saw Lea Michele just walking to her trailer … So I walked up to her and asked for her autograph, but she walked by and a guy came and said, 'Sorry, now's not a good time!'" She added, "I was so sad! I was practically crying on the way home."
Michele wasn't going to let any bad press go unanswered, though. She found out about Steinfeld's disappointment and explained her side to the story. Keep reading to find out what she had to say about the situation.
Lea Michele felt "terrible" for Hailee Steinfeld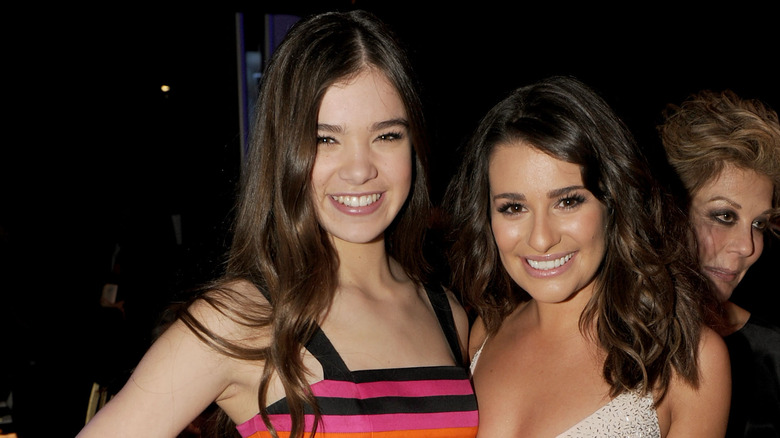 After Lea Michele found out how Hailee Steinfeld felt after getting snubbed by her, she told Gossip Cop (via Just Jared Jr.) in 2011 that she never meant to hurt her feelings. "I heard Hailee was upset and feel terrible," the "Cannonball" singer said. "The Glee schedule is so jam-packed that the PA probably pulled me so that I wouldn't be late to set. I never meant to hurt her feelings. She's an extraordinary talent and I look forward to meeting her one day."
Just weeks later, the duo met again at the 2011 SAG Awards (pictured above) and appeared to be enjoying each other's company. Instead of signing an autograph, Michele took a snapshot with Steinfeld with the pair flashing radiant smiles. Steinfeld, who was 14 at the time, may have been pleased to have bagged herself a photo with Michele, but she also got to spend the evening with her, as they were seated at the same table at the event inside the Shrine Auditorium, as noted by E! News. What a happy ending!
Source: Read Full Article