Hideo Kojima Mulls Over Legal Action After Fake Posts Link Him to Shinzo Abe Assassination
The video game designer's studio releases a statement condemning 'the spread of fake news and rumors' after he was falsely identified as the suspect who shot former Japanese Prime Minister Abe.
AceShowbiz -Hideo Kojima isn't staying silent when he is portrayed in a negative way. The video game designer is threatening to take "legal action" after fake posts linked him to the assassination of former Japanese Prime Minister Shinzo Abe.
In a tweet issued on Saturday, July 9, his game studio Kojima Productions said, "#KojimaProductions strongly condemns the spread of fake news and rumors that convey false information." They added, "We do not tolerate such libel and will consider taking legal action in some cases."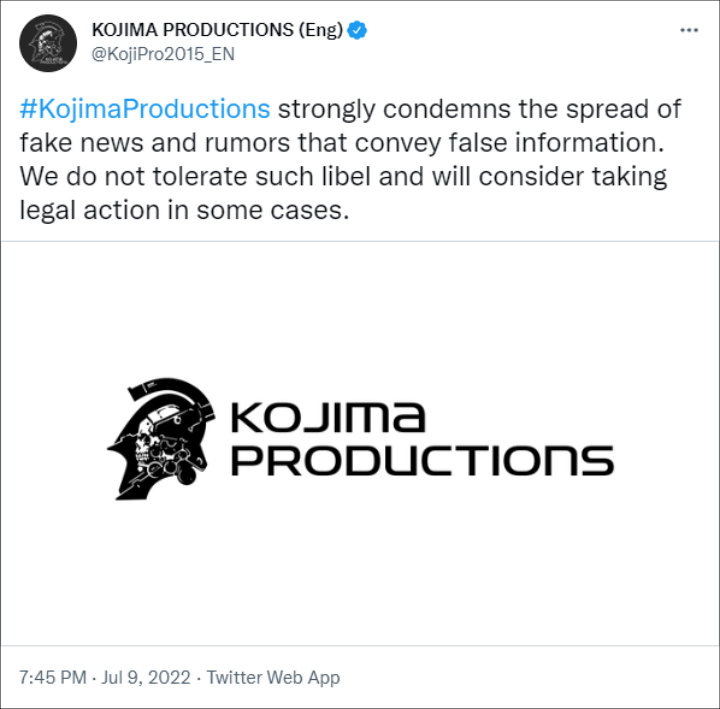 Kojima Productions issued a statement after its founder was falsely linked to Shinzo Abe assassination.
One day earlier, the world was shaken with the news of the assassination of Abe. The former Japanese Prime Minister was fatally shot during his speech at a political campaign rally on Friday. The shooter was captured at the scene and was later identified as 41-year-old Tetsuya Yamagami.
After the incident, an Internet troll on 4chan posted a racist image that linked Kojima's face with that of the shooter. Another user replied to the post with three additional pictures of Kojima that showed the "Metal Gear" and "Death Stranding" designer in a Soviet cap, as well as posing with images of Argentine revolutionary Che Guevara.
The post was then picked up by a French comedian who, in a since-deleted tweet intended to mock the original post, said that Kojima was also a famous J-League player and AC Milan legend as well as Shinzo Abe's assassin.
However, Damien Rieu, a far-right French politician associated with the country's nationalist movement, failed to understand that it was a joke and tweeted out images of Kojima with a caption that translated to, "The far-left kills." The images were then picked up by Greek and Iranian news outlets that mistakenly used the pictures in their coverage of the assassination.
Rieu has since deleted his tweet and issued an apology to Kojima. "I naively took a joke for information," he wrote. "I didn't think we could make humor about the assassination of a man, but I was wrong not to check before sharing. My apologies to Hideo Kojima and to the fans of Metal Gear."
Meanwhile, the Greek outlet, which included an image of Kojima in a broadcast, took its segment off of YouTube, and the Iranian newspaper has also corrected the image it used in its report.
Source: Read Full Article