Ina Garten's Honey Bourbon Cake Is a Boozy Barefoot Contessa Masterpiece She Calls a 'Dramatic' Dessert
Ina Garten's honey bourbon cake is a delicious dessert option that her fans say gets even better over time. The Barefoot Contessa star calls the cake "dramatic" and has a few easy tips for the best results.
Ina Garten's honey bourbon cake recipe is 'dramatic'
Garten demonstrated how to make the bourbon honey cake recipe on an episode of Barefoot Contessa: Cook Like a Pro. "Bourbon, it's the ingredient I love in cake," she said, adding, "It's kind of a classic Jewish holiday thing but it's way too good to save for the holidays."
She mixed together bourbon, orange juice, and hot brewed coffee in a glass measuring cup.
In a mixer, Garten combined vegetable oil, sugar, brown sugar,eggs, grated orange zest, vanilla, and honey. She also offered up a pro tip. Garten said using the measuring cup she used for vegetable oil makes the honey pour out easier because it doesn't stick!
"I love this cake because it's really dramatic," she noted as she mixed everything together at medium speed.
https://www.instagram.com/p/BB0VA0BO_T6/
Garten uses a 'classic' cake-making technique for her dessert
Next, Garten sifted the dry ingredients in another bowl — baking powder, flour, baking soda, ground cinnamon, salt, ground cloves, ground allspice, and ground ginger. She slowly alternated adding the flour mixture and wet ingredients to the mixer. "If you add them all at once, you'll either have too dry or too wet a batter," she explained.
"It's a classic way to make a cake," she added. "And because the coffee keeps the bourbon and orange juice warm, it'll mix in. This is a very wet batter, so don't worry if it looks a little too liquidy. It'll come out perfect."
The Barefoot Contessa star also shared that the cake has "layers" of delicious flavor. "The thing about the bourbon in this cake is it's just a little bit but there are so many layers of flavor in here and the bourbon just adds a little warmth to it, which is really nice."
Garten poured the batter into a greased, floured, and parchment-lined tube pan, "but not one with a removable bottom" because of how liquidy the batter is.
She tapped the pan on the countertop to release any air bubbles, then sprinkled blanched sliced almonds over the top. Garten baked the cake in a 350 degree Fahrenheit oven for 40 minutes. After removing it from the oven, she allowed the cake to cool for 30 minutes, ran a knife along the sides, and released it from the pan.
Garten flipped the cake upright on a platter before cutting a slice and served it with whipped cream. "This is bourbon honey cake, it's my favorite," she said as she took a bite.
The full recipe is available on the Food Network website.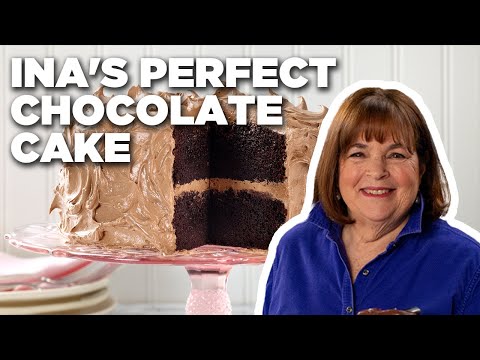 The 'Barefoot Contessa' star's fans say the cake tastes even better the next day
Garten's fans left a range of reviews in the recipe's comments section and many remarked how the cake's flavor intensifies the next day.
"I made this cake today and my husband and I loved it," one fan wrote. "It's very moist with warm and spicy flavors and just a hint of bourbon. This is one of those cakes that will taste even better the second day as the flavors of the spices and bourbon infuse the cake. Don't hesitate to make it."
Another commenter noted that they amended their rating after giving it a second chance. "OK, I gave this a 2 [star rating] last night," they wrote. "It still is an adapted recipe of French nonnettes, but after wrapping in plastic wrap overnight, the bourbon flavor is much more intense. Letting it sit overnight makes a remarkable difference. It now has a personality of its own."
Source: Read Full Article