Michelle Obama says people who come around her family need to be vaccinated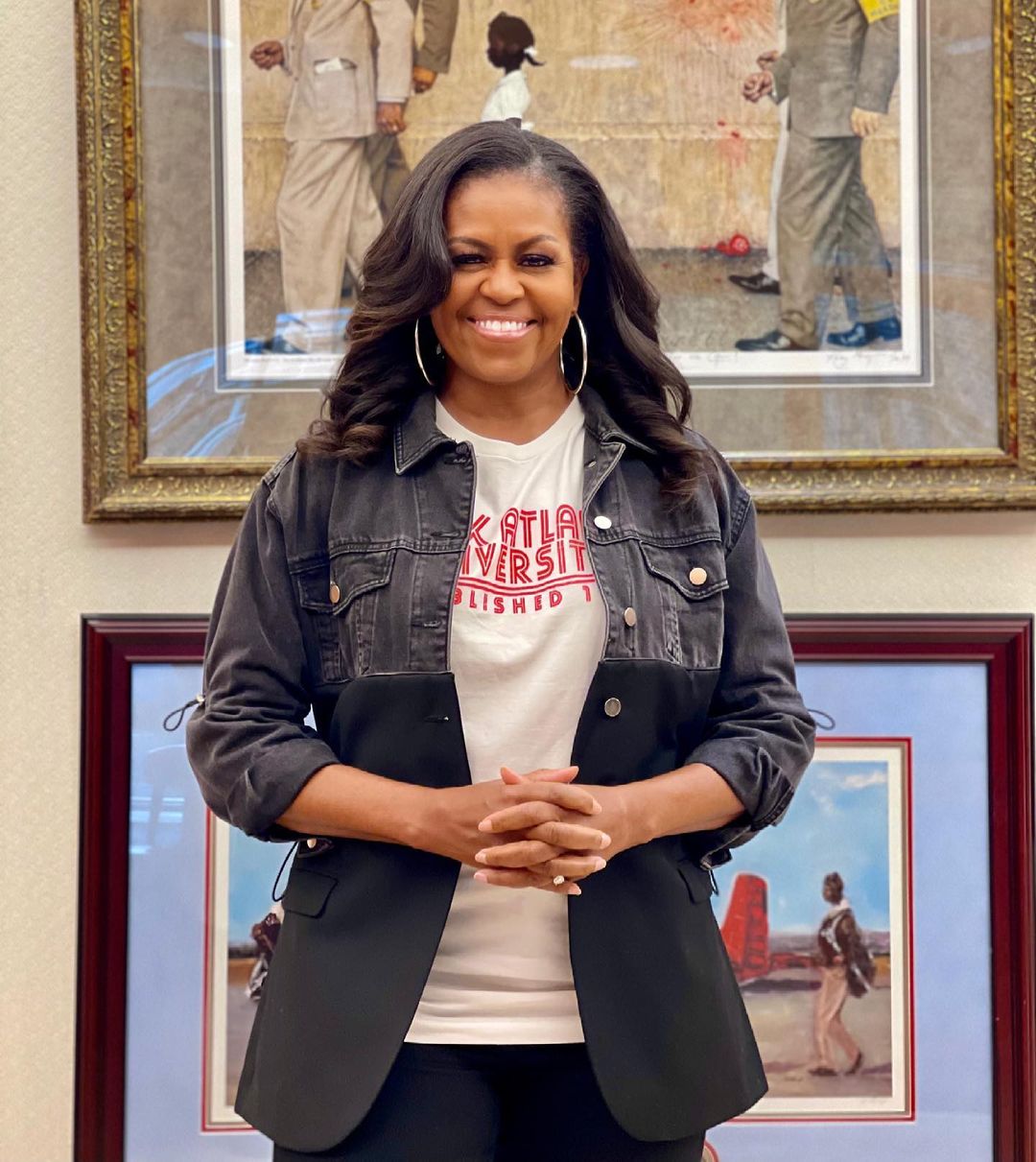 Michelle Obama has been quite busy since she and Barack left the White House in 2017. Michelle published her autobiography, Michelle and Barack's production company backed an Oscar-winning documentary, Michelle starred in her own Netflix show called Waffles + Mochi, and she launched a podcast. Michelle is now pushing her "Pass the Love" initiative, which helps get families access to healthy food. Michelle appeared on CBS This Morning with Gayle King. She encouraged people to get vaccinated and spoke about how her mental health was affected by the pandemic and police violence against Black bodies. Below are a few highlights from CBS:
"To not feel depressed, you know, with all that was going on over the course of this year — it's sort of, like, 'So you feel okay in all of this?' You know, and sometimes we just need to speak the truth," she said. "When there is such uncertainty and unrest, and lack of leadership and calm, it is upsetting. It shakes you."

She acknowledged that ups and downs were common throughout life — what's important, Obama said, was to "own that that happens to us."

Using herself as an example, Obama said she developed her own set of tools to cope. One of those tools involves turning off the television when she's on "the ledge."

"I think I want young people to be comfortable with identifying those peaks and valleys, and knowing that those valleys don't last forever," she said.

"I just don't want any young person to make a decision about anything when they're in a valley. You know? They have to know that time will move you to a better place."

"Well, it'd be better light if people would get vaccinated," Obama added.

She said the science behind a COVID-19 vaccine was the "same science that's behind aspirin and insulin."

Obama revealed a new rule for those who come into contact with her family: "Be vaccinated."

"You wanna hang out with us? Get your vaccine. Get all of it. Finish it up. And then we can talk," the former first lady laughed. "So I urge everybody out there, within the sound of our voices, please, please get the vaccine. It's time."

"There's clearly issues between the Black community and policing. And it seems there are still so many people that don't wanna even admit that there's a problem with racism in this country," King said.

Obama agreed.

"I wish I had an answer. You know, for me it goes back to — we have to get to know each other," she said. And so much of what is going on is that if you've been raised to assume that all Black people are X."

In the case of Black men and police officers, Obama said, the scenarios can sadly lead to death.

In the tradition of most first families, the Obamas do not often speak out in public. However former President Barack Obama and the former first lady released a powerful statement after Chauvin was found guilty of all charges in Floyd's death.
[From CBS News]
Michelle will be forever FLOTUS to me and I have made that clear. Yes, there have been some things over the years that have irked me but I will always love Michelle. I love how she isn't playing games with her family's health. I agree with Michelle, it is time that we all take this virus seriously.
I also identify with Michelle when she discussed having low grade depression. Mine kicked in after January 6th. It took a toll on me to watch crazy people attack the Capitol while seeing Black people doing nothing beg for their lives. I am sure many of us have felt some form of malaise these last few months.
Michelle was on to something when she encouraged others to open up about their feelings. I truly believe we cannot begin to heal until we start naming the thing that is bothering us. Yes, it may sound hokey, but we cannot heal a trauma until we are able to talk about it. So many of us are suffering from some form of global PTSD and anxiety after the harrowing year we have. Coming together, talking about it, listening and loving each other wil definitely begin the healing process.
It was good seeing forever FLOTUS. I look forward to seeing what she and Barack get up to this next year. I truly enjoyed Waffles + Mochi. If you haven't seen it and you want a feel good show, definitely check it out.
The clip from the interview pertaining to COVID and mental health:

More about the Pass the Love Initiative:

https://www.instagram.com/p/CMSMkvALl3s/
A post shared by Michelle Obama (@michelleobama)
Photos via Instagram
Source: Read Full Article