Naomi Osaka to Skip Berlin Tournament Following Her Withdrawal From French Open
The world's number-two female tennis player, who was previously fined for refusing to do a press conference, reportedly pulls out from the second tournament because she wants to 'take a break.'
AceShowbiz –Naomi Osaka may be continuing her journey to focus on her mental health. Just a week after she pulled out of French Open, the four-time Grand Slam champion reportedly withdrew from the upcoming Berlin WTA 5000 grass-court tournament, which will start on June 14.
Confirming the 23-year-old withdrawal was Berlin event organizers. "We have received notification [that] Naomi Osaka cannot start in Berlin. After consulting her management, she will take a break," they said in a statement to the press.
Around a week prior, Naomi withdrew from the French Open after she got fined $15,000. The fine came after she refused to attend press conferences for the sake of her mental health. Speaking about her exit, she explained, "This isn't a situation I ever imagined or intended when I posted a few days ago. I think now the best thing for the tournament, the other players and my well-being is that I withdraw so that everyone can get back to focusing on the tennis going on in Paris."
"I never wanted to be a distraction and I accept that my timing was not ideal and my message could have been clearer. More importantly I would never trivialize mental health or use the term lightly," the world's number-two female tennis player continued. "The truth is that I have suffered long bouts of depression since the US Open in 2018 and I have had a really hard time coping with that."
Days later, Naomi took to Instagram Story to thank her fans for their outpouring support. "Just want to thank you for all the love," she raved. "Haven't been on my phone much, but I wanted to hop on here and tell you all that I really appreciate it."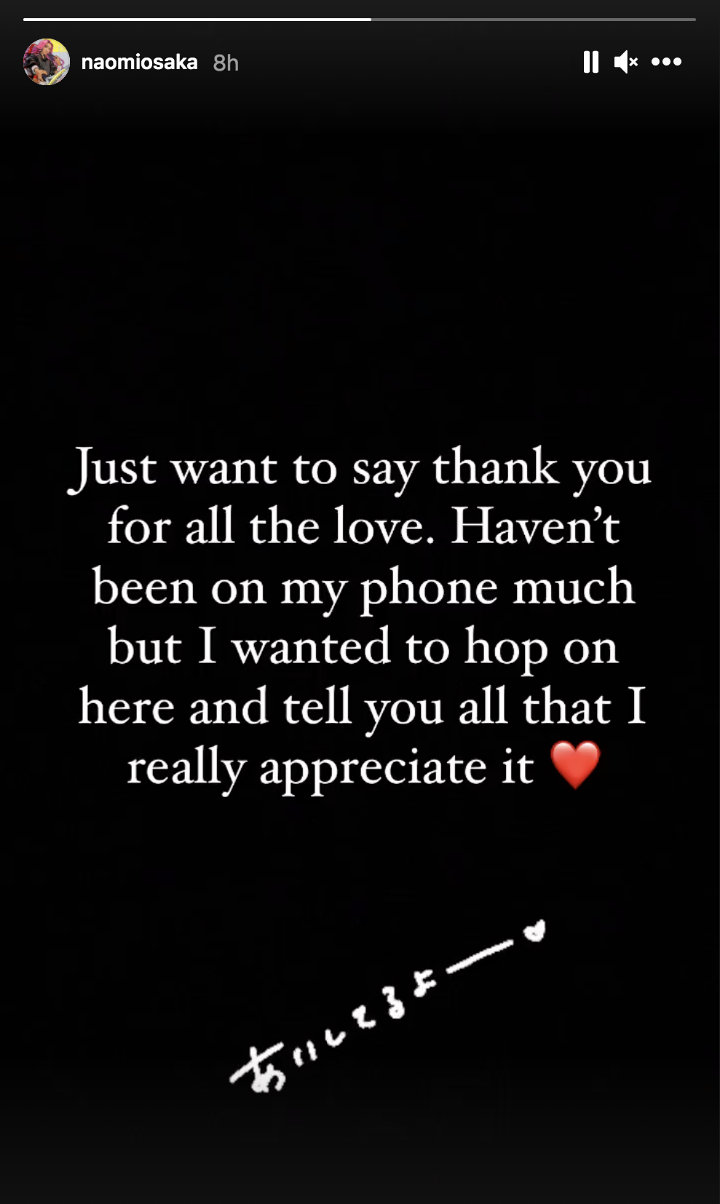 Naomi Osaka thanked fans for their outpouring support.
Naomi has yet to announce when she plans to play next. Her fans, however, are doubtful whether she will participate in the Wimbledon, which starts on June 28, and the Tokyo Olympics in July.
Source: Read Full Article