The Real Reason Donald Trumps Kids Just Lost Secret Service Protection
Donald Trump's kids just lost Secret Service protection. Today is the last day of Secret Service protection for Donald Trump Jr., Ivanka Trump, Eric Trump, Tiffany Trump, and their respective families. Why are the adult Trump kids and their families losing protection? Did they spend too much money traveling? Is there a secret Secret Service rule they disobeyed? 
The loss of Secret Service for the Trump kids might not be a bad thing for taxpayers. In 2017, CNN reported that former President Trump's travel costs during his first year as president were estimated to be as much as former President Barack Obama's travel costs during his eight years in office. It appears Trump's children followed the former president's lead as far as traveling. According to The Hill, the Trump family took 1,625 trips annually, compared with the Obama family's average of 133.3 trips a year. Records obtained by the nonpartisan watchdog Citizens For Responsibility and Ethics in Washington (CREW) showed that Secret Service expenses for the Trump kids and families for February of this year (just the first month of their post-presidency life) cost $140,000. CREW reported that the Trump kids maintained a "breakneck speed of travel, and racked up significant hotel and transportation bills for the Secret Service."
Did the government cut off Trumps' travel bill? Keep reading to find why the Trump kids' Secret Service protection is ending.
Donald Trump extended protection for his kids for six months, but now time's up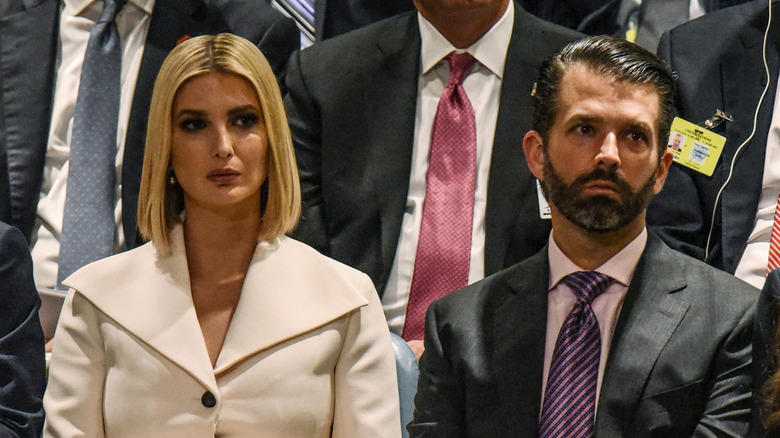 The adult Trump kids were not supposed to have Secret Service protection after their dad left office. Days before leaving office, then-President Donald Trump extended Secret Service protection to six months for his four adult children and three executives in his administration, per The Washington Post. The additional Secret Service ends July 21, which is probably a good thing for taxpayers. According to People, Watchdog group CREW estimated the cost for the additional six months of protection "could reach about $1 million."
Under federal law, all former presidents received lifetime Secret Service protection. Barron Trump will continue to have Secret Service protection until he turns 16. In addition to his adult children, Trump also extended Secret Service protection for three key executives: former treasury secretary Steven Mnuchin, former chief of staff Mark Meadows, and former national security adviser Robert C. O'Brien, per WaPo.
Even though the Secret Service protection is ending, Ivanka Trump, Donald Trump Jr., and Eric have plenty of money to pay for personal protection. Vanity Fair reported Ivanka Trump and her husband Jared Kushner made $640 million while working in the Trump administration. According to Forbes, the Trump businesses (run by Eric and Don Jr.) made $2.4 billion while President Trump was in office. Tiffany might need to dip into the family fund to pay for security, but there's clearly enough in the bank to cover it. 
Source: Read Full Article