The Truth About Lindsay Lohan's Relationship With Her Father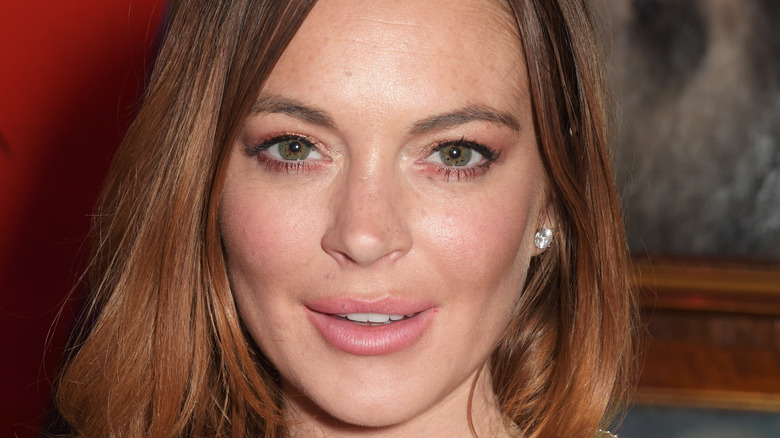 The world was first introduced to Lindsay Lohan in 1998 thanks to her starring role as twins Hallie Parker and Annie James in "The Parent Trap." Lohan was 12 when the film was released, but she'd been working steadily as an actress and model since she was just three years old.
Lohan's tumultuous relationship with her father, Michael Lohan, also dates back to when she was a young child. Per ABC News, Michael began  struggling with alcohol and drug abuse in 1982. When Lindsay was just a toddler, he spent three years in prison from 1990 to 1993 for insider trading.
Both Lindsay and her mom, Dina Lohan, have alleged that Michael was abusive to Dina and that Lindsay witnessed the abuse. In 2010, Lindsay said her dad had put her and her family "through hell" due to physical and verbal abuse (via The Irish Examiner).
"He's put myself and my mother and my mom's parents through so much hell — from the death threats, to throwing shoes at my grandfather's head and giving him a concussion, to threatening to kill my mother in front of my little brother Dakota," Lindsay said (via The Irish Examiner). "I grew up really fast just because of the situations I was subjected to because of my father. My mom would try to shield me from that as much as possible, but I chose to get in the middle of my parents my entire life."
Dina Lohan said Michael's abuse played a huge role in Lindsay's problems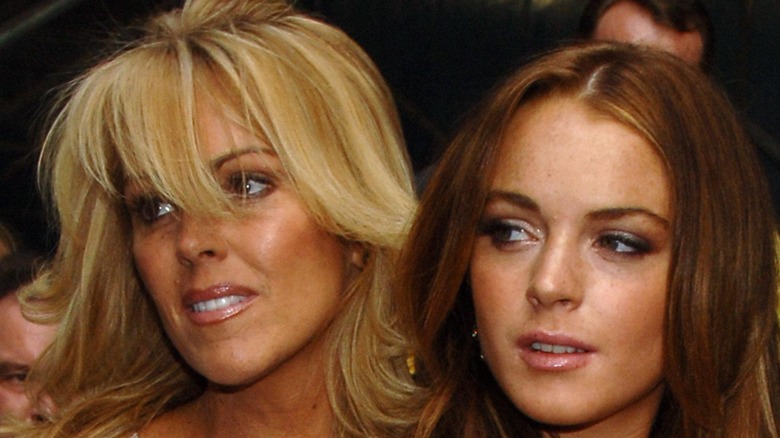 As a young adult, Lindsay Lohan made headlines for multiple arrests, per BuzzFeed News. She went to rehab multiple times and struggled with addiction disorders and an eating disorder. 
In 2013, the day before Lindsay was scheduled to appear in court due to physical altercation at a nightclub, Dina spoke to The New York Daily News and told the outlet, "Lindsay saw her dad abuse me — that's why she's so screwed up."
In the interview, Dina accused her ex-husband of physical assault and rape, and she provided the outlet with police reports and medical reports. "Michael beat the hell out of me," she stated in the interview, and said that "[Lindsay] saw a lot of crazy stuff. I want the world to know the root of her problems."
Dina also told the outlet that Michael gave her a black eye when Lindsay was a baby and that she didn't file charges because Michael was already preparing to serve a three-month sentence for securities fraud.
In response to the allegations, Michael Lohan denied both physical abuse and the rape. "She's bringing this up now because she's drinking and partying with Lindsay. And she keeps robbing Lindsay," he told The New York Daily News. "She is the devil."
Lindsay Lohan called her dad during a fight with her mom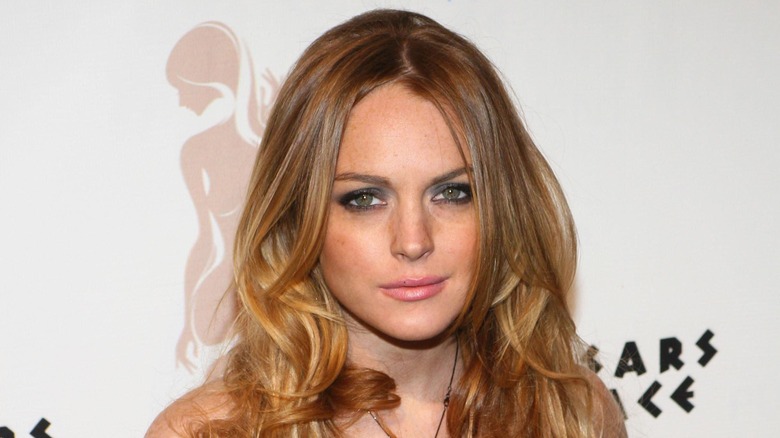 Lindsay Lohan hasn't been completely estranged from her father. As of 2012 she had his phone number and called him at 4 a.m. on a Wednesday while fighting with Dina, per The Hollywood Reporter.
The argument between Lindsay and her mom reportedly occurred in a limousine after they left a nightclub together in New York City. In a call that was taped, Lindsay told her father: "[Dina's] saying disgusting things to me. … I'm dead to her now." She also told her dad she had "a gash" on her leg from the fight and that Dina was "on cocaine."
Although the argument began with her mother over a money issue, Lindsay also expressed anger at her father during the recorded phone call. "This is what you do," she told Michael at one point during the call, per The Hollywood Reporter. "You ruin people. She's like the [effing] devil right now."
As of 2016, Lindsay Lohan was no longer speaking to her father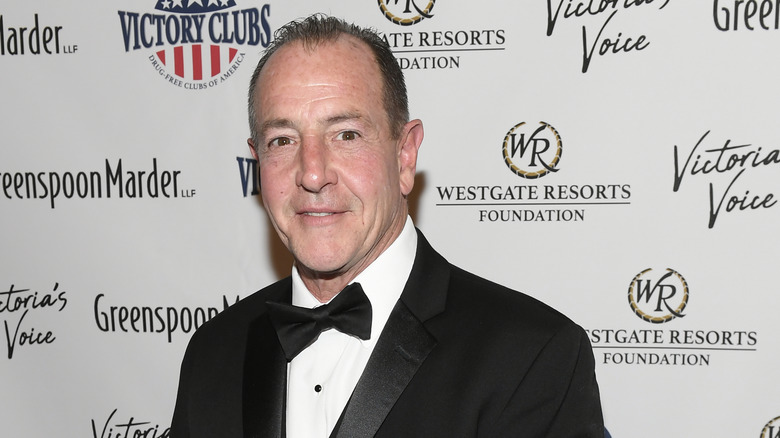 Despite a few publicized arguments like the one that was recorded, Lindsay remains close to her mom, according to a 2016 interview with the Daily Mail. In the same interview she shared that she had cut off contact with her dad because she blamed him for spreading rumors about her to the tabloids.
"My father is known for talking to the press and selling stories. He loves the attention. In the past he's said I've done drugs, he put my number on the internet," Lindsay told the outlet. "Who does that? Some of the stuff he's done proves to me he doesn't care about me."
In January 2018 Us Weekly reported that Lindsay and her dad had mended fences. She described her relationship with both her parents as "great" at the time and said they'd all recently spent the holidays together. It's unclear whether or not they're still on speaking terms.
More recently, Michael Lohan has made headlines on his own. In February 2020 People reported that he'd been charged with assaulting his estranged wife, Kate Major. He denied the charges.
In April, NBC News reported that Michael had been arrested in Palm Beach County, Florida, on six counts of patient brokering. "Mr. Lohan was investigated by our Sober Homes Task Force and he's being charged with receiving kickbacks for referring patients to drug treatment," State Attorney Dave Aronberg told the outlet. He is currently out on bond, per TMZ.
If you, or anyone you know, have been a victim of domestic violence, help is available. Visit the National Domestic Violence Hotline website or call their helpline at 1-800-799-7233.
If you or anyone you know is struggling with addiction issues, help is available. Visit the Substance Abuse and Mental Health Services Administration website or contact SAMHSA's National Helpline at 1-800-662-HELP (4357).
Source: Read Full Article