Tristan Thompson's Alleged Behavior At A Party Is Raising Eyebrows. Here's Why
It's safe to say that Tristan Thompson's relationship with Khloe Kardashian hasn't been an easy one. The two first got together in 2016 and by the next year, the "Keeping Up With the Kardashians" star announced that they were having a baby on Instagram. She posted a photo of her and Thompson writing, "I still at times can't believe that our love created life!"
Of course, fans know that things took a turn for the worst in 2018, right before Khloe was due to give birth to daughter True. It was then that it was first reported that the Boston Celtics player had cheated on Khloe with multiple women. The reality star eventually rekindled things Thompson, revealing during the "KUWTK" reunion (via Us Weekly), "I mean it just sort of happened and I did then have this [thought], like, 'OK, it's for my baby,'"
But only a few months later, Thompson was caught cheating again, this time with Kylie Jenner's ex-bestie Jordyn Woods. He remained in Khloe's life to co-parent True and, again, the "Revenge Body" host took him back.  "We just really became genuine [and] great friends with one another…" Khloe said. "I don't know it was just this natural progression." Fans, however, are still skeptical that Thompson won't continue to hurt Khloe. She defended him, explaining, "I know all the help that he's got and the constant efforts that he makes every single day and how hard he fought to get back with me currently." Yet it appears that Thompson may have slipped up again despite it all.
Tristan Thompson faces new cheating allegations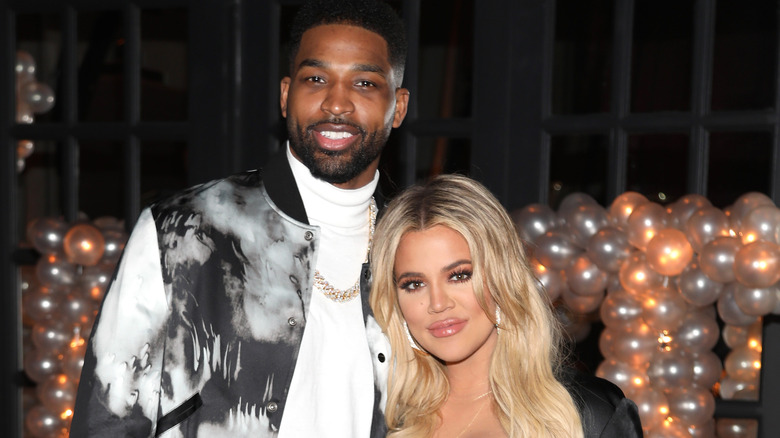 Khloe Kardashian recently defended her decision to get back with on-again-off-again boyfriend Tristan Thompson. She opened up about all the work the basketball star put into their relationship during the "Keeping Up With the Kardashians" reunion, saying (via Us Weekly), "I don't know why someone would go through all of that if they weren't really serious." Yet, new allegations about Thompson's behavior at a party may prove Khloe wrong.
The Daily Mail reports that Thompson was allegedly seen disappearing into a bedroom with three women at a recent Bel Air house party. He apparently didn't emerge for another 30 minutes and when he came out, his red shirt was wrinkled and he looked "a mess." The Boston Celtic had arrived at the mansion after midnight and hung out at the bar where he supposedly took shots with "tons of girls." A source also claimed, "He was repeatedly grabbing this one girl's butt so we all knew he was totally into her." It was that woman and apparently two of her girlfriends who retreated with Thompson into a room "where everyone goes to hook up."
Thompson had attended the party to celebrate the birthday of security guard Nessel "Chubbs" Beezer alongside other stars like Drake and Chris Brown. He even posted a photo on his Instagram of himself wearing the red shirt that allegedly got crumpled. Neither Tristan nor Khloe have responded to the accusations, but it's clear this won't help Thompson win back Khloe's loyal fans.
Source: Read Full Article