Who Is Jennifer Love Hewitts Husband?
Jennifer Love Hewitt and Brian Hallisay's family is now a "Party of Five," and the alliterative names of their three kids have us wondering if AAA ever saved the day for them after an auto emergency. On September 9, Hewitt announced that she and Hallisay had welcomed a baby boy named Aidan James. He joins siblings Autumn, 7, and Atticus, 5, who found a fun way to celebrate his imminent arrival by decorating their mom's baby bump with a giant winking face. "Well this is how my kids sent me to the hospital," she captioned an Instagram photo of their handiwork. "My belly was a big hit."
Hallisay seems to keep a lower profile than Hewitt, who breaks all the big family news. In May, the "9-1-1" star told People that her third pregnancy was a "surprising gift" and that her son was the one who first guessed that she might be pregnant. "I was like, 'How rude! I just ate a big dinner. What is he talking about?'" she recalled. His intuition proved to be right, and Hewitt said that he and his sister were "excited" about having a younger sibling.
Hewitt and Hallisay celebrated seven years of marriage last November, and "The Ghost Whisperer" star marked the occasion on Instagram. "7 years no itch," she wrote. She believes that she and her husband have raised some "really special kids who will be great role models," but Hallisay isn't just an amazing father and partner. Here's the story.
Brian Hallisay had a career in business before working with Jennifer Love Hewitt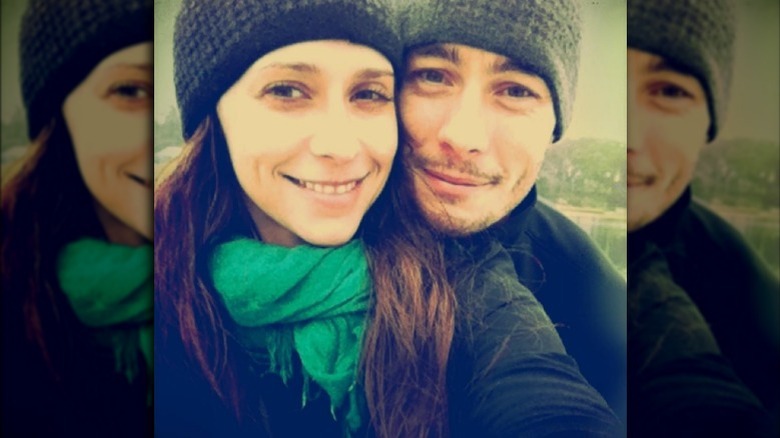 After graduating from Cornell University, Brian Hallisay worked as an investment banker on Wall Street, but it wasn't a long-term fit. During a 2009 interview with Starry Constellation Magazine, he explained why he left that profession. "I was slaving away at that and I had a really good time with it, but it got to the point where I said, 'You know, I had always dreamed about seeing what acting was all about and television,'" he said. After he moved to Los Angeles, one of his first big roles was playing Paris Hilton's boyfriend in the 2006 movie "Bottoms Up."
In 2011, Hallisay and Jennifer Love Hewitt both appeared on the short-lived series "Love Bites." However, the love bug didn't bite the couple until one year later when they worked on "The Client List" together. In June 2013, Us Weekly reported that they were engaged and expecting their first child.
That same month, Hewitt reportedly fought for her man by demanding that their "Client List" characters have a baby together during the show's third season, but the series was canceled instead. She got another opportunity to work with Hallisay in 2018 when he played her character's abusive ex on "9-1-1." "We both have never, I think, in our careers been able to play characters like this who have this sort of dark, twisted thing to them, and so that's been really fun for us," Hewitt told ETCanada.
Brian Hallisay is musically gifted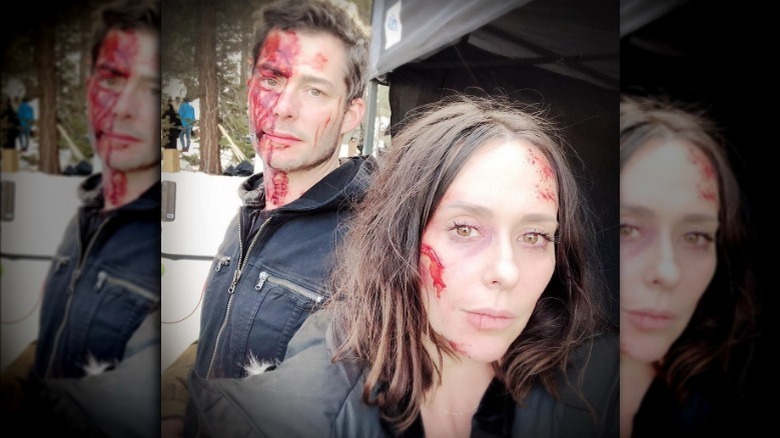 In 2008, Brian Hallisay told The Chicago Tribune that his dream acting role was John Wilkes Booth, the man who killed Abraham Lincoln. Instead, the "Privileged" star wound up playing a character who got murdered by his wife on "9-1-1." Jennifer Love Hewitt agreed with Drew Barrymore that shooting his death scene was "cathartic and sexy."
Hewitt and Hallisay aren't just talented actors — they're both musically gifted. She sings and he plays guitar for their home performances, which can be watched on Hewitt's Instagram page. In the caption of one of them, she described her husband as "camera shy," perhaps explaining why he's not active on social media. They've performed the James Bay song "Let It Go," the 4 Non Blondes hit "What's Up," and "More Hearts Than Mine" by Ingrid Andress — anyone else want to see them cast together in a series with a musical theme?
Hewitt works long days sometimes, and she praised Hallisay for helping her relax and kick back at home. "He's got a glass of wine there," she told ETCanada. "He takes care of our kids when I can't. I mean, he's the best." The couple became first-time parents just five days after they tied the knot in 2013, and while they relish their most important roles, Hewitt told People that Aidan will likely be their last child. "I don't think I could do another one," she said. "I think five is a great number."
Source: Read Full Article