Why Did We Care So Much About Inauguration Fashion? We Investigate the Significance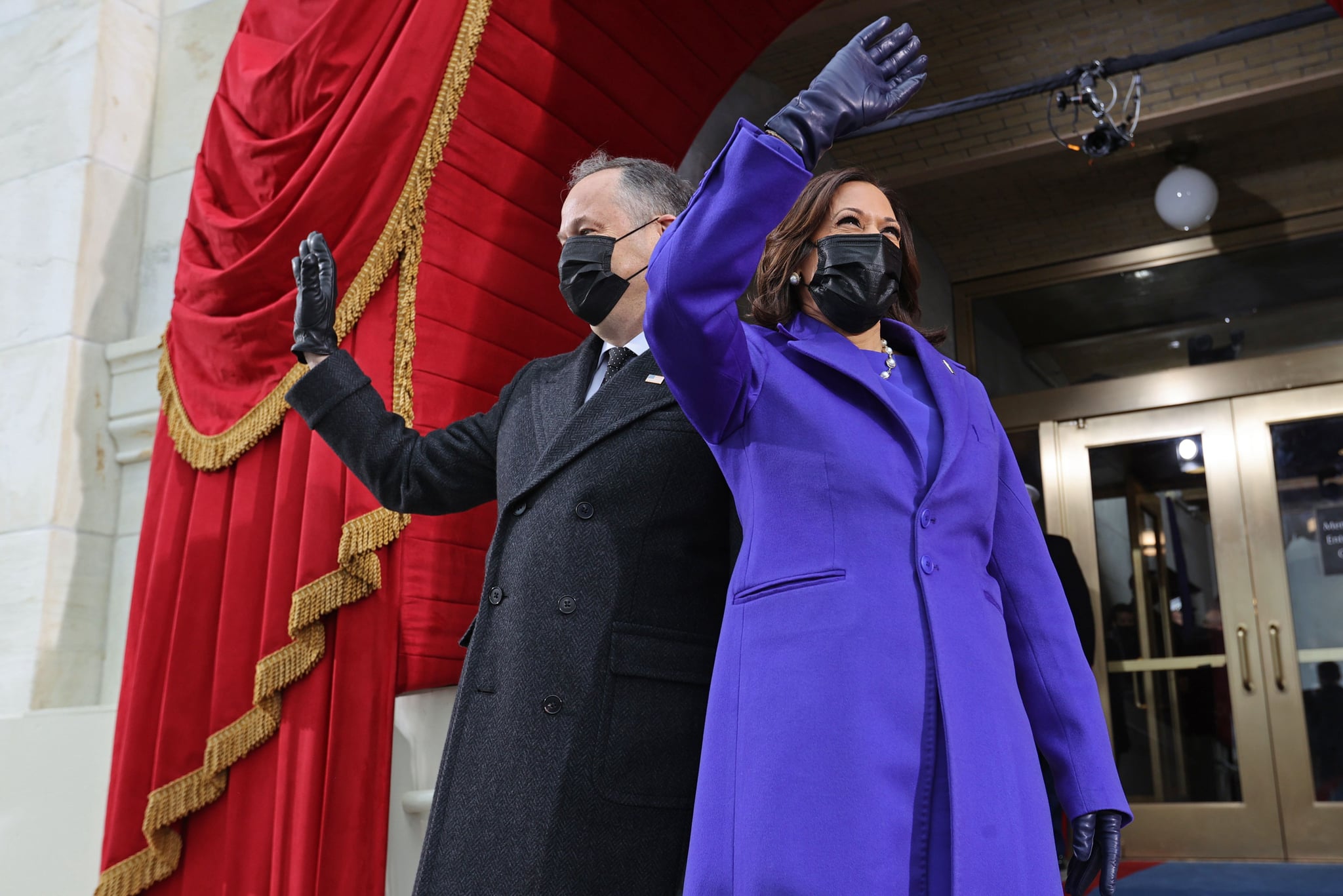 Image Source: Getty / Jonathan Ernst
On Inauguration Day, my social feeds, real-life conversations, and even cable-news coverage was flooded with talk of the clothes from the ceremony on Jan. 20 — the designers that were worn, the meaning behind every jacket and accessory, and what these choices signified for the new administration. Aside from the few displeased folks who demanded to know why fashion — something they viewed as so trivial — even mattered on such a momentous day, the collective excitement had me wondering: why did we care so much about the inaugural fashions? The way I see it, the reason is twofold; for one, what politicians choose to wear, especially at an event where all eyes are on them, is purposeful and does matter. And two, simply enjoying fashion in the midst of a political moment frankly felt quite refreshing after what felt like four years of constant political turmoil at the forefront, with no room to talk fashion.
Fashion is undoubtedly political. It's not just about our political figures looking great — which they certainly did on Inauguration Day — it's also about the message they send with the clothes they choose. Kamala Harris didn't just wear a pretty purple coat and sequin cocktail dress on Wednesday. Her decision to wear these ensembles, which showcased and uplifted emerging Black fashion designers, underscored the Biden-Harris administration's values of unity and inclusivity, and celebrates the importance of the American fashion industry.
"She was obviously the center of her own spotlight, but her choices brought other people into it," Robin Givhan, Washington Post senior critic-at-large, told POPSUGAR. The choice to bring these often-overlooked designers into the spotlight with her was exactly that: a choice. Since their days on the campaign trail, Joe and Kamala have highlighted their promise to unite the country, and this message was more clear than ever on Inauguration Day, as indicated by their words, actions, and yes, even their clothes.
This sentiment was also reflected in the looks worn by their spouses: Jill Biden picked an ocean blue monochrome look by emerging designer Markarian for the day and a white Gabriela Hearst coat and dress combo that paid homage to the US states for the evening. Douglas Emhoff, on the other hand, wore a gray suit from Ralph Lauren, a nonpartisan American designer that was also chosen by Biden to mark the beginning of his presidency.
Pulitzer Prize-winning fashion critic Givhan explained that the president and vice president's desire to represent these designers emphasizes that fashion is an important American industry, just like any other. In the same way that we expect politicians to be driven around in American cars or use American china at the White House, she said, "We expect the White House to celebrate American creativity," which extends to the fashion industry. "Particularly on a day like Inauguration Day, when the focus is so much about what it means, the place that the country is in, and what it means to be moving forward, to visually remind people that every industry is embraced and will be propelled forward is a powerful thing."
Historically, inaugural fashions have allowed for the first family to communicate their intentions and values for the new administration in the pieces they choose. When Jackie Kennedy wore a glamorous gown and cape to John F. Kennedy's inauguration in 1961, it signified her desire to elevate American art and history. Michelle Obama's high-low combo of a Thom Browne coat cinched with a J.Crew belt at the 2012 ceremony, on the other hand, showcased the Obamas' aspirational yet approachable demeanor and the administration's goal to strengthen unity and democracy in the nation. For George Bush's first inauguration in 2001, Laura Bush chose Texan designer Michael Faircloth for her classic and traditional bright-blue coat, which not only honored her roots and brought attention to a relatively unknown local designer, but also reflected the then-president's rhetoric of compassionate conservatism.
Source: Read Full Article