Does Kamala Harris Have Children? Get To Know The Vice President-Elect's Family
Vice President-elect Kamala Harris made history as Joe Biden's pick for running mate in the 2020 presidential election. She's the first Black woman and first Asian American to run for vice president (and win), so it's a BFD. Her family has been by her side, offering support all along the way.
Harris and Biden share Time magazine's Person of the Year honor, as they prepare their new administration to lead the country through multiple crises. After networks (Fox News, CNN, ABC News, and more) called the 2020 election, Harris gave her loving fam a shout-out: "To my husband Doug; our children, Cole and Ella; my sister, Maya; and our whole family, I love you all more than I can express. We are so grateful to Joe and Jill [Biden] for welcoming our family into theirs on this incredible journey."
In Harris' next role as VP, you'll also likely see more of her family, her two children with husband Douglas Emhoff. While you address her as madame vice president, the kids will call her by their own term, "Momala." They share a close bond and offer her support.
Here's everything to know about Kamala Harris' family and stepchildren.
Harris became a stepmom when she married Douglas Emhoff.
Emhoff had two children from his previous marriage. They were named after John Coltrane (Cole) and Ella Fitzgerald (Ella), Kamala wrote in an essay for Elle.
She gave them a shoutout in her victory speech on Nov. 7: "And to my husband Doug and our children Cole and Ella and my sister Maya and our whole family, I love y'all more than I can ever express."
Harris got along with the kids immediately: "Cole and Ella could not have been more welcoming. They are brilliant, talented, funny kids who have grown to be remarkable adults. I was already hooked on Doug, but I believe it was Cole and Ella who reeled me in."
She and Emhoff married on Aug. 22, 2014 in a private ceremony at the Santa Barbara Courthouse, according to The Chronicle. Her sister Maya Harris presided over the ceremony.
https://www.instagram.com/p/BxYWjnTjnUM/
A post shared by Kamala Harris (@kamalaharris)
She's clearly a big fan of her stepkids. "They are my endless source of love and pure joy," she wrote for the publication. "I can say one thing with certainty, my heart wouldn't be whole, nor my life full, without them."
Harris waited to meet them until she was serious with their dad.
Harris says she didn't rush into meeting his children, per her essay for Elle. "Doug and I put a lot of thought into when and how I would first meet the kids. And that meant waiting. As we waited, anticipation grew."
https://www.instagram.com/p/B8jSd60nSup/
A post shared by Kamala Harris (@kamalaharris)
Cole and Ella say "it was love at first sight" with Harris.
During a Zoom call with Emhoff, Cole, and Ella with Glamour, the kids opened up more about the first time they met Harris.
"I think for all of us, it was love at first sight. We had an incredible evening at one of my favorite restaurants—The Reel Inn. We had a long drive down the Pacific Coast Highway, sharing music. I got to know her first on a much more personal level—her music tastes, her cooking, how she interacts with Doug, which was hilarious. She would just be ribbing him. It was perfect," Cole said. "Over time, I got a sense of who she was and her career up to that point. It gave me a new understanding of what she's been able to accomplish, and I was so impressed."
Ella added: "I think when we met her, I was about to go into high school, so I was in an equally intense time, but for different, more angsty reasons. It felt serious when he was just talking about her, because I could hear it in his voice. When we did meet, it all felt so natural that it wasn't even a big deal. It felt like we had known each other forever. And I think what was important was getting to know her as a person first—a person before a politician."
Still, Harris worked hard on her relationship with her stepkids.
In an essay for Elle, the VP-elect has shared that she put in a lot of effort to make sure her stepkids knew she respected them and could take whatever time they needed to get used to her.
"As a child of divorce, I knew how hard it could be when your parents start to date other people," Harris wrote. "And I was determined not to insert myself in their lives until Doug and I had established we were in this for the long haul… There's nothing worse than disappointing a child."
She shared that the first time she met Cole and Ella she "picked up a tin of cookies and tied a ribbon in a bow around them," but worried they might find the gesture "weird" or "too much."
https://www.instagram.com/p/CFSqPd_JeCd/
A post shared by Doug Emhoff (@douglasemhoff)
Apparently, though, they loved it.
Her stepson Cole Emhoff works in entertainment in LA.
He attended Colorado College in Colorado Springs, CO, and graduated with a degree in psychology in 2017. Now, he lives in Santa Monica and works as an executive assistant for Plan B Entertainment, according to his LinkedIn profile. (Btw Plan B was founded by Brad Pitt and Jennifer Aniston when they were still an item, per Variety, and Brad later took over ownership.)
https://www.instagram.com/p/Bx3s0wfA0aP/
A post shared by @coleemhoff
Cole recently made his Instagram public. But he's not a prolific poster. There are sporadic selfies and some artsy dog pics filling his feed.
https://www.instagram.com/p/B1j9uMeAX_Q/
A post shared by @coleemhoff
Harris has cheered Ella on in swim meets and basketball games.
While Ella was attending high school, Harris called herself a "cheerleader" and showed up to as many athletic events as she could.
Ella attends Parsons School of Design.
She graduated from high school in 2017 and went on to pursue a Bachelor of Fine Arts in Apparel and Textiles at The New School, per her LinkedIn profile. Kamala wasn't able to make it to the ceremony to watch her walk because it conflicted with testimony from FBI Director James Comey before the Senate Intelligence Committee about his firing and the Russia investigation.
https://www.instagram.com/p/B8CBzl1lTPE/
A post shared by ella emhoff (@ellaemhoff)
Ella shares her designs on the 'gram.
She's quite nimble with knitting needles. In fact, she's knitted some impressive sweaters, shorts, and pants. Ella also accepts custom commissions via her website.
https://www.instagram.com/p/CDZQ02jFEJw/
A post shared by ella emhoff (@ellaemhoff)
Family dinners are super important.
Sunday nights were reserved for family dinners, at least that used to be the case before her campaign run. Everyone had a role for the special get-together, according to Harris.
https://www.instagram.com/p/B0R2l33HnFY/
A post shared by Kamala Harris (@kamalaharris)
She explained to Elle: "Our time as a family is Sunday dinner. We come together, all of us around the table, and over time we've fallen into our roles. Cole sets the table and picks the music, Ella makes beautiful desserts, Doug acts as my sous-chef, and I cook."
https://www.instagram.com/p/B0FSZRRJX4W/
A post shared by Doug Emhoff (@douglasemhoff)
Harris is also friends with Emhoff's ex-wife, Kerstin.
In an August interview with PEOPLE, Kamala also shared that she has a close relationship with Emhoff's ex-wife Kerstin. "We're a very modern family. Their mom is a close friend of mine," she told the publication.
Kerstin later opened up in a new profile in Marie Claire about their relationship. She was impressed with Harris when she learned her ex-husband, Doug, was dating her. "I just thought, 'Wow, that's cool. Don't mess this up!'" she said. Kerstin also revealed that she volunteered her services to Harris' presidential bid before it ended in 2019.
During an interview with Dana Bash, Harris also shared that Kerstin was "key" to her relationship with Cole and Ella.
"One of the keys to my relationship with Cole and Ella is their mom," she said. "We are friends… The thing about blended families—if everyone approaches it in the way that there's plenty of love to share, then it works."
Emhoff has been on the campaign trail with her.
Harris' hubby has been by her side during the entire campaign, from spreading the word about mail-in ballots and giving speeches in battleground states.
He also shared an adorable pic of the two after the election was called on Saturday. "So proud of you. ❤️❤️🇺🇸🇺🇸" he wrote in the caption.
https://www.instagram.com/p/CHTDI1KJLiy/
A post shared by Doug Emhoff (@douglasemhoff)
Harris' grand-nieces joined her after the victory speech.
In addition to her husband and other family members, Harris brought two very special guests on stage: her two grand-nieces. The adorable young girls holding Harris' hands at her victory speech belong to her niece, Meena Harris. (BTW Meena is the daughter of Kamala's sister Maya Harris.)
https://www.instagram.com/p/CHUFbTzJI9r/
A post shared by Meena Harris (@meena)
Cole jokes about what his dad's title will be in Washington.
In a profile by Marie Claire, Emhoff shared that if Kamala Harris becomes the next vice president, there have been lots of jokes about what his official title will be.
"I'm going to leave that to others to decide," he told the publication. "I'm not into titles. I'm into action. I'm not into labels. I'm really just into—No, no, no. No one has told me! I don't know." He added that his buddies and son have tossed a few names out there, like "Second gentleman." And Cole liked it, saying, "I guess that has a ring to it."
Emhoff will join the Georgetown Law faculty and embrace his role as Second Gentleman in D.C.
After the 2020 election, a spokesperson for the couple told the Washington Post that Emhoff plans to leave his private law practice in the entertainment industry to move to Washington, D.C. and focus on his role in the Biden-Harris Administration. He's become close friends with former Second Lady Dr. Jill Biden, who plans to continue teaching at Northern Virginia Community College once she becomes First Lady.
Emhoff will also serve as a Distinguished Visitor from Practice at Georgetown Law. His courses will include "Entertainment Law Disputes" in the upcoming spring semester, per CNN. "I've long wanted to teach and serve the next generation of young lawyers," Emhoff said in a statement. "I couldn't be more excited to join the Georgetown community."
He also encourages more politicians like his wife. "I want more women in office, and I want more partners, whoever their partner is, to support them and to provide an opportunity and an environment for success," Emhoff told NowThis in October, per the Post.
The family has a weekly Zoom call together.
Emhoff also shared with Glamour that he, Harris, and the kids have a weekly Zoom call on Sundays.
"We have a Sunday zoom, and we talk during the week. Not as much as I'd like, but we talk. But when you're on the road like this and you see what's going on in other people's families, it just gives you so much time to reflect. It's really opened my eyes, frankly," Doug said. "And it's made me a better surrogate because I listen and I take it back to Kamala and Joe. And then it informs what the campaign is talking about."
When they are together, they share adorable family photos on the 'gram.
Harris' stepchildren have helped on the campaign trail, and she's shared snaps along the way.
https://www.instagram.com/p/BxFlvRnjnrq/
A post shared by Kamala Harris (@kamalaharris)
Kamala taught her niece, Meena, to be ambitious.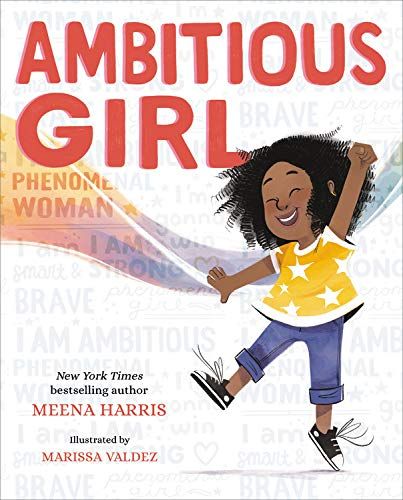 Kamala's niece, Meena, is a lawyer, activist, and author of a children's book titled Ambitious Girl, which was written to teach young girls that it's okay to follow their biggest dreams. "As I've gotten older, I've come to realize that not everyone sees ambition the same way my family does," Meena wrote in an essay for Elle. "In the Harris household, ambition means courage. It means living your purpose. But to a whole lot of other people, ambition—women's ambition, that is—is code for taking up space that wasn't intended to be yours."
Meena is a mother of two, and hopes that female ambition will be reframed in schools, which are places "where girls tend to be given more praise than boys for doing things the 'right' way—neatly, quietly, when it's 'their turn,'" she writes. "As my aunt showed us last week, when we encourage ambitious girls, they become ambitious women. And ambitious women can break barriers, shatter ceilings, and win."
Meena is the founder of the Phenomenal Woman Action Campaign.
Have you ever seen a t-shirt that says "Phenomenal Woman" or "Phenomenally Black"? Inspired by the words of Maya Angelou, the merch campaign was started by Meena Harris, and has attracted ambassadors like Serena Williams, Jessica Alba, Janelle Monae, Yara Shahidi, Lizzo, and Cecile Richards. She imagined the campaign would sell 1,000 t-shirts total, but it ended up selling 2,500 on the first day alone, and now makes merch around themes of female ambition.
"By partnering with a variety of non-profit beneficiaries, the campaign covers the following wide range of policy issues: educational excellence and healthcare equity; criminal justice reform; gender parity in STEM; reproductive health; and political representation," Meena told Vogue Australia. "Not only did we reach a wider audience this way, it also meant that we could educate new audiences, specifically about lesser-known organizations doing critical work just as impactful as the high-profile ones."
Source: Read Full Article