What the Cast of American Pie Is Up to 20 Years Later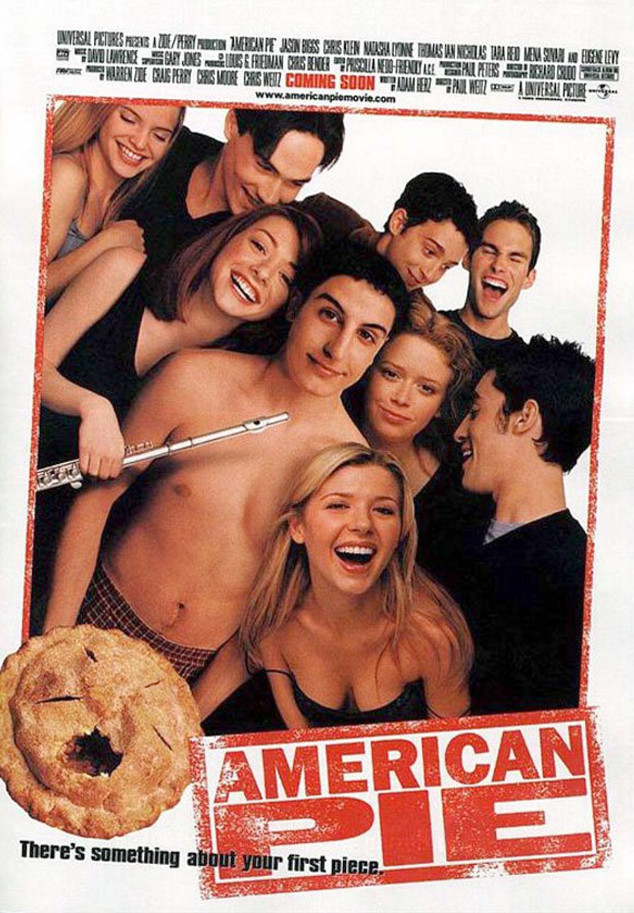 Universal Pictures
Innocent in every way, like apple pie and Chevrolet…
Made for just $10 million, American Pie went on to gross over $235 million and become a billion dollar franchise, continuing with three big screen sequels and four straight-to-DVD movies. It was the sleeper hit of 1999 that no one saw coming, especially the studio, Universal, which sold off the foreign rights in an attempt to recoup its budget. (Big mistake. Huge.)
Unlike its fellow '99 teen comedies (She's All That, 10 Things I Hate About You, etc.), American Pie wasn't afraid to talk about sex, with the film focusing on five best friends' quest to love their respective virginities before the end of high school. (Warm apple pies do not count.)
Featuring a cast of mostly unknown actors, it launched the careers of Jason Biggs, Seann William Scott, Chris Klein and Tara Reid, among others. Plus, it cemented Jennifer Coolidge's status as pop culture's ultimate movie MILF.
The majority of the stars have returned for the direct sequels, American Pie 2, American Wedding and American Reunion, while trying to avoid being type-cast for their iconic roles in the teen sex comedy. But some experienced personal hardships, including Russian Doll star Natasha Lyonne, while others found second careers as musicians, professional poker players and live-tweeters of The Bachelor.
So what are the American Pie stars up to 20 years after the first film's release on July 9, 1999?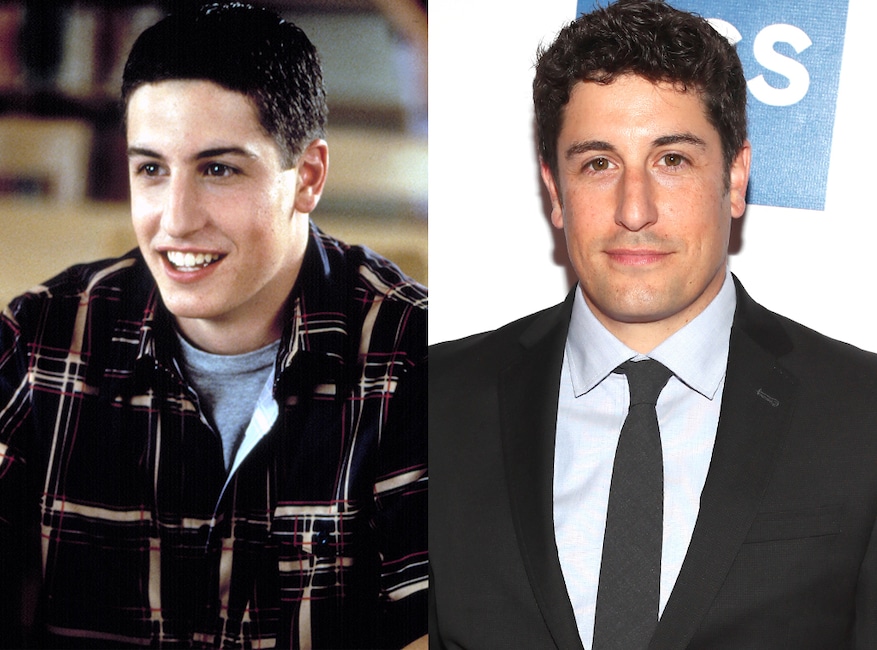 Universal Pictures; Getty Images
Jason Biggs
Thanks to his breakout role as Jim Levenstein, Biggs will forever be tied to apple pies. (The one used in that infamous scene was from Costco, in case you were wondering!) Just 21 when the film came out, Biggs went on to land starring roles in films such as Loser and Saving Silverman, along with the three Pie sequels. He had a mini-reunion of sorts with American Pie co-star Natasha Lyonne as he also was a cast member on Orange Is the New Black, appearing in 22 episodes of the hit Netflix series.
Biggs, now 41, and actress/comedian Jenny Mollen married in 2008 after they met on the set of the movie My Best Friend's Girl, going on to welcome a son named Sid Biggs Feb. 2014 and another boy, Lazlo Biggs, in Oct. 2017.
In 2018, Biggs reunited with his onscreen dad Eugene Levy to introduce him to his two kids, writing on Instagram he had "to bring in the big guns" to make his second child laugh. No pies were harmed.
Over the years, Biggs and Mollen became known for their (sometimes controversial) live-tweets that she ended up co-hosting the Bachelor in Paradise after-show with Chris Harrison in 2015, and the couple was asked to judge a group date during Hannah Brown's recent season of The Bachelorette.
During an interview with Cinema Blend, Biggs reflected on the American Pie franchise's longevity, saying, "We'll be in X country and people will say, 'I'm the Sitfler in my group, or I relate.' I meet these adults who are like, 'That was my movie growing up,' and you're like, 'The f–k? How old am I?'"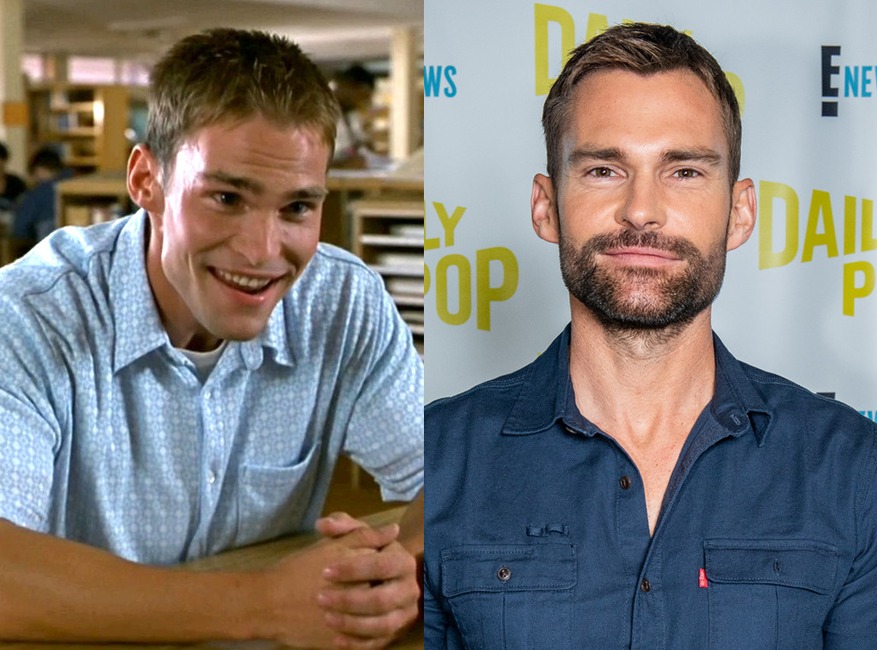 Universal Pictures; E!
Seann William Scott
The role of Stifler was Scott's movie debut and helped make him out of the film's breakout stars, going on to star in Dude, Where's My Car, Road Trip, Old School and The Dukes of Hazzard, along with appearing in three follow-up American Pie movies. In an interview with BBC1, Scott revealed he was only paid $8,000 for the first movie.
He became so popular that he was even tapped to host the 2003 MTV Movie Awards with Justin Timberlake.
In 2011, Scott's rep confirmed to E! News that the actor had "voluntarily admitted himself" into a treatment center to receive "proactive treatment to address health and personal issues." The following year, Scott revealed he was engaged to former Victoria's Secret model Lindsay Frimodt to us at the American Reunion premiere, but the couple split in 2013.
Following a bit of a break from Hollywood, Scott made his comeback when he was tapped to join Fox's Lethal Weapon after star Clayne Crawford's controversial firing.
"Seann is a fantastic addition to this already amazing cast," Michael Thorn, Fox's president, said in a statement. "Lethal Weapon is packed with action, drama and pure fun and we can't wait to see Damon and Seann together on screen."
But during the season three run, Damon Wayans revealed he was quitting the show, explaining, "I'm a 58-year-old diabetic and I'm working 16-hour days… Murtaugh said, 'too old for this.'"
20 years later, Stifler is still Scott's defining role, and that's more than fine for the 42-year-old star.
"Those characters are so much fun. I'd rather be that guy than more of, like, the straight guy," he told The Wrap. "So, maybe I typecasted myself. I don't really care."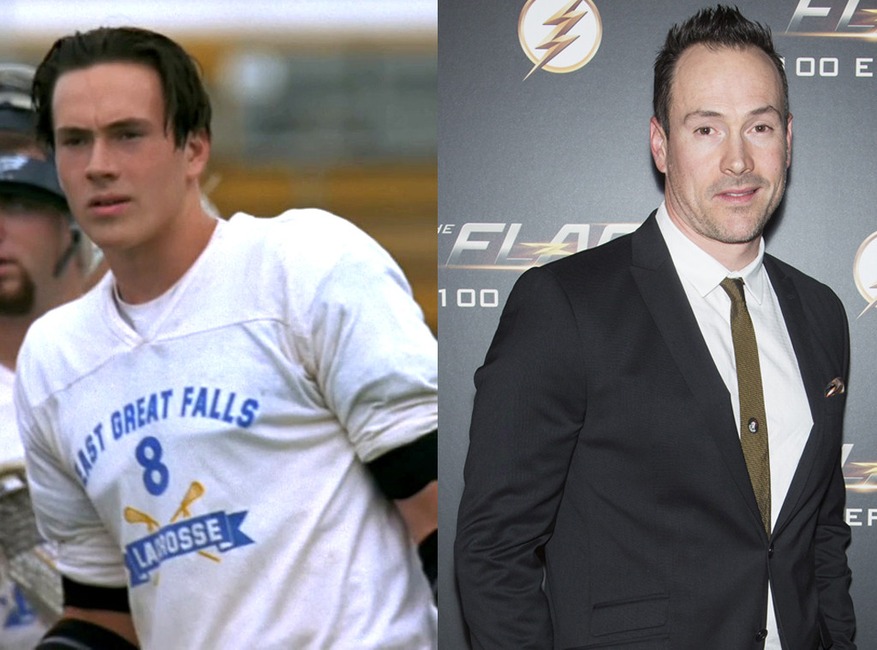 Universal Pictures; Getty Images
Chris Klein
American Pie was only Klein's second film (following Election, another 1999 hit), and his turn as Oz, the sensitive and singing jock, made him a heartthrob. So did his romance with Dawson's Creek star Katie Holmes, who he dated from 2000 until 2005, when they called off their engagement and Holmes soon entered her high-profile relationship with Tom Cruise.
Following two DUI arrests, one in 2005 and one in 2010, Klein voluntarily checked himself into a 30-day treatment program to deal with his "disease" in 2010.
"I realized I had to get it straight and realize what the f–k was going on because the me that I knew was slipping away," the actor, now 40, told The Daily Beast in 2012. "At that point, f–k acting. Can I even get out of bed? I was a 31-year-old man with bills to pay, a dog to take care of, and my mother sick with worry. And I'm in jail again. How did I get here?"
Klein had quite the viral moment when his audition for 2008's Mamma Mia! was leaked in 2010 and featured a pretty cringeworthy and off-key rendition of ""Lay All Your Love on Me," along with some awkward banter with the casting director. (Alas, he lost out to Dominic Cooper.)
"It's kind of amazing to wake up one morning and you see an audition that you did two years ago be on YouTube. You think, 'Oh, wow! That was terrible! That was a really horrible thing,'" he told Popcorn's Peter Travers after the video went viral, "But keep in mind, those things are never meant for the public to see; it should be an avenue for actors to go take chances and give their best and see what comes out." He got in on the joke when he released a parody video.
In 2015, Klein married Laina Rose Thyfault at the Rainbow Ranch in Montana after meeting at a mutual friend's wedding nearly five years earlier, and the couple welcomed their first child, a son named Frederick Easton, in 2016.
Klein recently joined the cast of The CW's The Flash, playing the villain Cicada.
Article continues below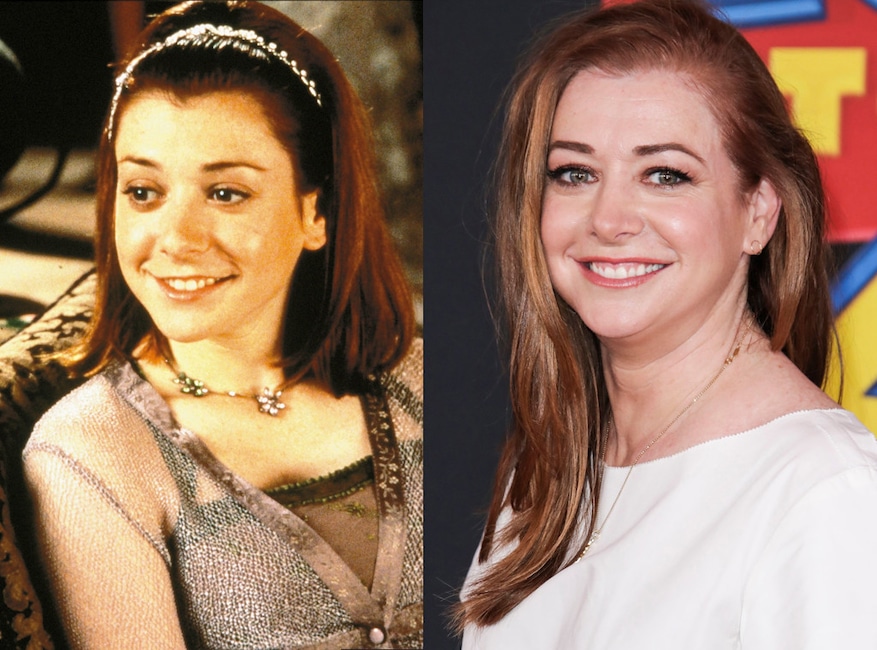 Universal Pictures; Shutterstock
Alyson Hannigan
Arguably one of the most well-known members of the cast thanks to her hit TV show Buffy the Vampire Slayer, Hannigan was initially offered the role of Heather, but turned it down when she read the screenplay and took a liking to Michelle, the surprisingly sexual band geek. Hannigan returned for the three follow-up films that focused primarily on Michelle and Jim's relationship. (Fun fact: Her iconic "Say my name, b–ch!" line was ad-libbed in the moment.)
After American Pie, Hannigan, who was one of the oldest cast members at 24, went on to marry her Buffy co-star Alexis Denisof the same year the series ended (2003), and the couple have two daughters, Satyana and Keeva.
In 2005, Hannigan's next hit series, How I Met Your Mother, debuted and ran for over 200 episodes before coming to an end in 2014, with the star earning two People's Choice Awards for Favorite TV Comedy Actress during its run.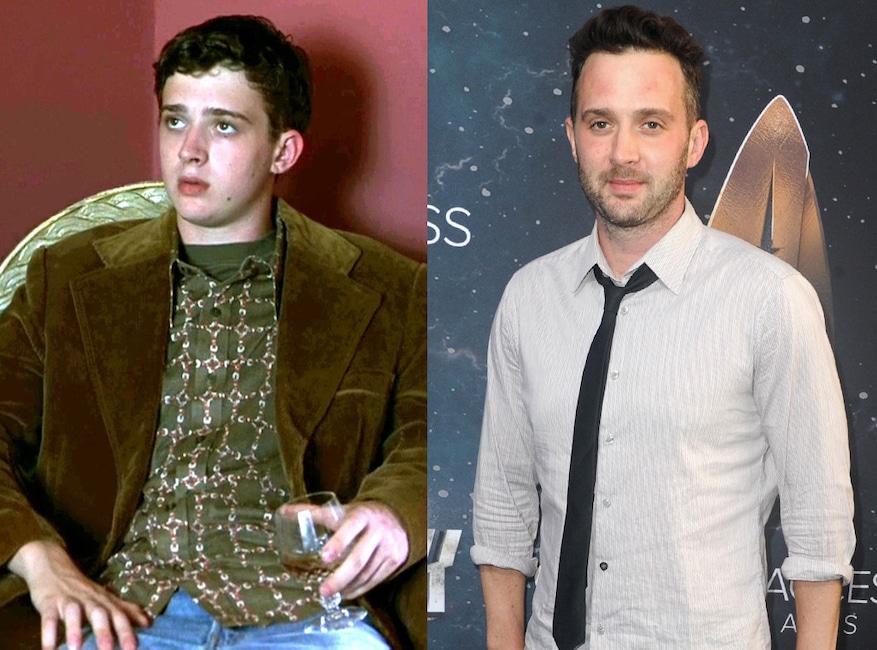 Universal Pictures; Getty Images
Eddie Kaye Thomas
Thomas became one of American Pie's breakout stars after his character Finch's scene-stealing moments, including being forced to use the school bathroom and his illicit encounter with Stifler's mom, played by Jennifer Coolidge. And it turns out he had a strong friendship with Coolidge off-screen as well, as she revealed to LAist in 2012, "After the first movie, Eddie moved into my house, in real life, and he was this young, very pale kid that now isn't pale."
Their connection makes sense, given its still the first thing people think of when they see Thomas, as he revealed during a recent interview with James Corden.
People look at me, they point and they yell out, 'Stifler's mom!" he said. "Especially the Brits…
Thomas went on to star in Freddie Got Fingered and Harold & Kumar Go to White Castle (and its sequels), along with starring in several hit TV shows, including 'Til Death and CBS' Scorpion alongside Katharine McPhee.
In 2013, Thomas, now 38, had quite the scare when he called 911 after a female house guest allegedly grabbed a kitchen knife, threatened him, and then barricaded herself in his home. The woman was later slapped with five charges, including vandalism over $400 damage; exhibiting a deadly weapon; interference with a wireless communication device; false report of a criminal offense; and resisting/obstructing/delay of a peace officer.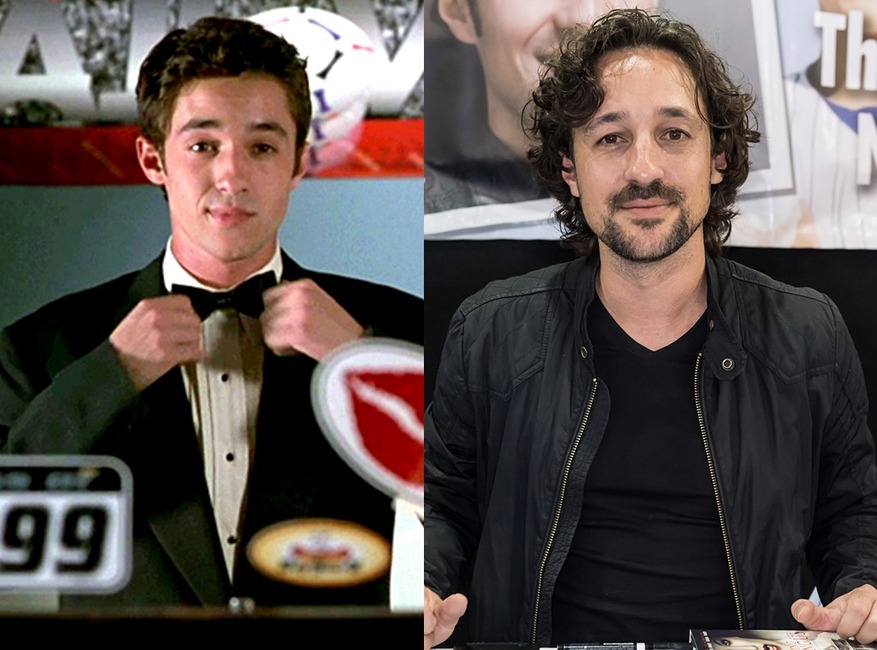 Universal Pictures; Getty Images
Thomas Ian Nicholas
Known for his turn in Rookie of the Year (He was the rookie!) and A Kid in King Arthur's Court as a child actor, Nicholas made the jump to more adult fare as the virgin-with-a-girlfriend Kevin in the 1999 teen sex comedy.
I didn't really get a lot of flak in regard to that. Plus they kind of advertised it as an unknown cast," Nicholas told ReviewSTL.com. "So it took about seven years before the first person put two and two together, that I was the same guy. And now, I still have people that don't realize it."
In addition to the three sequels, Nicholas also starred in The Rules of Attraction, Halloween: Resurrection and appeared on Party of Five, before playing Walt Disney in 2015's Walt Before Mickey.
Nicholas married DJ Colette in 2007, and in 2011, the couple welcomed their first child, a son named Nolan, with Nichols telling E! News, "The first thing that Nolan did when he entered the world was grab one of the doctor's tools out of his hands. We might just have a future doctor in our midst!" The pair's second child was born in 2016.
Nicholas has performed and toured with his band, The Thomas Nicholas Band, since 2008, and often plays shows when he makes appearances at various Comic-Cons around the country.
Because of Rookie of the Year's cult status, Nicholas actually throws out the first pitch once a year for the Chicago Cubs, along with singing the seventh inning stretch.
Article continues below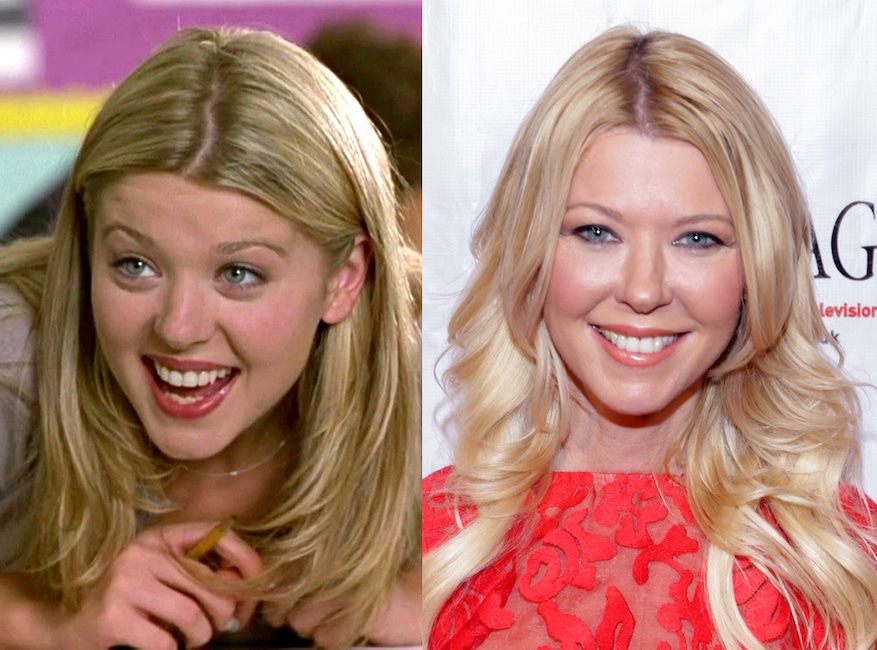 Universal Pictures; Getty Images
Tara Reid
Reid became a Hollywood It girl in the early 2000s after playing Vicky, Kevin's high school sweetheart, in American Pie, going on to star in Josie and the Pussycats, Van Wilder and My Boss's Daughter. Reid had several high profile romances, including an engagement to then-TRL host Carson Daly in 2001.
But as she became a tabloid target, Reid shifted her focus to reality TV, competing on Celebrity Big Brother UK in 2011 and joining Marriage Boot Camp: Reality Stars in 2016 with Dean May, but the couple was kicked off when it was revealed they lied to get on the show.
In 2004, Reid made headlines for her appearance after she suffered from a breast augmentation. "My stomach became the most ripply, bulgy thing," she later told CBS News. "I had a hernia, this huge bump next to my belly button. As a result, I couldn't wear a bikini. I lost a lot of work." She went on to have the procedure reversed in 2006, but has continued to draw attention for her body over the years, including her thin frame.
"Bullying is such a big deal these days and it's something I very much personalized with," Reid told E! News in 2017, addressing the "body-shaming" she felt she experienced. "In my life, I've had a lot of bullying and I know what that feels like and how much it hurt."
Reid, now 43, found surprise success when she starred in 2013's Sharknado, which kicked off Syfy's successful TV movie franchise, which ended in 2008 with its sixth film. But Reid's behavior while promoting the final movie made headlines, including a bizarre interview and the actress being removed from a flight after causing a "disturbance" before take-off.
In addition to thanking her fans, Reid said in a statement after her interview generated concerns over her wellbeing, "I am in great spirits and health and I look forward to my future projects and what's in store for me next."
Universal Pictures; Getty Images
Mena Suvari
Suvari had quite the one-two punch in the late' 90s, earning hits on the comedy and dramatic side of things, thanks to American Pie, in which she played choir girl Heather, and American Beauty, which won Best Picture at the Oscars in 1999.
Suvari went on to star opposite Biggs in Loser, as well as the cult cheerleader comedy Sugar & Spice, playing one of the robbery-committing cheerleaders. She went on to appear in a string of independent movies throughout the aughts, and joined the cast of HBO's Six Feet Under. She reprised the role of Heather in two of the three American Pie sequels. Aside from memorable appearances in the American Horror Story franchise as Elizabeth Short aka the Black Dahlia and starring in The Real Housewives of Beverly Hills star Kyle Richards' short-lived series American Woman, Suvari most recently played the late Nicole Brown Simpson in the film The Murder of Nicole Brown Simpson.
In October 2018, it was confirmed that Suvari had secretly tied the knot with Michael Hope, whom she began dating two years prior. The couple met on the set of a Hallmark movie, I'll Be Home for Christmas, where Hope worked in the art department. It marks her third marriage, following previous marriages with cinematographer Robert Brinkmann from 2000 to 2005, and then concert promoter Simone Sestito from 2010 to 2012.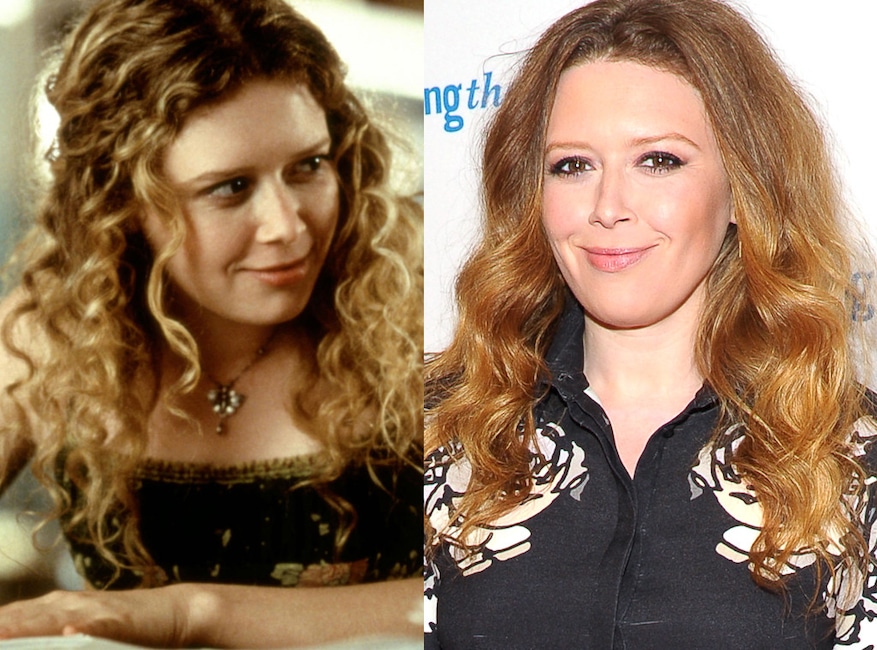 Universal Pictures; Getty Images
Natasha Lyonne
Somewhat of an indie darling, American Pie was Lyonne's first major blockbuster, thrusting her into the spotlight.
Lyonne was arrested for DUI in 2001, beginning a string of headline-making behavior, including being charged in 2004 with criminal mischief, harassment and trespassing for storming into a neighboring unit and threatening to molest the neighbors' dog. In 2005, she ended up in intensive care with a collapsed lung and suffering from hepatitis C. She spent most of that summer hospitalized, with her health issues and sobriety taking priority over Hollywood.
"Listen, I did not think I was coming back," Lyonne told Entertainment Weekly in 2012. "So I didn't really care. When you go as deep into the belly of the beast as I went, there's a whole other world going on and something like show business becomes the dumbest thing on planet Earth."
But Lyonne, now 40, made her comeback in a major way, playing a locked-up drug dealer in Netflix's hit Orange Is the New Black, joking to Out, "What was great was how little research I had to do for the role!" she cracked. "Who'd have thought all those arrests would have been so terrific for my career?"
And she was just getting started, as Lyonne recently earned rave reviews for her Netflix series Russian Doll, which she co-created (along with Amy Poehler) and starred in. The hit show, which was renewed for a second season, was "so personal" for Lyonne, who told Elle, "My family's story, my years through the ringer of being at death's door and addiction, and the experience of being a weirdo and an outsider in New York and in this business. There's always the fear when you're digging that deep and exposing that much about yourself."
In an interview with Variety, Lyonne, who has been dating Fred Armisen for over five years, said, "I'm finally so relaxed…I'm thrilled to be older—I'm thrilled to be done with being a child actor or a teenage actor or a round two, comeback actor. I'm so glad there are so many battles I've done in this industry that are now over, and I think I just feel such a relief and, in an artistic community, I think I feel really, deeply moved and supported."
Article continues below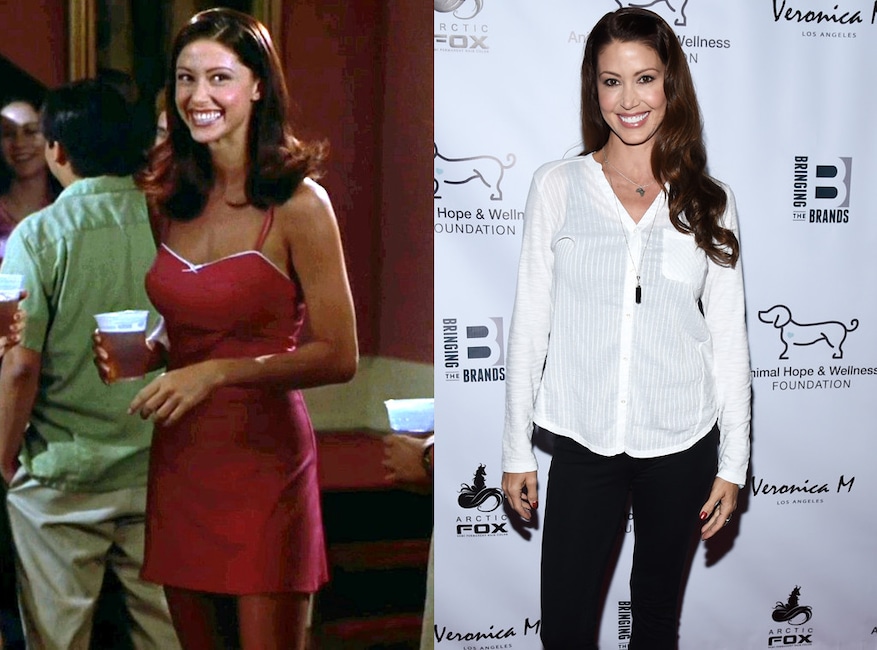 Universal Pictures; Getty Images
Shannon Elizabeth
Every teen movie has its unattainable dream girl, and Elizabeth's Czech exchange student Nadia was American Pie's, with the movie turning her into one of the most drooled-over women in Hollywood. Elizabeth went on return for two of the follow-up American Pie movies and also starred in Scary Movie, Love Actually and Jay and Silent Bob Strike Back before beginning her second career as a professional poker player in 2006.
Following her 2005 divorce from actor Joseph D. Reitman after three years of marriage, Elizabeth dated her Dancing With the Stars partner Derek Hough in 2008, and was rumored to be dating Russell Simmons in 2014.
In addition to her poker career, Elizabeth, now 45, is an animal activist who started her own foundation to help fight the poaching crisis in South Africa, where she moved in 2016, and all over the world. She's set to reprise her role as Justice in Jay and Silent Bob Reboot, and competed on the inaugural season of CBS' Celebrity Big Brother, coming in ninth place.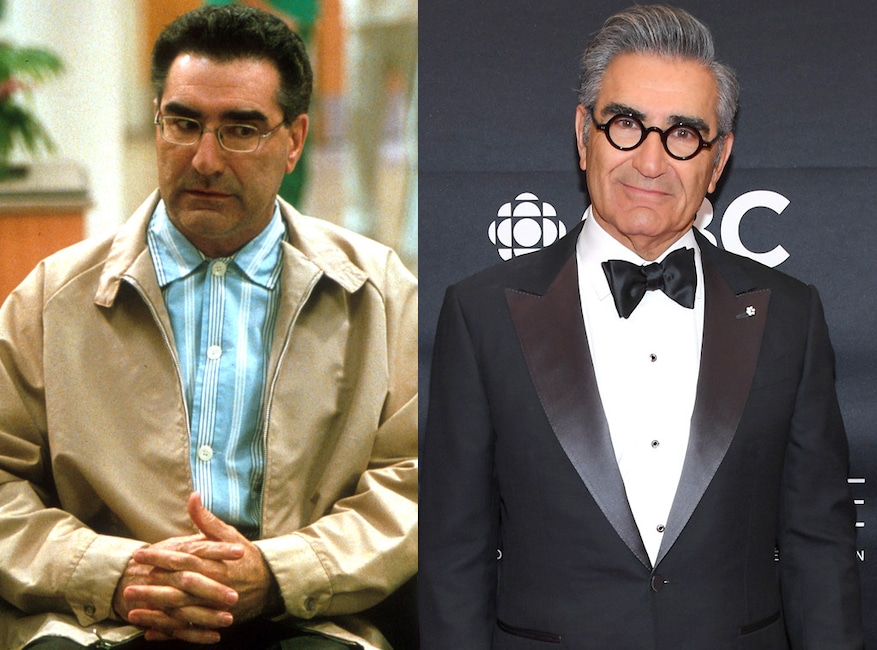 Universal Pictures; Getty Images
Eugene Levy
One of the sole adults in the film, Levy did the most with his limited screentime, stealing every scene he was in as Jim's dad.
But Levy almost turned down the role, which was once offered to Bill Murray, admitting he found the script too vulgar.
"When I first read the script, it scared me. I said, 'No, I can't do this movie,'" he explained. "My manager, at the time, said, 'Well, you should go and take a meeting?,' and I said, 'Why? It's just too out there for me. This is a kids' movie. Why would I want to be in a movie I wouldn't go see?'" After meeting with the directors, he realized they were handling the subject matter in a smart, adult way, and signed on and was encouraged to improvise, something the Second City Sketch Comedy alum was more than happy to do.
"All the scenes in American Pie came out of an improvisation," he told Huffington Post. "I wanted the character to be a real dad. Like a real, corny dad who cares about their children. I wanted to be the kind of parent that the kids didn't want to hang with…[the original version] was a little creepy. So I made him more square."
One of the only original stars to appear in all of the franchise's films, including the four straight-to-DVD movies, the 72-year-old esteemed character actor now stars alongside his son Dan Levy on their hit TV series Schitt's Creek, which they co-created.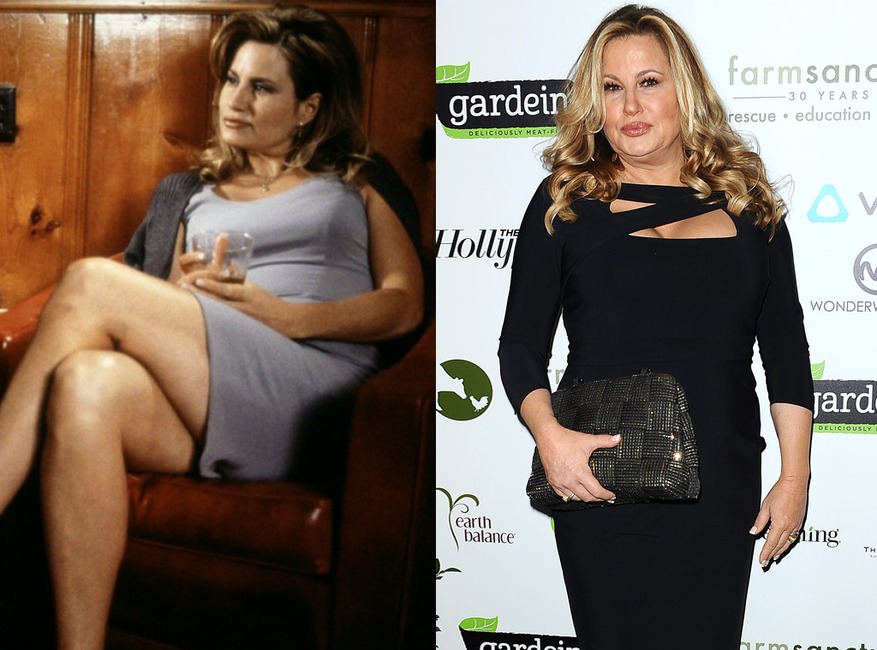 Universal Pictures; Getty Images
Jennifer Coolidge
The original MILF!
Coolidge had quite the run in the late '90s and early aughts, thanks to the American Pie films and her turn as Reese Witherspoon's sidekick in Legally Blonde. While she had supporting roles in both, she had quite the impact (though it failed to land her the role of Lynette on Desperate Housewives, as she narrowly lost out to Felicity Huffman).
Aside from starring opposite Hilary Duff in A Cinderella Story, Coolidge also starred on NBC's shortlived Friends spinoff Joey and appeared on According to Jim, Sex and the City and Frasier. After landing a promiment role on Secret Life of the American Teenager, Coolidge joined CBS' hit sitcom 2 Broke Girl until its cancellation in 2017 and played Brittany's mom on Glee. Most recently, she reprised her Legally Blonde role for Ariana Grande's Thank U, Next music video, once again doing the iconic Bend & Snap move.
Playing the OG movie MILF has had is perks for Coolidge, who admitted to using her time as Stifler's mom to her advantage in an interview with MTV.
"Some restaurants, you know, they can't take you, and then you show up, and they're like, 'Oh, we can take you,'" she said. "I went to buy tickets to a concert, and they told me all the good seats were gone, and then he was a fan of American Pie and I ended up with these amazing seats. So there are some benefits to this job."
Article continues below
Don't miss E! News every weeknight at 7, only on E!
Source: Read Full Article