Who Is Kate Middleton's Father, and Why Don't We Hear More From Him?
While we got to learn a lot (maybe too much) about Meghan's dad, we know very little about Kate Middleton's father.
When both William and Harry got married, the world was eager to not only learn all that they could about their wives, but they also wanted to know about the families that the young princes would be marrying into. Many people are curious about where the Duchesses came from and what their family life was like before becoming a royal.
Who exactly is the man that responsible for helping to shape Kate into the sophisticated and charming woman she is today? Here is what we know about Kate's dad, Michael Middleton.
How old is Kate's father, Michael Middleton?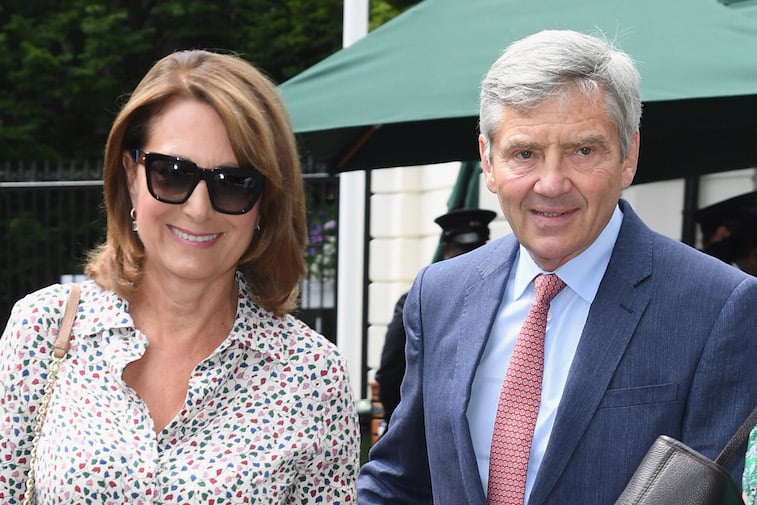 Michael Middleton is 69 years old. He was born June 23, 1949, in Leeds, England to Valeria and Peter Francis Middleton. He was born into a very well to do family that had strong ties to the British aristocracy. Michael comes from a long line of legal solicitors and his family owned their own law firm called Messrs Middleton and Sons.
During the early 20th century, the Middleton family had strong ties to the royal family. In fact, Michael's father, Peter Middleton, was a captain in the Royal Air Force and had actually co-piloted an aircraft with Prince William's grandfather, Prince Phillip.
Michael attended the Clifton public school in Bristol, where he was a prominent rugby and tennis player. When he got older, he wanted to follow in his father's footsteps, so he went to the British Europeans Airways flight school to learn how to become a pilot. Halfway through school, he decided that he would rather learn how to work on the ground crew, instead of being a pilot, and soon landed a job a the British Airways as a flight dispatcher.
Michael Middleton's family life
He met his wife, Carole when they were both working for British Airways. She was a flight attendant and he was a flight dispatcher for the airline. The two hit it off instantly and on June 21, 1980, the couple officially tied the knot.
They went on to have three children: Kate, their eldest who was born in 1982, Pippa, their youngest daughter who was born in 1983, and James, their only son who was born in 1987.
What is Michael Middleton's net worth?
When Kate and Pippa were still very young, Michael moved his family to Amman, Jordan for his job. They moved back to England in 1986, and then his wife, Carole, worked hard so that she and Michael could be their own bosses. She had created a party planning business where she sold, balloons, plates, cups, and many more items that can be used in a wide range of parties.
The couple put all of their time and energy into growing their business, and for a while, it was their only source of income. Later, they had invested in different residential and commercial real estate properties, which helped to boost their income even more.
In 2010, Michael's father passed away, leaving Michael around $130,000. Thanks to their smart business decisions and the inheritance money that Michael had received, the couple's net worth is estimated at over $67 million.
Why do we not hear more about Michael Middleton?
Michael Middleton seems to be a very quiet and reserved man. During Kate and William's wedding, there was so much media coverage of his daughter and his family, it had made him very uncomfortable.
According to Michael's friends, after the wedding was over, he allegedly told them, "Thank goodness that's over and I'll never have to do it again."
Of course, being the father of the future queen and grandfather to the future king means that sometimes being spotted by a camera or reporter is unavoidable. For instance, when he and his wife went to visit Kate in the hospital after she had just given birth to George, the media was in a frenzy to get the first glimpse of the first-time grandparents.
While Michael looked happy and excited to meet his grandson, he mainly stood quietly in front of the cameras and let his wife do all of the talking.
Source: Read Full Article