'Below Deck Mediterranean' Showrunner Reveals How the Show Is Cast and Why Casting Captain Sandy Was a Game Changer
Below Deck Mediterranean executive producer Nadine Rajabi dished about what producers look for in a cast member and admitted that the series struggled at first to find its groove. She said the series was just a "boat show" that had a small, loyal fanbase, but wasn't the breakout hit it is today. In fact, the network was on the fence about picking up the show for another season until the game-changing move was made to cast Captain Sandy Yawn.
'Below Deck Mediterranean' executive producer admits the series struggled at first
Rajabi recalled how Yawn essentially fell into producers' laps. "I have a background in standup and a standup friend of mine and [I were] having lunch and we were in post in season 1," she said on the Melissa Rivers' Group Text podcast. "We were still trying to figure out Med, it was like the 'Little Engine that Could.' Nobody was talking about Below Deck. I was working on Below Deck and Below Deck Med, trying to launch Med. Like nobody cared. It was like a little boat show on Bravo. "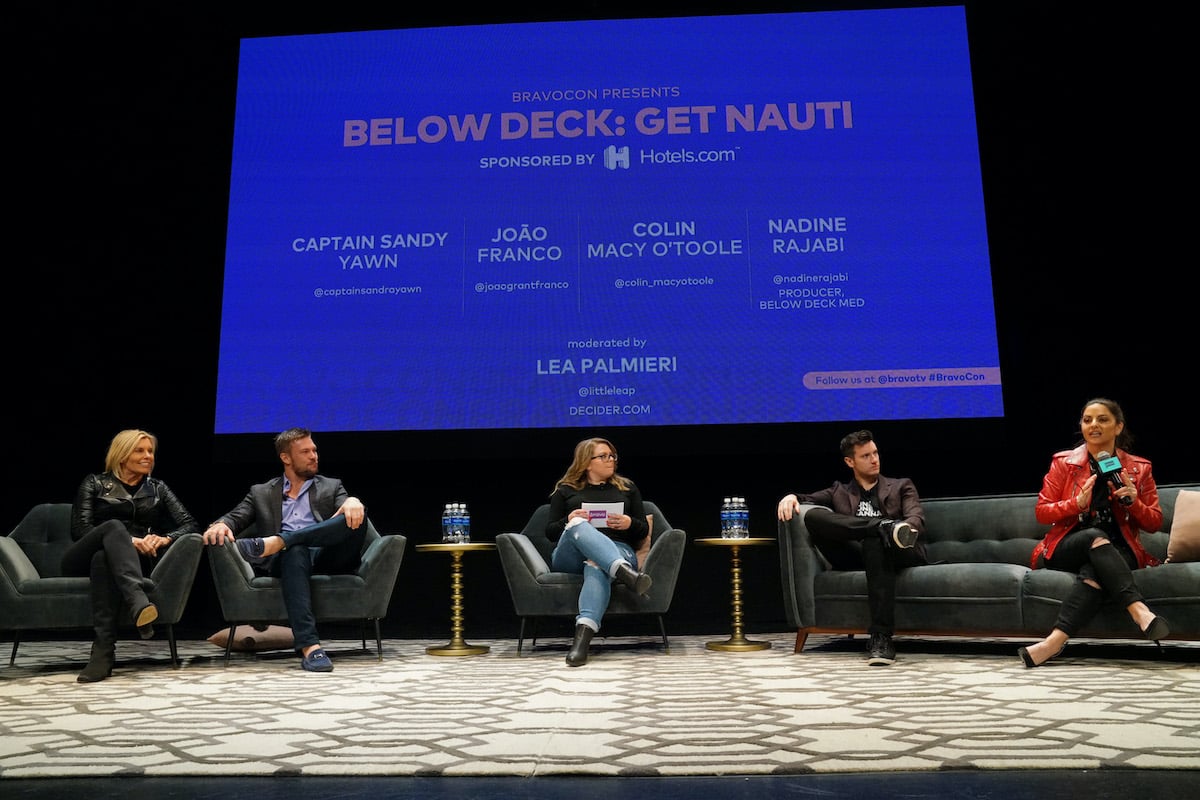 Below Deck Med Season 1 had a different captain, but the same wild drama. Chef Ben Robinson helped to bridge Below Deck Med but even Robinson's magic touch wasn't driving the ratings. "People were watching, but it was the boat show," she said. The network even reconsidered the series entirely, wondering if they made a mistake by buying Below Deck Med.
How did Captain Sandy change everything for 'Below Deck Med'?
"This comedian friend of mine goes, 'I know a captain, a female captain,'" Rajabi said. "I'm like, 'Oh really is she a superyacht captain?' She goes, 'Yeah.'" While Rajabi's friend said Yawn was not only a superyacht captain and she could run a charter in the Med, Rajabi was still skeptical.
Rajabi's friend put them on a text chain with Yawn. "I didn't think twice about it, I thought my friend was full of sh–t," she said. "And then two days later I go home and Google Captain Sandy and was like 'Oh my God, this woman has an award for being chased by pirates in the Red Sea!' She's the real deal! So right away I text the network, 'You guys gotta see this woman!' This was right when Hillary [Clinton] was about to run for President. It was before Trump. This was huge female empowerment. It was a big, big deal of having a female captain. And no disservice to our first captain but there was something so special about Sandy, just reading about her and all the things she had done."
"So long story short, talking to her and getting her on the show, she became the face of the series," Rajabi said. "All through a comic friend who randomly knew her!"
How is 'Below Deck Mediterranean' cast?
Speaking of casting, what do producers look for when they cast the rest of the crew? Producers first look at the yachties' CV, Rajabi said. "A lot of times people lie on their CVs," she said. "We check their references, and we've seen on the show where it's like they lie on their CVs. And people are like, 'Oh you guys cast this [person].' It's like no we didn't. We check their references and people lie on their CVs and it happens all the time. So we lean into what's real."
Then producers search for personality. "I personally love humor," Rajabi said. "Because I have a comedy background. So are they funny. No matter what, are they funny. Are there layers? Are they interesting? I don't like somebody that just wants to be there to be on TV. What I like about Below Deck is they're not there to be reality stars. Some people you'll see that happening. But especially on the Med or the Caribbean, a lot of these kids are from Europe, South Africa, Australia. All over the world. They've never even seen [Below Deck]. Now Below Deck is so popular but in the early days, they'd never even seen Below Deck. So they're just yachties and it was one of those YOLO experiences."
"So what I love is they're not there to just be something," she said. "They're unfiltered. So you'll definitely see the heartthrob. The person that's very buttoned-up and put together. You really do see archetypes of human beings. And that's what I love about this series if that you kind of get into every archetype of … the classic archetypes of people."
Source: Read Full Article