'Grease' Reunion: John Travolta, Olivia Newton-John Dress in Character
Actors dressed up for a sing-a-long event in West Palm Beach, Florida on Friday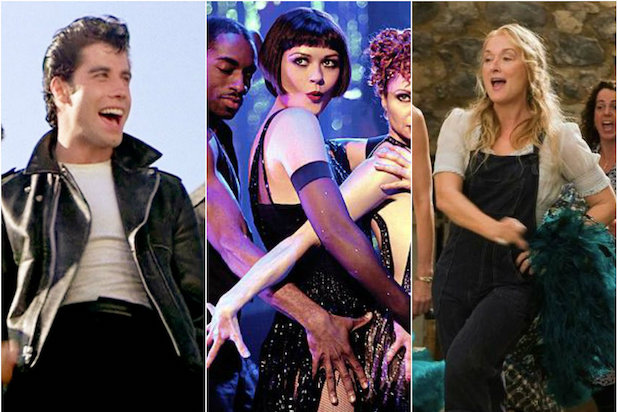 Who said the musical is dead? The last 40 years have produced box office hits out of film adaptations of Broadway smashes, original movie musicals and a few, beloved, all-time classics. Here are the 20 top-grossing live-action movie musicals of the last 40 years based on domestic box office. (All figures courtesy of BoxOfficeMojo)
20. "Moulin Rouge!" (2001) – $57.3 million 

Baz Luhrmann didn't invent the jukebox musical, but his film's exuberant, garish mash-up of original songs with everything from Christina Aguilera to David Bowie to Rodgers & Hammerstein certainly helped popularize it for the 21st century.
Fox
19. "Coal Miner's Daughter" (1980) – $67.1 million 

Sissy Spacek played the legendary country singer Loretta Lynn in Michael Apted's biopic that went on to be one of the Top 10 box office hits of 1980 and a Best Picture nominee.
Universal
18. "The Best Little Whorehouse in Texas" (1982) – $69.7 million 

Burt Reynolds and Dolly Parton starred in this adaptation of a stage hit about a sheriff fighting to keep a local brothel open after it's called out by a TV reporter. The film performed well enough at the box office to knock the long-running "E.T." from the No. 1 spot.
Universal
17. "Ray" (2004) – $75.3 million 

Jamie Foxx won an Oscar for capturing the mannerisms of Ray Charles on stage, and though Foxx can sing himself, all the songs are Charles' original vocals.
Universal
16. "Annie" (2014) – $85.9 million 

Instead of the freckled red head, the modern update to "Annie" starred "Beasts of the Southern Wild" star Quvenzhane Wallis in the lead role alongside Cameron Diaz and Jamie Foxx.
Columbia Pictures
15. "The Muppets" (2011) – $88.6 million 

The Muppets had a big box office slump in the '90s and disappeared entirely in the 2000s. Jason Segel's musical helped make them relevant again.
Buena Vista
14. "High School Musical 3: Senior Year" (2008) – $90.5 million 

The first two "High School Musical" films were such massive, surprise hit TV movies on the Disney Channel that they went all out for a theatrically released threequel that made over $90 million.
Disney
13. "Dreamgirls" (2006) – $103.3 million 

Jennifer Hudson won an Oscar for her work in this Broadway-based drama about a trio of female soul singers who rose to the top of the charts. The cast included Beyonce, Jamie Foxx, Eddie Murphy, Anika Noni Rose and Oscar winner Jennifer Hudson. 
Paramount
12. "Hairspray" (2007) – $118.8 million 

It's the film adaptation of the stage musical adaptation of John Waters' campy kitsch movie, and somehow, Adam Shankman's film not only turned out to be a hit, it was a joyous, colorful and fun experience that critics loved, even with John Travolta dressed in drag.
New Line
11. "Walk the Line" (2005) – $119.5 million 

Joaquin Phoenix and Reese Witherspoon star in this emotional biopic on the life of Johnny Cash and his wife June Carter.
Fox
10. "Enchanted" (2007) – $127.8 million 

The movie that made Amy Adams a star is finally getting a long-awaited sequel, the announced "Disenchanted." 
Disney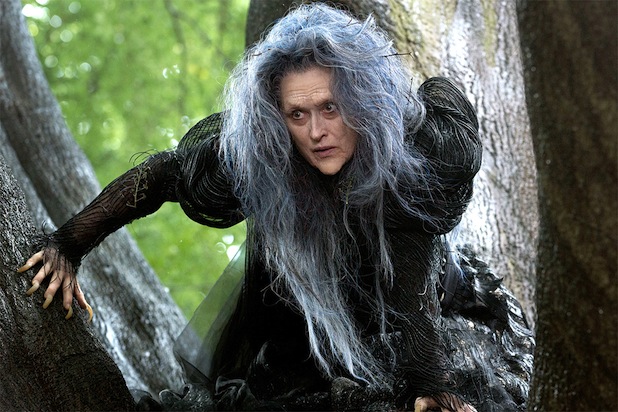 9. "Into the Woods" (2014) – $128.0 million 

Meryl Streep and Chris Pine stole the show in Rob Marshall's adaptation of the Stephen Sondheim musical sending up classic fairy tales. 
Disney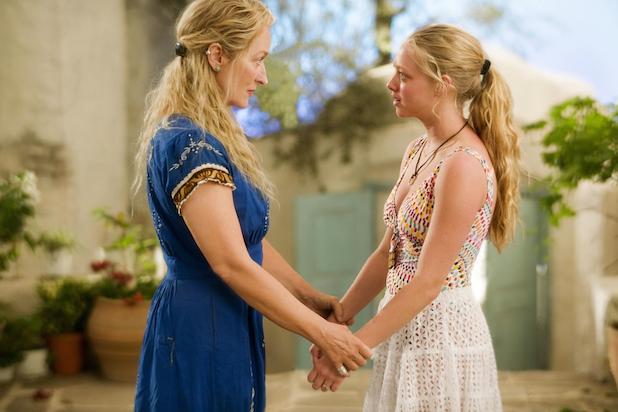 8. "Mamma Mia!" (2008) – $144.1 million 

The first "Mamma Mia!" film, an adaptation of the stage hit featuring the songs of ABBA, made a whopping $144 million, opening on the same weekend as "The Dark Knight."
Universal
7. "Les Misérables" (2012) – $148.8 million 

Tom Hooper followed up his Best Picture-winning "The King's Speech" with this lavish and dizzying musical that won Anne Hathaway an Oscar. He'll go back to the Broadway musical well for his next film, "Cats."
Fox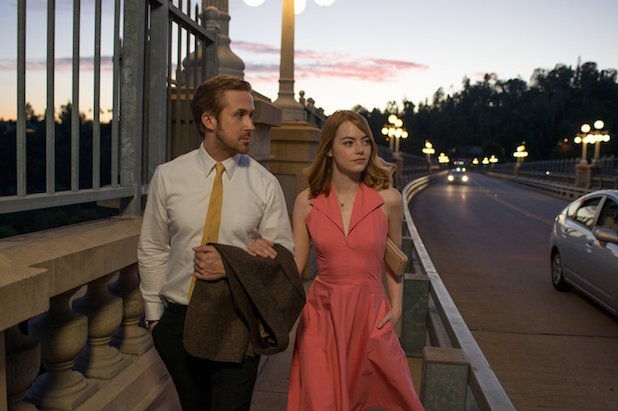 6. "La La Land" (2016) – $151.1 million 

The almost-Best Picture winner from Damien Chazelle was also runner-up as the highest grossing Best Picture nominee of 2016, falling behind "Hidden Figures."
Lionsgate
5. "Chicago" (2002) – $170.6 million 

Rob Marshall's "Chicago" won six Oscars, including Best Picture, and helped launch the genre's revival on the big screen this century.
Miramax
4. "The Greatest Showman" (2017) – $174.3 million 

Hugh Jackman's factually loose biopic about the life of P.T. Barnum and the formation of the circus catapulted to success on the heels of its Oscar-nominated song "This is Me" by the "La La Land" songwriters Benj Pasek and Justin Paul.
NIko Tavernise/20th Century Fox
3. "Straight Outta Compton" (2015) – $161.1 million 

F. Gary Gray's biopic about N.W.A did a wonderful job making the legendary rap crew's music vital and timely and even balanced the three stories of Eazy-E, Ice Cube and Dr. Dre nicely.
Universal
2. "Grease" (1978) – $188.7 million 

Though its box office total is inflated somewhat by a re-release, "Grease" still holds up not just as one of the best musicals of the last 40 years but also the most successful (certainly given inflation).
Paramount Pictures
1. "Beauty and the Beast" (2017) – $504.0 million
Disney struck gold with its live-action adaptation of the animated hit "Beauty and the Beast," lovingly re-created to minute detail by director Bill Condon with a cast led by Harry Potter alum Emma Watson.
Disney
Can "Mamma Mia! Here We Go Again" match the box office success of the original?
Who said the musical is dead? The last 40 years have produced box office hits out of film adaptations of Broadway smashes, original movie musicals and a few, beloved, all-time classics. Here are the 20 top-grossing live-action movie musicals of the last 40 years based on domestic box office. (All figures courtesy of BoxOfficeMojo)
Source: Read Full Article