'He's All That': Addison Rae Apologized to Tanner Buchanan for 1 'Challenging' Scene
He's All That is a gender-swapped remake of the '90s movie She's All That. The film is a modern adaptation of Pygmalion and My Fair Lady. In the original movie, handsome jock Zack Siler, played by Freddie Prinze Jr., loses his status as the most popular guy when his hot cheerleader girlfriend dumps him for a reality TV star. To save face, he makes a bet with his buddies that he can turn the school's nerdy girl Laney, played by Rachael Leigh Cook, into the prom queen. In the end, they fall in love.
The new film follows the same storyline, but with a twist. The popular guy is a popular girl, and the nerdy girl is a nerdy guy. Let's take a look at the movie and one scene, in particular, that was challenging for star Addison Rae.
The premise of 'He's All That'
The film features Addison Rae as Padgett Sawyer, an Instagram influencer who tries to turn the school's least popular boy, Cameron Kweller, played by Tanner Buchanan, an antisocial photography nerd, into a prom king. Rae herself is a real-life influencer who only recently jumping into the realm of acting. She got her start on TikTok and as of July 2021, she has amassed over 81 million followers on TikTok, ranking as the third most-followed individual on the platform.
She is joined by veteran actor Tanner Buchanan who is known for his recent work in Cobra Kai, a series that itself was a sequel to the Karate Kid movies of the '80s. 
Tanner Buchanan and Addison Rae on 1 scene
One of the most challenging scenes was where Buchanan had to be drenched while wearing a suit. Rae kept messing up the scene and they had to keep reshooting it. Buchanan told EW," It was really cold that night, and we shot from 12 to 6 a.m.," added Buchanan. "It was 40 to 45 degrees Fahrenheit out… and I had to get in the shower every 30 minutes and then walk outside and continue to do the scene."
Though Rae apologized for her part in elongating the shoot, Buchanan was a good sport about it. Despite having to act in just above freezing temperatures in wet clothes, he still seems to enjoy his time with Rae. There is absolutely no bad blood between the two. 
Not all 'He's All That' scenes were bad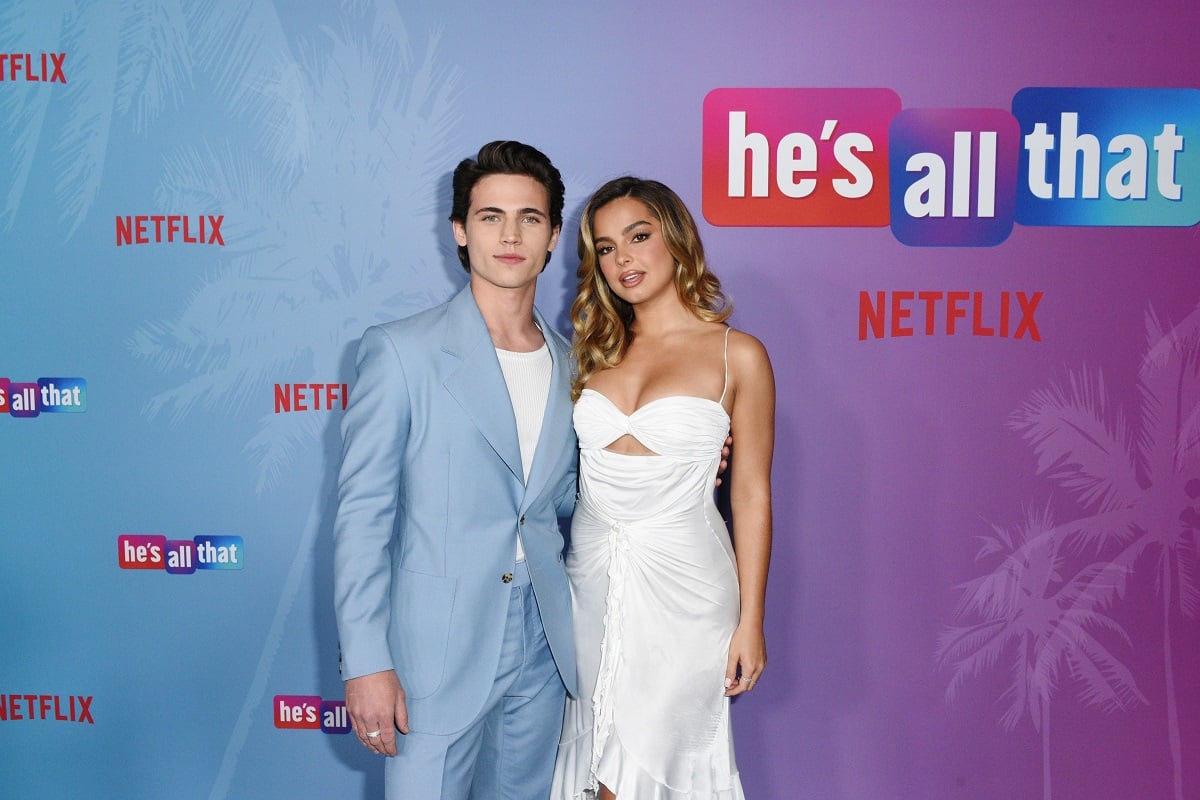 Both actors have said that they enjoyed making the movie together despite the one challenging scene. According to ET, the two practiced their kissing scene together offset. Rae says, "We did practice the kiss together on our own time," Rae revealed. "You have to! It's awkward the first time in front of everybody, so we were like, 'OK, we got to get it out of the way. Let's just do it!"
They have also said that the entire crew really got to know each other on set and still stay in touch even after the film had wrapped.
He's All That was Addison Rae's movie acting debut. One of the best parts of the movie was seeing She's All That star Cook return to play Rae's mom. This was certainly a throwback that everyone over a certain age who saw the original will most certainly appreciate. Though it was a great movie, there was one thing that was missing.
One of the biggest misses of the film was not having Freddie Prinze Jr. make a cameo in the film. It's hard to think about She's All That without thinking about him as he was a beloved character in the original. With any luck, maybe we'll get a sequel to He's All That and bring all the original characters back together. 
Source: Read Full Article