Okay, Is Nicholas Hoult's Peter Character Going to Die on 'The Great'?
Huzzah! A new season of The Great is finally here, and we're thrilled. It's time to catch up with our favorite chaotic royal couple (sorry, The Crown). But if you've done any Googling or remember from your AP European History class, the true story this show is based on gets a little dicey, especially when it comes to the fate of our dear Peter. Like, he eventually dies, and now there's a question about whether that will happen in the show, too.
Basically, in real life Catherine the Great was able to get Peter to abdicate his throne so she could be in charge. Shortly after she took over, he died. It's not totally known how exactly he died, but there's speculation that he was assassinated.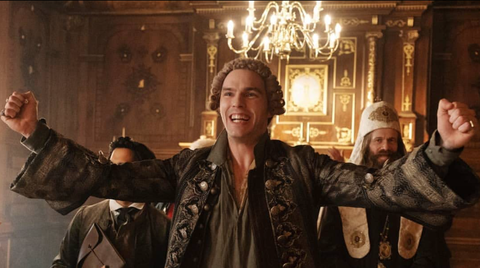 Someone asked the people who make the show about this recently. In a conversation with the cast and creators during a Television Critics Association panel this summer, a writer named Candace Havens asked what the plan was for Peter considering he died IRL pretty quickly after Catherine took power. The creator Tony McNamara and Marian MacGowan, one of the producers, had an answer (kind of).
"CANDACE HAVENS: Peter disappears fairly quickly in history after his confinement, so are you guys going to play with that a little bit so we have Nicholas around?
TONY MCNAMARA: Yeah. I don't think the real Peter was as charming as our Peter, so we're going to keep —
MARIAN MACGOWAN: He lasted a year after. He lasted a year after her coup before she killed him, the real Peter.
TONY MCNAMARA: No, I don't think so.
MARIAN MACGOWAN: Didn't they send him to the summer palace?
TONY MCNAMARA: OH, yes. Oh, I see. I see, Marian. I see what you did."
Okay, to be totally honest, I'm not sure what the second half of that exchange even means. But it appears that based on McNamara's first answer, Hulu is going to keep Nicholas Hoult around for as long as they can, which is great news. If they were to kill him off right now, there would have to be a big shift in where the drama for the show comes from, because right now Peter and Catherine are the main source of it.
The plot of season 2 is still unclear because we're just now getting the first episodes, and the show isn't totally factual (obviously). But it looks like we don't have to be worried about Nicholas's role… just yet? TBD.
Source: Read Full Article