'Parasite' Producer Nears Deal for Majority Stake in Endeavor Content
Deal with CJ ENM for 80% of the company would value Endeavor Content for as much as $1 billion
Endeavor Group Holdings is nearing a sale of 80% of its scripted-content business, Endeavor Content, to South Korea-based CJ ENM, an individual with knowledge of the talks told TheWrap.
CJ ENM is best known as the producer of the Oscar winning "Parasite."
The deal under would value Endeavor Content's scripted business at between $900 million and $1 billion, the individual added. News of the pending deal was first reported by The Wall Street Journal.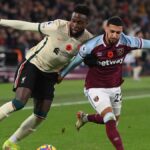 CJ ENM would own 80% of the company, with Endeavor keeping the remaining 20%. Earlier this year, Endeavor said it would reduce its ownership stake in Endeavor Content as part of the agreement between Endeavor-owned WME and the Writers Guild of America.
CJ ENM has been making inroads into the U.S. content business. Last year, the company was part of a $275 million investment round in Skydance Media, which also included RedBird Capital Partners.
More to come…
Source: Read Full Article