Seth Meyers Forced to Cancel a Week of Late Night Shows After Testing Positive for COVID-19
Taking to his social media account, the TV personality shares his decision to cancel his late-night talk show for the rest of the week after he contracted the coronavirus amid the highly contagious Omicron variant.
AceShowbiz –Seth Meyers has revealed that he has gotten sick with COVID-19. When unveiling his health scare, the TV host announced that he has to cancel his show, "Late Night with Seth Meyers", for the rest of the week.
On Tuesday, January 4, the 48-year-old TV personality took to his Twitter page to reveal that he'd contracted the novel coronavirus. "The bad news is, I tested positive for COVID (thanks, 2022!)," he began his announcement with the "bad news."
Seth went on to share the "good news," saying, "The good news is, I feel fine (thanks vaccines and booster!)." He added, "We are canceling the rest of the shows this week, so tune in next Monday to see what cool location we will try and pass off as a studio!!!"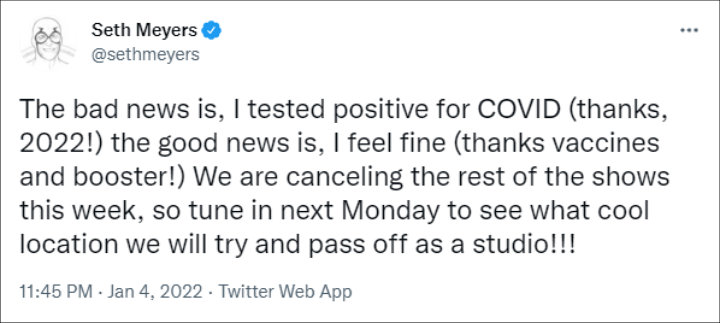 Seth Meyers announced his COVID-19 diagnosis.
The news came a day after another NBC show host Jimmy Fallon revealed that he also had COVID-19 when his show, "The Tonight Show Starring Jimmy Fallon", was on break for the holidays. "Hey guys, on the first day of our holiday break I tested positive for Covid. I was vaccinated and boostered which made me lucky enough to only have mild symptoms," he wrote beside a photo that showed him sitting alone inside a testing room wearing a mask.
Jimmy went on thanking "the doctors and nurses who work so hard around the clock to get everyone vaxxed." He continued, "Thank you to NBC for taking the testing protocols so seriously and doing a great job," before adding a joke, "and also thanks for putting me in the 'What 'chu talkin' about Willis?' isolation room when they told me the news."
Amid the spike in coronavirus cases and a new surge of the Omicron variant, NBC show "Saturday Night Live" also nearly canceled its Christmas episode after multiple cast members tested positive. The sketch show was taped without a studio audience. Tom Hanks and Tina Fey were brought in at the last minute to help host Paul Rudd carry on with the show due to the limited cast and crew.
Source: Read Full Article