'Spider-Man: No Way Home' New Trailer Laughs at Doc Ock's Real Name (Video)
And it looks like we're getting the Sinister Six-uh, Five?
Of course we saw more Doctor Strange, since this whole thing is his fault, and J. Jonah Jameson, But one thing we did NOT see is Tobey Maguire or Andrew Garfield. Sorry guys, maybe those rumors aren't true for real. But we'll wait until it comes out before we believe that.
As for the plot of "Spider-Man: No Way Home," you already know that in the stinger of "Spider-Man: Far From Home," J. Jonah Jameson (JK Simmons) revealed Spider-Man's secret identity to the world, which has completely ruined Peter's life. Now he's a public menace, everyone is scared of him, the cops are harassing him, and his personal life is a mess. So he goes to Doctor Strange to ask if there's a magic-based way to make everyone forget all about it,
Wong (Bendict Wong) thinks that's a really bad idea but Strange ignores that advice and performs the spell. Except during the process, Peter keeps interrupting Strange, breaking his concentration and, causing the spell to shatter reality in the process. Whoopsie.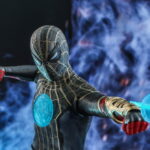 Also appearing in "Spider-Man: No Way Home" are Zendaya, Marisa Tomei, Jacob Batalon and Tony Revolori. And "Homecoming" and "Far From Home" director John Watts also returned.
"Spider-Man: No Way Home" hits theaters December 17, 2021.
Source: Read Full Article