The Transformation Of Ashley Darby From Childhood To 33 Years Old
The sensational, the beautiful, the bubbly Ashley Darby is a vital member of "Real Housewives of Potomac." While we're obsessed with all of the housewives from every city, Potomac really knows how to bring it. But it's no wonder with a cast that includes Wendy Osefo, Gizelle Bryant, Karen Huger, Robyn Dixon, Candiace Dillard Bassett, and Mia Thornton. Sheesh! There's no end to the perfection.
While all of the gals enjoy the finer things, one of them is richer than the rest (spoiler alert: It's Karen). And while there might be some healthy competition in the financial department, each of these ladies can hold her own and Ashley is no exception.
She didn't have an easy life, though. In fact, Ashley's had a remarkable transformation from early childhood to where she is now. She's happily married, a mother, and thriving as a reality TV star. How did this all happen? Keep reading to see her life story in pictures.
Ashley Darby's humble beginnings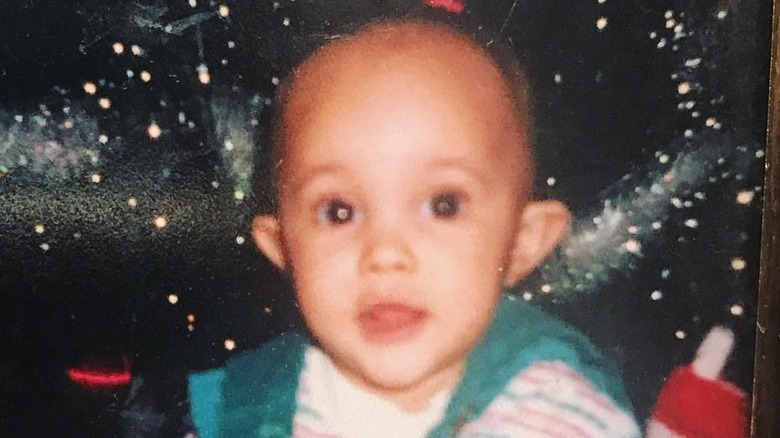 Ashley Darby didn't grow up in wealth. She was raised by a single mother in Sandy Springs, Maryland, according to The Washington Post. She spent time in Potomac with her grandfather, who had a lawn business. She was the oldest of three kids, and when she was old enough, she picked up several jobs to help out her mom, according to her Bravo bio. 
Ashley was partly raised by her grandfather because her father left when she was just 1 year old, according to The Washington Post. She told the outlet that she tried to add her father as a friend on Facebook. "He denied me like three times until he deleted it," Ashley said. "He doesn't want anything to do with me, and now I think he's ashamed" for disappearing. "How do you apologize to somebody for not being in your life for 27 years?"
When she turned 18, Ashley enrolled at the University of Maryland, but she worked as a bartender near Georgetown to keep herself financially afloat. It was actually while bartending that Ashley was discovered by the Miss District of Columbia Pageant — which she won in 2011.
Ashley Darby's happy marriage with Michael Darby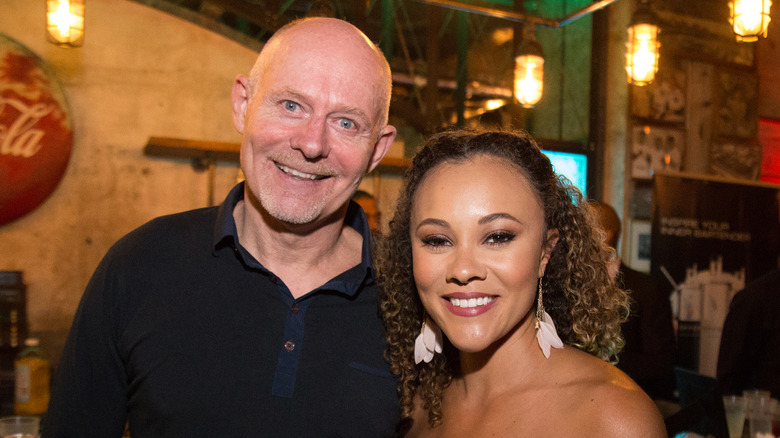 Ashley Darby's time of bartending allowed her to meet Michael Darby, an Australian who became a millionaire through real estate, according to her Bravo bio. Michael was a co-owner of the lounge and made his fortune, a whopping $20 million, thanks to his shrewd real estate dealings, according to Celebrity Net Worth.
The pair dated for four years and then tied the knot. Cute story: Michael proposed to Ashley while in a helicopter flying over the Statue of Liberty, according to The Washington Post. They had a destination wedding in Jamaica, and Michael rented out the entire hotel for their guests. They then visited Mount Kilimanjaro for their honeymoon. Love and travel ain't a bad combo!
What makes their marriage unconventional (and sometimes causes some judgement from Bravo fans) is that Michael is 29 years older than Ashley. Michael is already a father to two children who happen to be older than Ashley. But the pair clearly don't care what people think. They're thriving as a pair and became parents to two of their own. Here's that story.
Ashley Darby is a mama of two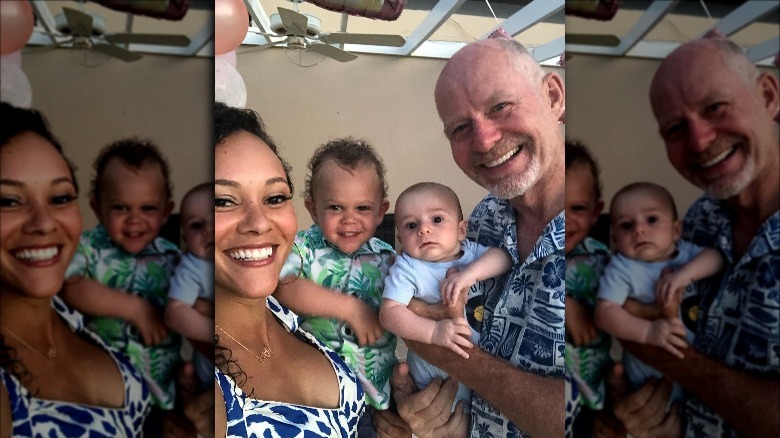 Ashley and Michael Darby welcomed their first son, Dean Michael Darby, in 2019, and their second son, Dylan Matthew Darby, in March 2021, according to People.
Ashley shares tons of photos of her sons on Instagram (Michael doesn't have social media), and when little Dylan was born, she captioned the photo by saying: "Dean loves being a big brother and covers the baby in kisses and hugs all the time. It's the most incredible bond to witness flourishing. Thank you for your well wishes and being patient as we settle into our new normal. This is even more amazing than I thought it'd be."
Ashley knows how to bring humor into motherhood too by sharing photos of herself breast pumping in some unexpected places. In one photo, she's pumping on a boat while on vacation. Earlier, in a video clip from the show on Instagram, Ashley is dolled up and pumping. It's all very funny.
Ashley Darby gets candid about her post-baby bod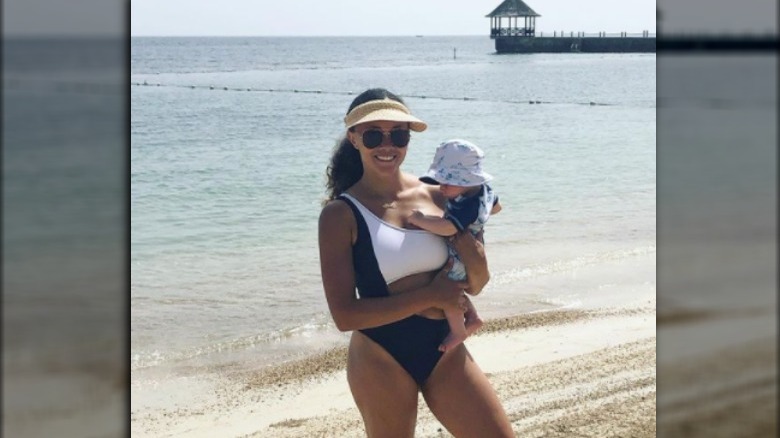 One of the reasons we love Ashley Darby so much is that she's been candid about the physical transformations she's gone through as a mother. The housewife visited Jamaica in June 2021, according to Bravo, a mere three months after giving birth to her second son, Dylan Darby. She shared a photo on Instagram of herself in a bathing suit with her baby. Shortly after sharing the pic, Ashley jumped on the platform to explain why she shared the photo.
"The reason that I posted that photo is because what has motivated me to take care of myself, to get healthy again, to feel good about myself, be who I am, is that there have been other women that have posted and I have just been so inspired by watching their journey," Ashley shared on her Instagram Stories, per Bravo. "So if I can help anyone feel inspired to start their journey — because I'm still on mine, believe me — I would just be so happy about that. So, that's why I posted it." We love everything about that!
Ashley and Michael Darby are entrepreneurs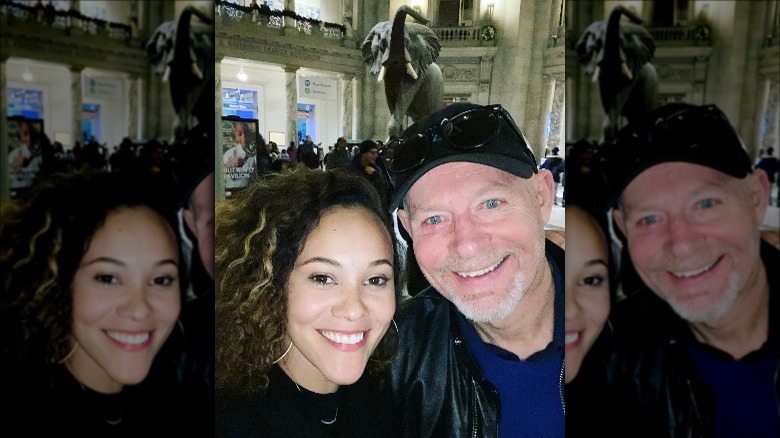 While Ashley Darby didn't grow up with money, she certainly has a taste for the finer things now — and access to them. It's convenient to have Champagne taste on a Champagne budget! As The Washington Post points out, when she was in college, Ashley shopped at Forever 21 and zipped around in a 1991 Honda Prelude. Now she can shop anywhere and gets from A to B in a Porsche 911 Carrera Cabriolet convertible.
Ashley and Michael know how to get their names out there and in fact, that's one of the main reasons they joined Bravo's "The Real Housewives of Potomac." The couple owns the restaurant Oz, near their home in Arlington, Virginia, according to the outlet. Their plan was to bring publicity to their restaurant through the show. Hey, it's not a bad plan! Ashley is also the founder of ZenGem, a line of athletic leisure-wear designed to bring inspiration to the wearer. So life has changed dramatically for Ashley. She's a reality TV star, a mother, and an entrepreneur. That's one impressive transformation.
Source: Read Full Article