The Truth About Michael Douglas Plastic Surgery Rumors
It can't be easy to be the husband of Catherine Zeta-Jones — even if you are, like Michael Douglas, part of the Hollywood elite. She topped People's "Most Beautiful" list soon after their first wedding anniversary in 2001, was voted the world's most beautiful woman in a global poll conducted in 2008 (per Express), and was named most beautiful British woman alive in a 2011 poll (per Wales Online) — and that's just to name a few!
Having a wife this gorgeous — and 25 years your junior — could make anyone question their own appearance. Interestingly enough, the "Fatal Attraction" star is actually the same age as her parents, Zeta-Jones told Larry King in a 2001 interview (per Entertainment Online).
And when discussing their daughter's graduation, he told Kelly Clarkson that "it's a little rough when you're going out the doors and the other parents are saying, 'Oh congratulations… you must be so proud of your granddaughter.' I said, 'Well, I don't know, man. Yeah, okay.' I'm not gonna take it personal, they're just trying to be nice."
But has Michael Douglas had plastic surgery to try and combat aging? Read on to find out the truth about the rumors.
Michael Douglas is rumored to have multiple plastic surgery procedures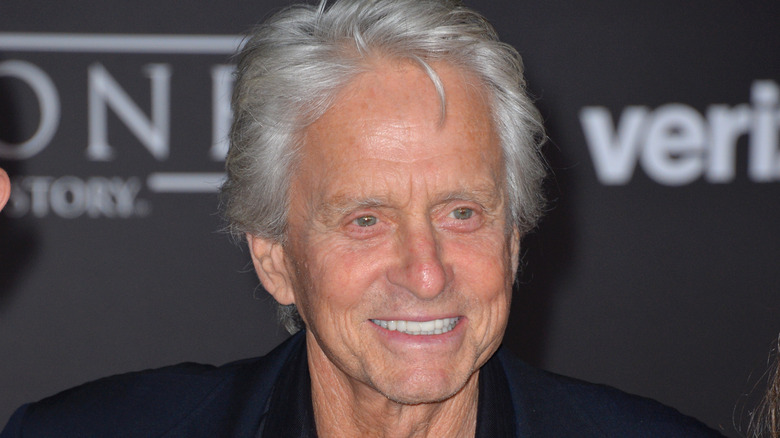 The media certainly loves to speculate about whether or not Michael Douglas has had plastic surgery. Several sources claim that Douglas has admitted to having a facelift before his wedding in 2000, but none seem to mention when this confession was made, so that alleged admission is impossible to verify. Plus, after being seated with Douglas at an event in 1999, plastic surgeon Gerald Imber told The New York Times that if Douglas had been under the surgeon's knife, the results are "remarkably natural-looking."
According to the Daily Mail, Douglas also reportedly had Botox and "face augmentation" in 2003 before the birth of his daughter — but again, that's just speculation. And in 2005, rumors surfaced again when photos were published of Douglas and Catherine Zeta-Jones arriving in Barbados that fueled speculation that Douglas had been under the knife. The photos show scars on both sides of his face, which were described as "tell-tale signs of surgery." According to The Inquisitr, however, Douglas' publicist said in a statement that the cuts were due to the removal of "non-cancerous lesions" rather than the result of plastic surgery.
While it's not impossible that Michael Douglas has had plastic surgery, there doesn't seem to be much concrete evidence to prove it. And if his wife's Instagram is anything to go by, she loves him just the way he is. But has Catherine Zeta Jones had cosmetic surgery?
Catherine Zeta-Jones says she's not opposed to plastic surgery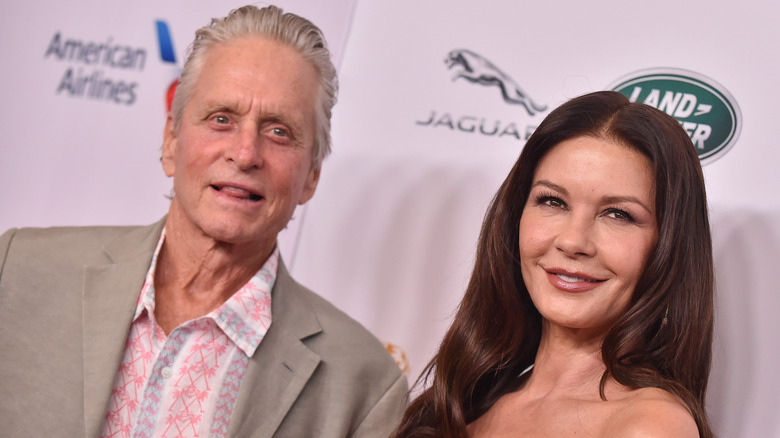 Catherine Zeta-Jones told Good Housekeeping in 2016 that she doesn't have a problem with cosmetic surgery if she feels she needs it. "I'm not anti-plastic surgery at all," she said. "Contrary to public opinion, I have not been under the knife… yet, is what I say! If I feel like it, I'm going to go ahead and do it! If (surgery) makes you feel better, who am I to tell someone that it's wrong?"
Along with her husband, Zeta-Jones has endured her fair share of rumors. According to the Mirror, in 2020, she was rumored to have had her face and eyebrows lifted, along with cheek implants and Botox. Experts interviewed by Yahoo, however, argue that Zeta-Jones is simply aging well due to a combination of stellar genetics and non-invasive treatments. "To have maintained her looks, I would say she's been a regular user of non-surgical treatments for many years," said Annemarie Gillett from Transform Cosmetic Surgery. 
No matter if the rumors are true or false, it's clear that both Catherine Zeta-Jones and Michael Douglas will have their undeniable good looks for years to come.
Source: Read Full Article