The Untold Truth Of Kate Winslet
British star Kate Winslet has been a Hollywood leading actor for decades thanks to her talent on screen. Her most recognizable film is the epic "Titanic" from 1997, where she played the female lead alongside Leonardo DiCaprio in director James Cameron's masterpiece. To land the role, Winslet was up against some fierce competition. She reportedly was the choice for the character Rose instead of Gwyneth Paltrow, Nicole Kidman, Madonna, and Cameron Diaz, per Vogue. What's more, while filming, the actor caught pneumonia because "she refused to wear a wet suit." 
Then, Winslet reached the peak of recognition amongst her peers when she won the Academy Award for Best Actress for her role in "The Reader." Amazingly, she originally turned down the role because of a scheduling conflict. Nicole Kidman took Winslet's place but dropped out after becoming pregnant, as reported by Variety. Winslet is also known for her performance in the popular indie film "Eternal Sunshine of the Spotless Mind." And she's been the star on two HBO miniseries, Mildred Pierce in 2011 and Mare of Easttown in 2021.
In addition to Winslet's stellar resume, her personal life often felt like a movie, from her romances to facing hardships both as a young woman and as an entertainment industry veteran. It's time to set sail and discover the untold truth of Kate Winslet.
Kate Winslet's long history of acting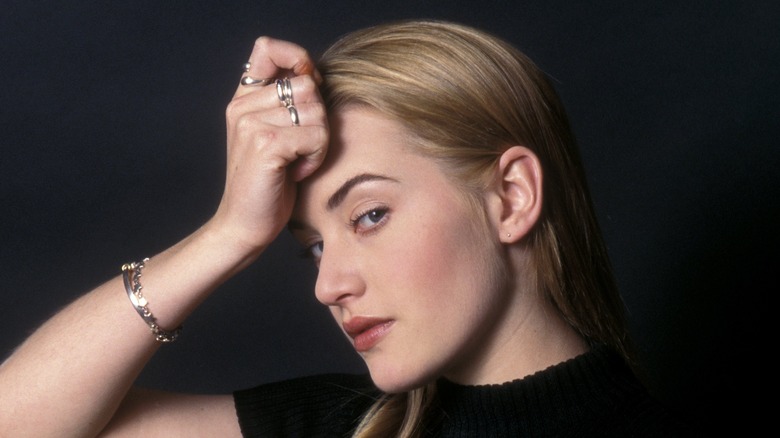 Kate Winslet's talented acting skills aren't the only ones in her family, as it appears the Winslets might have a secret acting gene. Her father is an actor, while both Winslet's sisters are actors. 
In an interview on "Good Morning America," Winslet also revealed her mother "comes from an acting family." Winslet shared that her first acting job was in a 1987 commercial. During the interview with Diane Sawyer, the host surprised Winslet with a clip of an ad for Sugar Puffs Cereal featuring a young Winslet. The actor said, "Is this the moment when you surprise me horribly with something hideous?" Walters added, "Look at you … what happened to the pigtails?" Winslet looked surprised and simply said, "Very strange moment right there."
As it turns out, the young girl in the ad wasn't Winslet. "I was the left arm," she later revealed in an interview years later. "I said 'that's actually not me' on live television. They didn't like me very much for that," the actor revealed.
The details of Kate Winslet's first relationship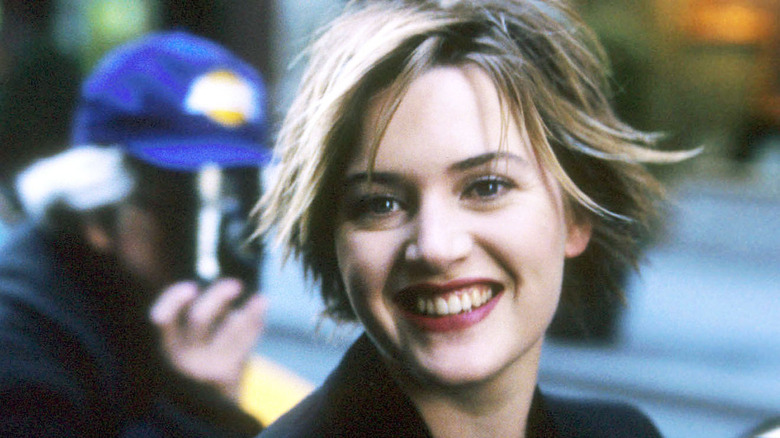 When she was a teenager, Kate Winslet was getting set for a role in the British TV series "Dark Season." While filming the show, she met Stephen Tredre, a writer and actor. The two began dating and stayed together for close to five years. As things became more serious between the two and as Winslet's acting career started to take off, the couple relocated to London. "Stephen made me feel embraced," she told the Independent. The actor added, "He was the most important person in my life, next to my family." Winslet was named to play Rose in "Titanic" and the movie was set for its Hollywood premiere. Then, sadly, Tredre died due to bone cancer. Winslet had to decide between attending the opening or attending Tredre's funeral. She chose to stay in England. 
Winslet recalled her decision to not attend the premiere led to a few insensitive calls from people involved with the film. In an interview with The Guardian, Winslet remembered people saying, "'Look, we understand, this must be a very hard time' and then they'd go on to say, 'but don't you think Stephen would have wanted it?'" The actor responded about her former boyfriend, "No he bloody wouldn't. Stephen would have wanted me at his funeral and I'm going to be there." Winslet added, "I was pretty alarmed by that."
Kate Winslet was teased as a child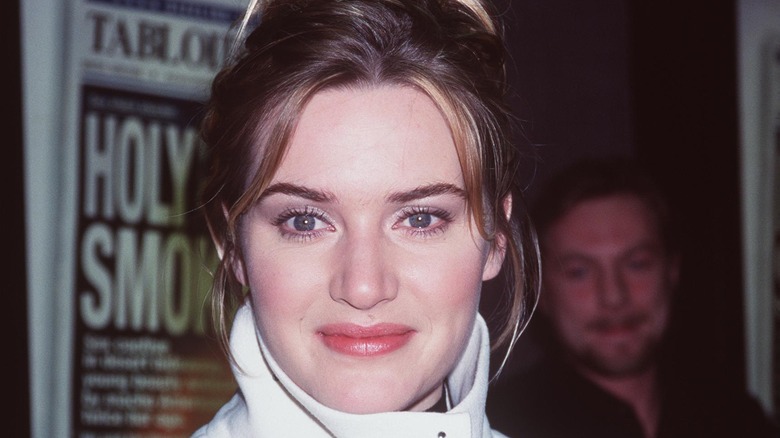 Kate Winslet is a gorgeous and dignified celebrity. But as a child, she faced a much different reception. "I was teased for how I looked," she revealed in an interview for CBS. According to the actor, "I was quite stocky as a child, and was very much teased for that." 
Winslet detailed to Parade that some of her classmates used to call her "Blubber" (via Marie Claire). This continued even as Winslet started to appear on television as a child actor. Later in life, when she reached the peak of acting recognition with an Oscar, she took time to address those same people who used to try to bring her down by calling her chunky. "I know that those nasty bullies are still out there and there I am, with a big gold statue in my hand," she said to CBS. Winslet called the win a "great fist-­pumping moment," especially "to say to those bullies, you know, 'Where are they?'"
Winslet used this negativity from her past to create positive messages for her fans, especially young women. She explained that most people see actors in beautiful dresses with incredible hair and makeup. And while Winslet told CBS that this is part of the job description as an actor, she was sure to clarify, "I feel very strongly that it's important to also say to young girls that we don't­­ look like that all the time."
Kate Winslet reveals her relationship with Leonardo DiCaprio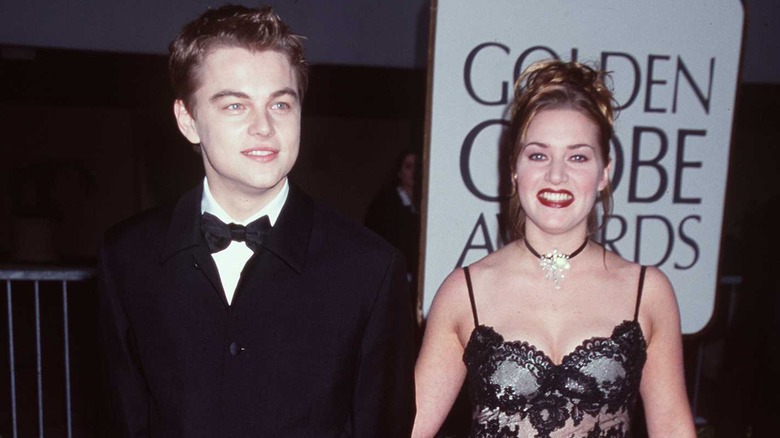 Though the two had already been in several films and were established actors, nothing could prepare Kate Winslet and Leonardo DiCaprio for their blockbuster smash. "Titanic" was an instant success and went on to become a classic movie. The pair played young lovers in the film with a heartbreaking ending, and their connection from filming withstood the test of time, with Both DiCaprio and Winslet staying friends after the debut. 
In an interview on "Lorraine," Winslet recounted what it was like to work with DiCaprio. "For Leo and I, it was seven months of very intense work. We were both really very young," she said. But she also divulged that the love interest was all an act and claimed, "we never fancied each other. I know that's really annoying to hear. I'm sorry but we really never did." Once Winslet grew up and became a mother, she could share the film with her children. The actor revealed that her kids and her kids' friends watched the film and often recite lines that she's forgotten.
When she and DiCaprio reunited for their work together on "Revolutionary Road," DiCaprio gifted Winslet with a sign of friendship. In addition to her wedding ring, Winslet reportedly wears a gold ring from her long-time acting friend. She teased to Flare that the ring has something engraved on the inside, "but I'm not going to tell you what it says."
A strangely familiar pandemic for Kate Winslet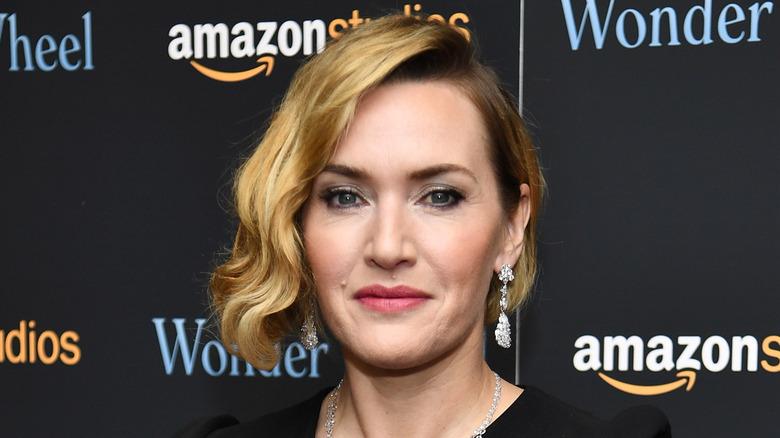 Back in 2011, Kate Winslet played the lead in the movie "Contagion." In the film, Winslet was an infectious disease expert tracking down a deadly virus. "Dr. Anne Schuchat, the petite, salt-and-pepper-haired director of CDC's National Center for Immunization and Respiratory Diseases, says Winslet's character was modeled on her career, and particularly her experience tracking SARS in China in 2003," NPR reported. Eerily, at the time of the film's release, the director of the CDC reiterated "that the film's scenario, in which a billion people are infected with a new virus, was designed for entertainment purposes." According to director Dr. Thomas Frieden, he only considered such an event as a "plausible worst-case scenario."
The film picked up a new life a decade later with viewers in quarantine during an actual global pandemic caused by COVID-19. This perplexed Winslet, who, while on "The Graham Norton Show," explained, "why would everyone watch 'Contagion,' it's about a horrible global pandemic in which many people die." In fact, her experience from the film helped her prepare for the real-life threat from the COVID-19 virus. The actor revealed she stayed in touch with the writer of "Contagion," Scott Z. Burns. He forwarded information from his connections at the CDC while Winslet was in Philadelphia filming a project. Burns convinced Winslet that she and her family to start wearing masks much earlier than other people. She remembered receiving funny looks for wearing a K-95 mask on the streets.
The worst movie of Kate Winslet's career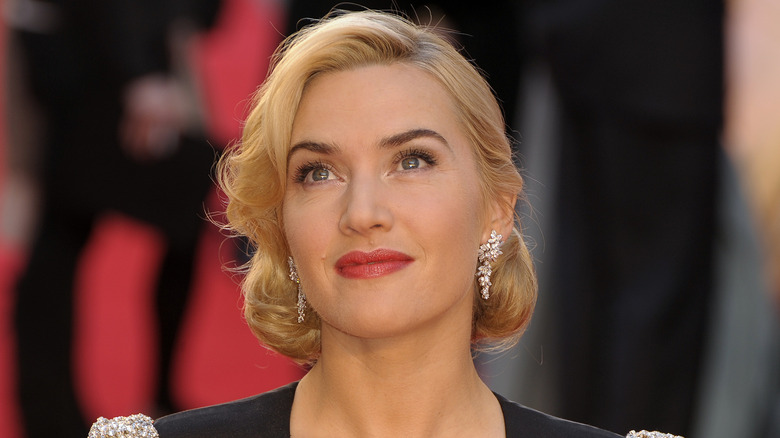 The Farrelly brothers are known for their comedies like "Dumb and Dumber" and "There's Something About Mary." And the one brother, Peter, used this clout to secure some of the biggest names ever for an experimental film of his. For "Movie 43," Peter Farrelly, along with 12 other directors, stitched different comedy sketches together with a loose storyline combining them all. 
The movie received truly terrible reviews, but the incredible cast featured Kate Winslet, Hugh Jackman, Halle Berry, Richard Gere, Uma Thurman, Gerard Butler, Naomi Watts, Emma Stone, and Dennis Quaid, per The Telegraph. Critics wondered how such a bad movie could host such a talented cast. And it was telling that almost none of the stars showed up to the premiere. Reportedly, the film's producer Charlie Wessler pitched the premise ten years before its debut. Thanks to his "stubbornness," he convinced Winslet and Jackman to appear in the film. The duo filmed their sketch together first. And over the course of several years, Wessler used their involvement to lure in other big names. Allegedly, some of the major actors "tried to back out when they realized what their roles entailed, but by then were already contractually committed."
The director Peter joked about the famous actors, "They clearly wanted out, but we wouldn't let them." He noted the strategy worked to "Wait for them. Shoot them when they want to shoot. Guilt them to death."
Kate Winslet has strong thoughts about salaries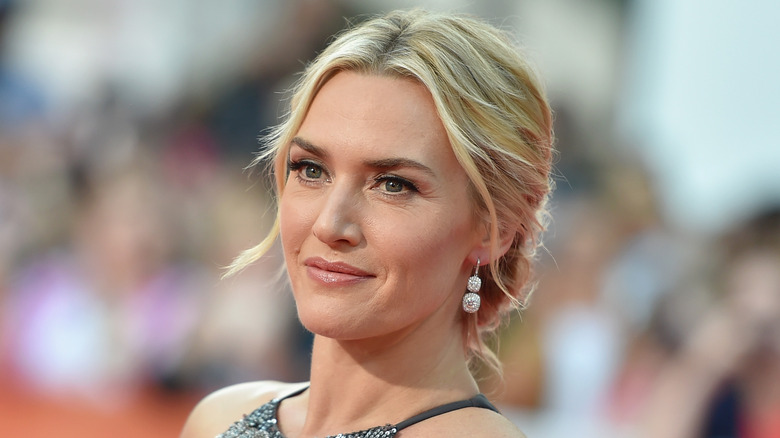 Several big-name actors in Hollywood have been outspoken critics of the entertainment industry and fought for equal pay amongst male and female roles. When this movement started to gain ground, interviewers asked Kate Winslet where she stood on the issue. "I'm having such a problem with these conversations," Winslet told BBC about discussing salary differences. She added, "I don't like talking about money; it's a bit vulgar isn't it?" According to the actor, she felt the topic around pay disparity between male and female actors was not "a very nice conversation to have publicly at all." In her experience as an established actor, she claimed, "I haven't ever felt that I've really had to stick up for myself just because I'm a woman."
Her comments caused some confusion and criticism from others who felt the movement for equal pay was an important step forward for Hollywood. Winslet further explained her comments in an interview for CBS. "So what I think is vulgar is to be talking publicly about actual earning of money," she said. The actor confessed the topic made her feel uncomfortable and even slightly sick. And while she didn't dive deeply into the discussion, she did admit that Hollywood didn't always write the paychecks equally. Winslet said that if all things were equal between a male and female in a film, prior acting experience, and the same size role, "You bet your bottom dollar it's wrong!"
The fashionable side of Kate Winslet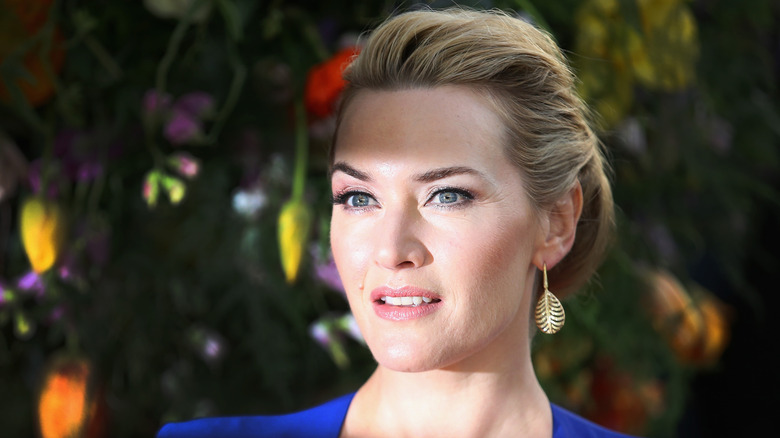 As such an outstanding actor, Kate Winslet has been involved with many critically acclaimed films. And with such a successful career in entertainment, she's been invited to the biggest events of the year, becoming a red carpet veteran. Winslet found success at an early age, so her first red carpet looks were sometimes great and occasionally disappointing. But over time, she developed her personal style and became known for her traditional Hollywood glamor looks. The actor told Vogue what it's like getting ready for evenings like the Golden Globes and especially the Academy Awards. "I try and stay calm! Ultimately I know that this is the biggest fashion show in the world, and the only way to cope with that is to wear something that makes me feel confident and elegant," she said. Plus, Winslet revealed her must-have item at these events is Spanx.
According to Winslet's stylist, the actor likes to take a "hands-on approach when it comes to her fashion choices for awards season," per Vogue. This included working with the Italian fashion house Armani to make sure her dress fit perfectly for the 2016 SAG Awards.
Even though she knows how to dress up for award shows properly, Winslet isn't always wearing spectacular gowns. She admitted that at home, her outfit of choice is strictly comfortable. And she revealed to CBS, "I even do the school run in my dressing gown, bathrobe and pajamas. Yup, absolutely."
Kate Winslet's on-set bumps and bruises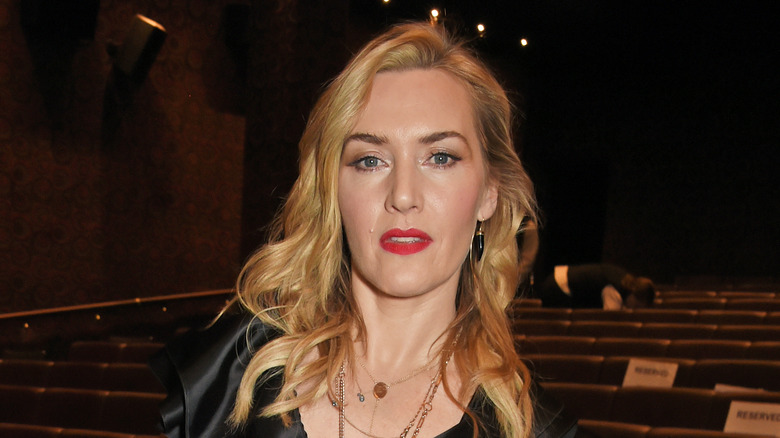 Kate Winslet isn't exactly known as an action movie star. And yet, her stories from filming include the bumps and bruises of a stunt woman. For example, she got arthritis in her big toe due to her role in the movie "The Mountain Between Us" with Idris Elba. In the film, her character Alex badly injured her leg. "The whole film I'm limping," Winslet said on the "Lorraine" talk show, revealing the physical characteristic she tried to portray. "I was loading all of my weight into my right leg on the shoot and limping throughout. It's just the wear and the tear throughout," she said. As a result, Winslet revealed she has to practice yoga while wearing sneakers, which causes people to give her funny looks. The actor said the injury hinders her too because she considers herself a very active person.
This wasn't the only time that filming movies became a dangerous job. On the set for the film "Triple 9," a chair accidentally fell on her big toe and broke it. But she kept it a secret from the cast and crew. "It hurt but I really had to downplay it" from the director, she told E!. Amazingly, Winslet pushed through the pain and squeezed her toe into a specific set of boots that the costume director loved. Even after the movie wrapped filming, the actor revealed that her toe still makes a clicking noise as a result of the accident.
Who is Kate Winslet's husband?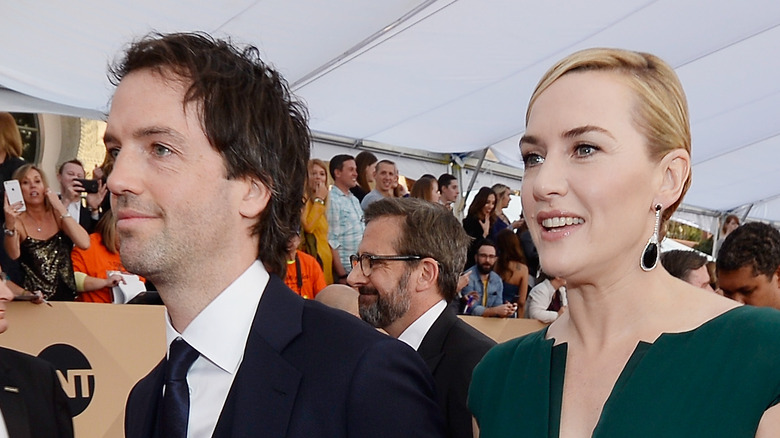 Kate Winslet used to be married to director Sam Mendes, known for his well-respected films like "American Beauty" and "1917." As Winslet's second marriage, she and Mendes were together for almost ten years before separating. Along the way, the two created art together like the critically acclaimed "Revolutionary Road." Winslet first read the screenplay and felt Mendes would be the perfect director — but she also wanted to reunite with her most famous co-star of the past. She then worked to get Leonardo DiCaprio to join the project, per Vanity Fair. 
In her personal life, neither Mendes nor DiCaprio were the perfect men for her love interest. Instead, she found romance in a tropical paradise. While vacationing on Necker Island, billionaire Richard Branson's private island, Winslet met Branson's nephew. Edward Abel Smith — who once officially changed his name to Ned Rocknroll — and Winslet grew closer during a scary incident on Necker Island. Due to a fire, people started to evacuate the campus, including Smith who was staying in an adjacent house. Winslet recounted to Entertainment Tonight that she grabbed "a bra and passports and my children," Then she spotted Smith as "the only dude to have a head torch and a pair of shoes, everyone else left everything behind." Winslet joked that she later married Smith because "I was like, 'I'll go for the guy with a head torch!'"
Kate Winslet played Superwoman in real life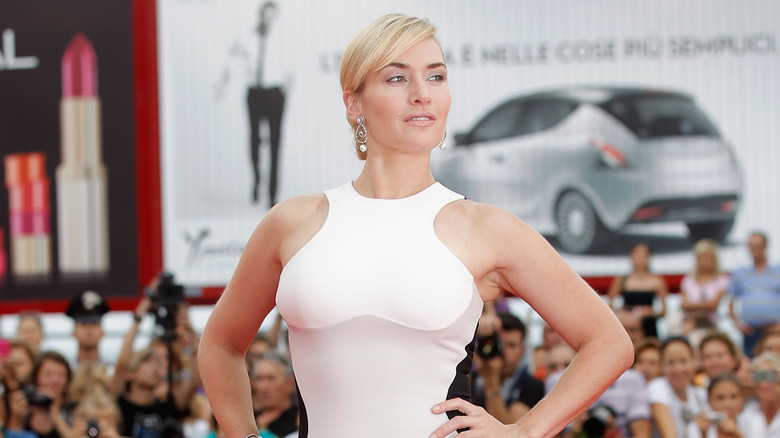 A day of rest and relaxation for Kate Winslet turned into a wild affair. She was vacationing with her two children in 2011 when a house fire started due to lightning from a tropical storm. While evacuating the area, she saw a 90-year-old woman and picked her up to carry her to safety. And this wasn't just some random visitor. The older woman was Eve Branson, the mother of the British billionaire Richard Branson. Richard also happens to own the island, which he bought in 1981. Though the "Great House" on the island was damaged, Winslet was "praised for her quick-thinking bravery after scooping Mrs. Branson into her arms and carrying her to safety as the house was engulfed in flames," The Telegraph reported.
After the heroic act, Eve recounted her side of the story — one much less exhilarating. "I'd just about got outside and the rain was pouring down and I didn't have my contact lenses in, but I was making my way out and Kate and her two children were behind me," Eve told The Guardian. She remembered that Winslet then "just sort of picked me up and took me down four steps and that was it." The media was quick to praise Winslet, Eve countered and added, "I'm sorry, I can't make a story out of it." The only thing Eve was willing to concede was, "I suppose I might have been a bit slow" for Winslet.
Inside Kate Winslet's life as a mom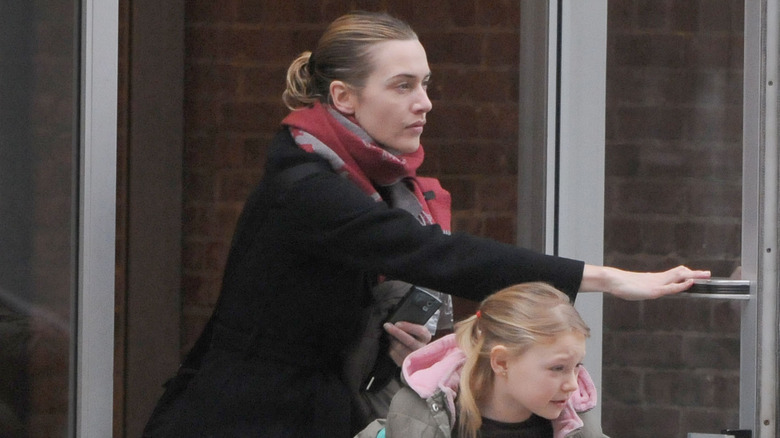 In 2014, Kate Winslet welcomed her third child. Together with her husband Edward Abel Smith, the two named the kid Bear. The actor told Glamour that her two older children, Mia Threapleton and Joe Mendes, have Winslet as part of their name "so it would be weird if this baby didn't." And she explained how Smith (or Rocknroll, at the time) wouldn't be tacked onto the name. "People might judge all they like, but I'm a f***ing grown-up," she said. The actor also shared intimate details that focusing on her appearance wasn't a top priority as a new mother. "Having just had a baby, I'm not going to be thinking about my arse," Winslet revealed. Instead, she explained that life as a mother seems like the perfect fit. According to Winslet, "family has played such a role in my life. It's my core, really."
The actor also explained how her life changed after growing her family. "Having children just puts the whole world into perspective. Everything else just disappears," she told Parade. And Winslet also explained that even though she was a famous actor, she wanted to perform what she felt were essential motherly duties for her kids. "I do want for them to look back and remember that it was me in the kitchen, that I was doing the packed lunches, that we were there on the school run, that we did take a bus," Winslet explained.
How much is Kate Winslet worth?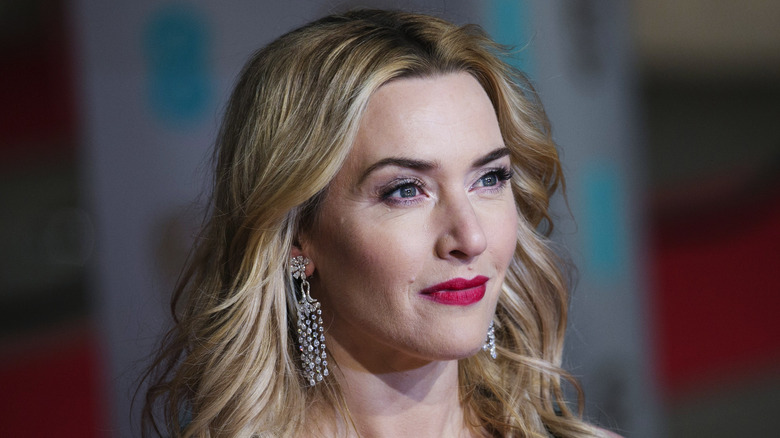 With a career in the entertainment industry since she was a young girl, Kate Winslet's acting credits are extensive. In addition to her major roles in "Steve Jobs" and "Revolutionary Road," she's also acted in charming fan favorites like "The Holidays." Winslet even joined the "Moominvalley" animated series as the voice of Mrs. Fillyjonk, per her IMDb page. 
But her biggest money-making film was "Titanic." For over 20 years, the drama was the highest-grossing film ever. Only in 2019 did the record finally end, when "Avengers: Endgame" passed $2 billion in earnings worldwide, as reported by Vanity Fair. All of these impressive projects summed up to a massive bank account for Winslet. As of 2021, Celebrity Net Worth estimated that Winslet was worth $65 million.
Even with her huge salaries and net worth, Winslet doesn't always show off her wealth. Instead, she prefers a quiet home life with her three children and husband Edward Abel Smith. The five of them live "in a small town on the English coast" in what CBS described as a "country henhouse." This includes bantam chickens to lay eggs for the family, which often excites Winslet. "You have to have a home and somewhere to run and hide," the actor explained. "Also, we're very fortunate. It's a lovely community where we live," she said about the charming small town. And even as celebrities, Winslet said that she and her family feel like "we're just part of the community."
Source: Read Full Article