What You Didnt Know About Dan Rather
In the annals of television news, there are few figures who loom larger than Dan Rather. Boasting a journalism career that extends from the 1950s to the present, Rather reached the pinnacle of success in the world of broadcast journalism, succeeding the legendary Walter Cronkite as anchor of "CBS Evening News." Along the way, Rather has "covered every election since 1964" and headed into the field to report on "crises and conflicts on five continents" (per the University of Texas at Austin's Briscoe Center for American History).
When Rather's career in network news came to a screeching halt due to a controversial piece of reporting about an American president, Rather didn't fade away; instead, he started anew at an upstart cable channel that allowed him to reinvent himself while retaining the decades of journalistic experience and credibility he'd built up to that point. 
Even though he's been a ubiquitous figure on the small screen for seven decades and counting, there's much to discover about the Texas-born journalist. Read on to learn what you didn't know about Dan Rather.
Dan Rather was responsible for television's first radar image of a hurricane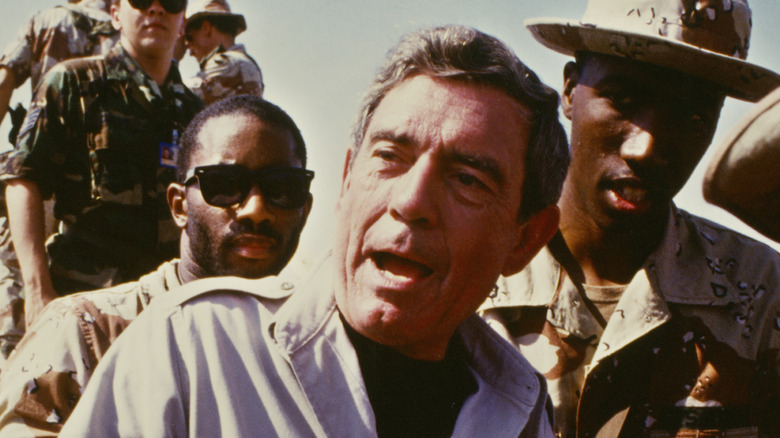 Dan Rather is more associated with hard news than the weather, yet it was a meteorological event that led him, on the spot, to come up with a television innovation that has endured for decades. As he recalled in "My First Big Break" for mediabistroTV, Rather was a rookie news director for Houston's KHOU back in 1961 when Hurricane Carla began barreling toward Texas' Gulf Coast. Sensing the hurricane would be a big one, Rather grabbed a camera operator and headed for the offices of the U.S. Weather Bureau in Galveston, Texas, with plans to broadcast from there. When he saw the storm on the radar console, he had "a scale map of Texas" placed on a transparent plastic sheet, which he laid over the radar display in order to provide viewers with a visual representation of the hurricane's size and location. 
Surprisingly, up until then nobody had thought to superimpose a map atop a live radar image. As The Atlantic put it, Rather's "MacGyvered broadcast was the first ever display of a meteorological surveillance radar on television."
When the station's program director saw what Rather had done, Rather said in "My First Big Break," "the whole studio group back in Houston said a collective 'Wow!'" Meanwhile, as noted in a KHOU retrospective, Rather's dogged reporting led to the evacuation of 350,000 people and caught the eye of legendary "CBS Evening News" anchor Walter Cronkite, who apparently recommended CBS News hire Rather.
Dan Rather was on the ground in Dallas reporting live on the assassination of JFK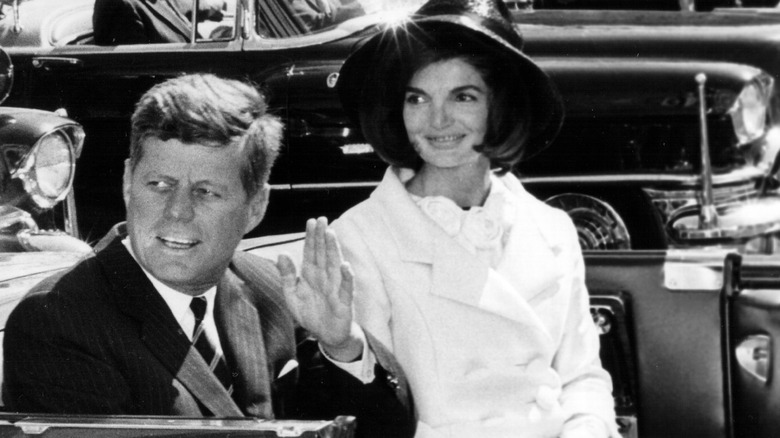 Dan Rather joined CBS News in 1962, eventually serving "[a]s chief of the Southern bureau," per Dan Rather's Briscoe Center biography. As it happened, he was on the ground in 1963 when then-President John F. Kennedy was assassinated in Dallas, Texas. Rather, in fact, was the first journalist to break the news that Kennedy had died. "My reporter's experience kicked in," Rather told KERA News of how he was able to confirm the president's death, well ahead of the official statement from the White House. "I managed to get through by phone to Parkland Hospital and that along with a number of other things led us to break a story that the president was dead long before the official announcement."
That tragic day proved to be a monumental one for Rather's career, propelling him to national attention and leading him to climb the ladder at CBS News. Yet, he told KERA News, the assassination had remained "a traumatic and cataclysmic event for me personally and for the country."
Decades later, Rather continued to be affected by that grim day in American history. "Well, the emotional impact, use whatever metaphor you want," Rather said in an interview with the Television Academy Foundation. "It's like a safe had fallen on me from 12 stories, [like] I had been hit by a Mack concrete truck or something. It was a tremendous hammer to the heart."
His one-word sign-off was instantly controversial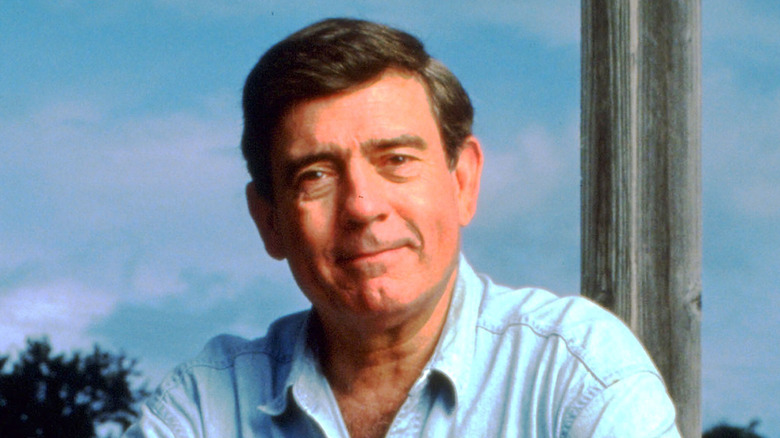 In 1980, CBS announced that Walter Cronkite would be stepping down from his post as anchor of the "CBS Evening News" after 19 years. His replacement, reported The Washington Post, was Dan Rather. Rather officially took over on March 9, 1981. While Cronkite was known for his signature sign-off, "That's the way it is," Rather initially offered a somewhat generic alternative: "That's our report tonight," Rather said in his debut newscast. "Until tomorrow, Dan Rather, 'CBS Evening News,' good night." 
A few years later, Rather concocted a new sign-off that was far more distinctive — so much so that it left many viewers confused when he started to end his broadcasts by stating his name and adding a single word: "Courage." The new sign-off wasn't exactly embraced by viewers, who responded with a collective, "Huh?"
Asked about criticism of his new sign-off, Rather took it in stride. ″Don't overanalyze it. There's no deep, hidden meaning,″ Rather said in a 1986 interview with the AP. ″It's a greeting and salutation that I've been using with friends for years. It's not a preachment. I just like the sound of the word.″ Years later, in a Reddit AMA, Rather explained that "courage" was "my father's favorite word." He also acknowledged that "the network brass" didn't love it. "For reasons that were never clear to me, they thought it was somehow dangerous or at a minimum, inappropriate and it ought to be stopped," Rather divulged.
Connie Chung blames Dan Rather for her firing as his co-anchor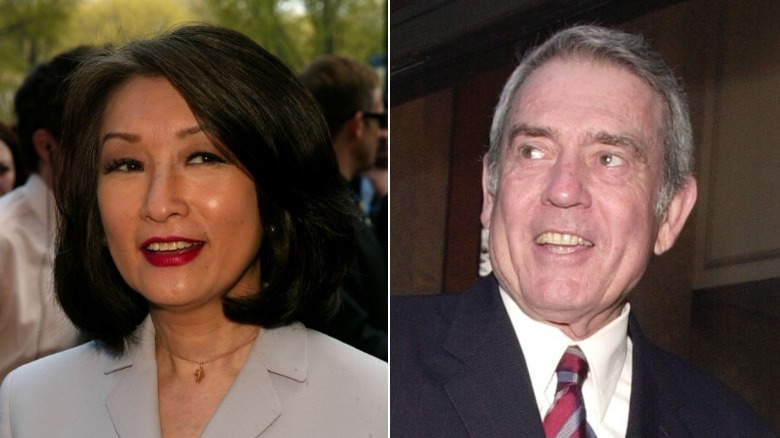 In 1993, CBS decided that its flagship news broadcast needed a bit of shaking up. As the The Washington Post reported, this resulted in Rather being joined by a co-anchor, Connie Chung. There were some colleagues who felt she was the wrong choice for "CBS Evening News," and they shared their concerns with the Post — anonymously, of course. "She's very bright but has absolutely no interest in news," snarked one, while another added, "She hasn't read a book in 20 years."
This on-air marriage of convenience was short-lived. In 1995, Entertainment Weekly reported that Chung was unceremoniously axed. Chung claimed her firing was due to sexism. Others, however, insisted the problem was that she simply didn't have the journalistic bona fides typically expected in that type of position. Rather seemingly backed that up when he scoffed at her journalistic credentials, per the The Washington Post. "Two trips to the Mideast do not make you a foreign correspondent," he said, adding, "I did on several occasions encourage her, not in any patronizing way, that to be really connected with the news, you really do have to read."
Decades later, Chung shared her not-fond recollections of working alongside Rather with Los Angeles Magazine's "The Originals" podcast with Andrew Goldman. "If I turned my back, I felt like I might be in a scene of 'Psycho' in the shower," she said. Connie Chung admitted, "I probably still hold a deep grudge."
Dan Rather exited CBS Evening News under a cloud of controversy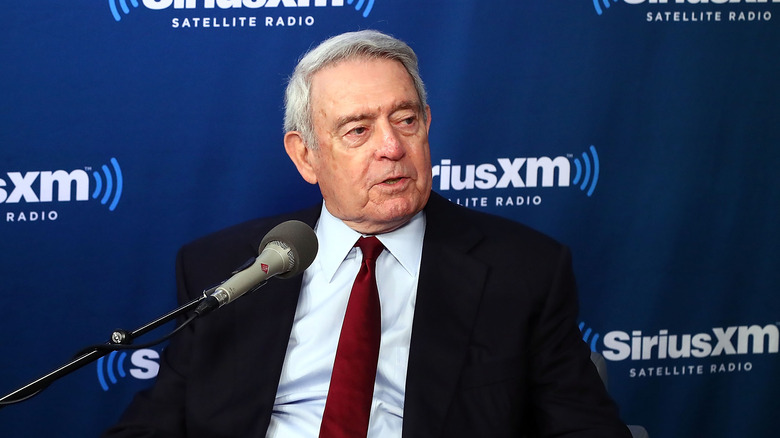 In 2004, Dan Rather reported on a "60 Minutes" story alleging that then-President George W. Bush was given preferential treatment when he served in the Texas National Guard. As The Baltimore Sun reported in January 2005, questions about the veracity of the documents at the heart of the story led to an internal investigation that found "basic journalistic steps were not carried out in a manner consistent with accurate and fair reporting, leading to countless misstatements and omissions in the reporting by 60 Minutes Wednesday and CBS News." Amidst the controversy, Rather announced that he would step down from "CBS Evening News," with his final broadcast for the network airing on March 5, 2005.  
A decade later, Rather told The Hollywood Reporter's "Awards Chatter" that, despite the investigation's findings, he stood by the reporting. "We reported a true story," he declared. "We didn't do it perfectly. We made some mistakes of getting to the truth. But that didn't change the truth of what we reported."
Looking back on the undignified ending of his tenure at CBS News, Rather admitted, "I've made my mistakes and have my wounds, some of them open, some of them self-inflicted." However, he also said he had no regrets. "I'm very proud of the career I had. I'm a great believer that you are what your record is, and my record there is what it is. For those who say, 'Well, but it didn't end very well,' I say, 'Well, life sometimes goes that way.'"
He lost a $70M wrongful dismissal lawsuit against CBS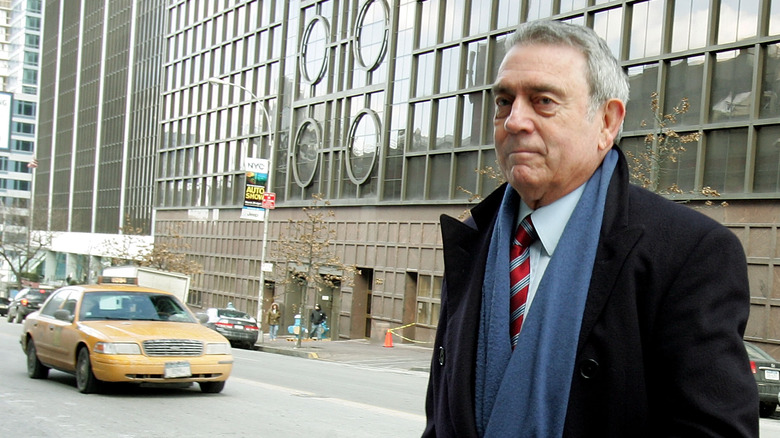 Two years after his ignominious exit from CBS News, Dan Rather struck back with some blockbuster litigation, hitting his former employer with a $70 million wrongful dismissal suit in 2007. The lawsuit, via an archived Fox News report, alleged that CBS had positioned Rather — who wasn't responsible for the reporting or vetting of information — as the "scapegoat" in order to "'pacify' the White House." CBS made Dan Rather apologize and "intentionally caused the public and the media to attribute CBS' alleged bungling of the episode to Mr. Rather," the lawsuit claimed. Rather was seeking "$20 million in compensatory damages and $50 million in punitive damages." A CBS spokesperson dismissed Rather's "complaints" as "old news," adding that "this lawsuit is without merit."
When the legal dustup finally concluded in 2009, it was CBS, not Rather, declaring victory. After a lower court denied the network's request to discard Rather's suit, CBS lawyers appealed to the New York State Supreme Court Appellate Division. As Reuters reported, that court ruled Rather's suit "should be dismissed in its entirety," and CBS reportedly characterized the case as "effectively over."
Rather appealed the decision, but in 2010, that appeal was denied. "Nobody likes to lose," a defiant Rather told the Los Angeles Times. "But I thought carefully before I went into this. I decided, win or lose, some things are worth fighting for. And this is worth fighting for. And I have no intention of giving up the fight."
Robert Redford played Dan Rather in a movie about the anchor's controversial CBS firing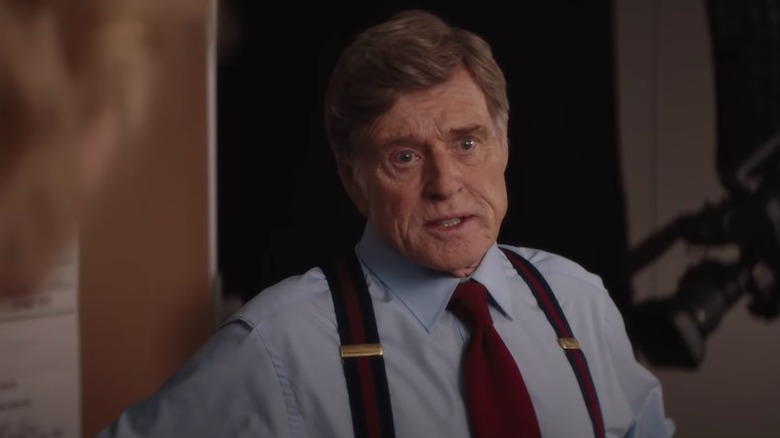 In 2015, the events underlying Dan Rather's legal battle with CBS were dramatized in the feature "Truth," with screen icon Robert Redford playing Rather. "This movie has no dragons or robots or sex," Rather joked during the Hamptons International Film Festival (via IndieWire), "but my hope is that it will broaden a new conversation… about the importance of the free, independent and necessary press as part of the red beating heart of democracy and freedom."
"Truth" was based on the memoir of Mary Mapes, the "60 Minutes" producer responsible for the problematic George W. Bush National Guard report. In fact, Rather told The Guardian, he was shocked to discover that a movie was being made about the controversy that cost his job. "I honestly thought it was a joke," he said of learning of the film. "But then the filmmakers came to see me. They wanted to know if Mary's book was accurate. I was pleased and surprised — powerful people would have preferred this film not to happen. But, after that, I had very little do with it." Rather also admitted it was "a somewhat surreal experience to see yourself being played by Robert Redford. He made me look better onscreen than I ever thought I looked."
As expected, CBS blasted the movie. "It's astounding how little truth there is in 'Truth,'" said the network in a statement to The Hollywood Reporter.
Here's Dan Rather's biggest tip about interviewing powerful people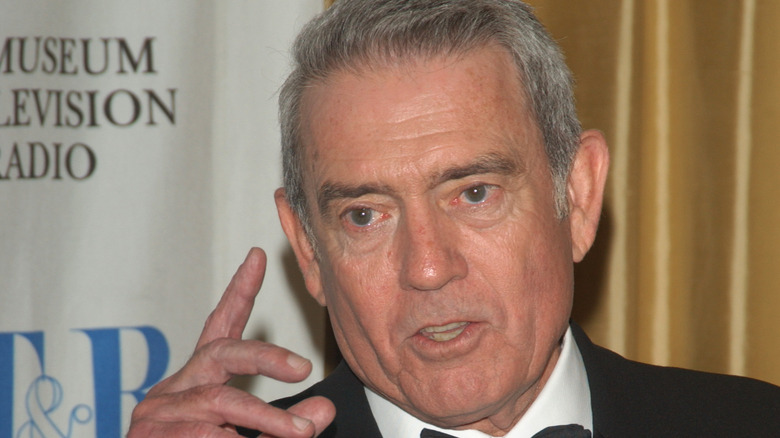 Dan Rather has proven himself to be an adept interviewer, querying some of the world's best-known people, ranging from heads of state to rock stars and more. In an interview with Vox, Rather was asked if he had a "secret for getting someone in the moment," and he offered a plainspoken and somewhat Rather-esque response. 
"There really aren't any secrets. I wish I had some secrets. I think what your mother and father always taught you about a firm handshake and look a person in the eye when they first come into the room. …trying to make strong eye contact, sometimes helps," he said. 
However, Rather also revealed he did have a few tricks up his sleeve when it came to focusing a recalcitrant subject whose mind may not be entirely present for the interview. When encountering that, Rather suggested asking "your most unexpected question and the question that requires the [deepest] look inside themselves… one way of getting them in the moment is to surprise them a little with maybe a personal question. 'We'll talk about who you are as a professional or a politician later, but who are you as a person?' That kind of question sometimes will jerk the person into the moment." 
How Dan Rather's reporting soured his relationship with Donald Trump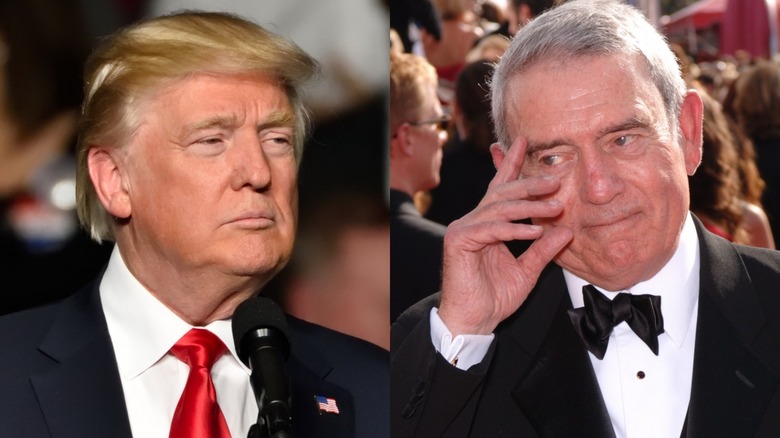 Dan Rather had known Donald Trump since the 1980s, and the journalist and future president had been on good terms with one another. However, that ended abruptly in 2000 when Rather anchored a "60 Minutes II" report on Trump's announcement of exploring a presidential bid. That report, People found, essentially told viewers that if Trump did run, then no one should take his campaign seriously, as it "would be 'basically about selling condominiums and golf course memberships and trying to elevate his brand.'" 
Trump, Rather told People, watched the report and "hated everything about it, and he let me know in one of those phone-pulled-away-from-your-ear type of situations." Rather — who'd come to view occasionally irking the rich and powerful as an occupational hazard — admitted he "didn't make too much of it at the time because if you do the type of journalism that I've tried to do over the years, such telephone calls are not new." Rather eventually came to realize that Trump was in a league of his own when it came to holding grudges when he perceived he'd been wronged. 
"He has said not a word to me since then," said Rather of Trump.
He was hilariously quizzed on his famed 'Ratherisms'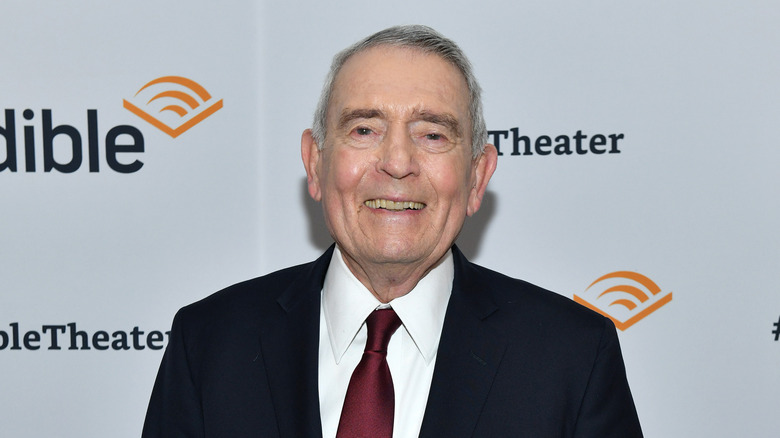 In addition to his reputation as a dogged journalist, Dan Rather also became famous for his folksy on-air sayings, which came to be known as
"Ratherisms." They included such gems as political races that were "hotter than a Times Square Rolex," or "as tight as the rusted lug nuts on a '55 Ford."
During a 2019 appearance on NPR's quiz show "Wait Wait… Don't Tell Me!," Rather was put to the test when he was presented with three folksy sayings, with only one of them his own. He was then tasked with identifying which were his actual words and which were made-up "Ratherisms." Rather proved that he could remember his own words, correctly guessing that he had uttered the phrases, "If a frog had side pockets, he'd carry a handgun," and, "This race is tight like a too-small bathing suit in a too-long ride home from the beach." He did not, however, remember saying, "If Clinton wins Florida, this race will go faster than a 'Hamilton' ticket at face value."
During his appearance, Rather also revealed that his sayings originated from his experience working in Texas oil fields as a youth. "This is the way men talk with one another," Rather explained. "You know, you can only say it's hot as hell so many times… So as the day wears on, you say, you know, it's hotter than a Laredo parking lot or some way to use colorful language."
Dan Rather built up a whole new audience on social media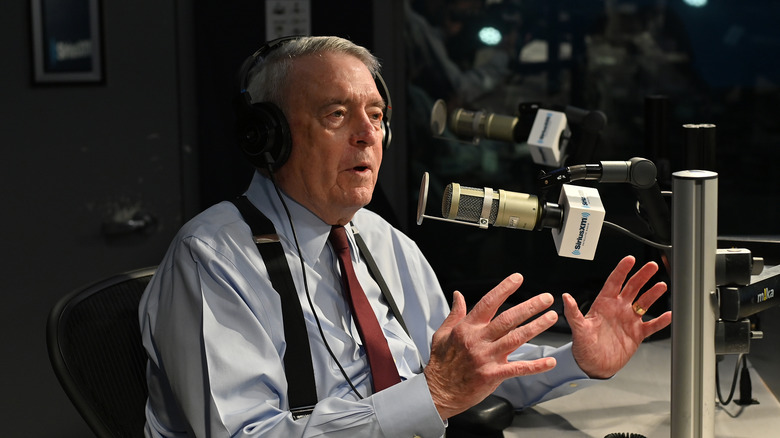 Following his departure from CBS, Dan Rather joined HDNet (later renamed AXS TV), hosting the newsmagazine series "Dan Rather Reports" and, later, his celebrity interview series, "The Big Interview." Shifting from network television to the scrappier world of cable demonstrated Rather's adaptability to emerging technologies that were changing the nature of broadcasting. Among these was social media, still in its infancy when Rather parted ways with "CBS Evening News" in 2006, but a force to be reckoned with in the years that followed.
The impact of social networking hit home for Rather in 2016 when he shared an essay he'd written on Facebook that wound up receiving more than 20 million views, along with "hundreds of thousands of" shares. "To find oneself speaking, metaphorically at least, to almost 20 million people — this last 24 hours has been the closest thing I have felt to the heyday of the 'CBS Evening News,'" Rather told The Atlantic. "Particularly given the startling reaction to this most recent post, which I will tell you staggers me — frankly, I feel like I've been transported to very deep outer space."
For Rather, then an octogenarian, social media represented a new journalistic frontier to explore. "I've gone through the print era, the radio era, the television era," he explained, adding, "Facebook and its offsprings are the future. It is going to be the way for journalists to reach an audience that matters."
The bizarre incident that inspired an R.E.M. hit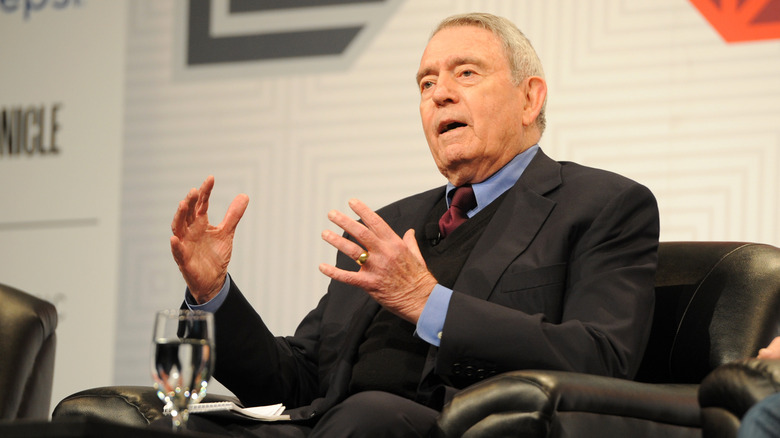 Arguably the weirdest incident in Dan Rather's storied career came in 1986, when he was accosted by apparent muggers near his home on Manhattan's Park Avenue. As The New York Times reported, Rather recounted being "chased, punched and kicked by two well-dressed men" who repeatedly uttered the phrase, "Kenneth, what is the frequency?"
Nearly a decade later, rock band R.E.M. recorded their 1994 single "What's the Frequency, Kenneth?," referencing the weird phrase allegedly uttered by Rather's assailants. While Rather was routinely mocked about the phrase and his bizarre encounter, he proved to have a sense of humor about it when he joined R.E.M. onstage during "Late Night with David Letterman" to duet the song with frontman Michael Stipe. 
Years later, Rather sat down with Stipe and R.E.M. bass player Mike Mills for his AXS TV series "The Big Interview." According to Stipe, who wrote the song, the band borrowed the phrase because it "represents inscrutability. It's the big question — no one knew what it meant. It represented trying, and trying, and trying but not arriving at any answer." Stipe also applauded Rather for being "such a good sport," remembering the time he sang with the band, although Rather thought of his performance as "one of my more embarrassing moments, because you know I can't sing at all." Deadpanned Stipe, "We figured that out in the moment, yeah."
Reporting the news has made Dan Rather wildly wealthy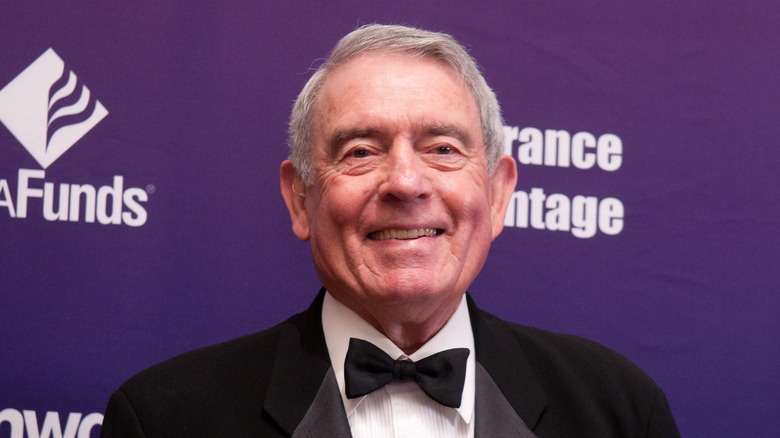 As a network news anchor, Dan Rather was well paid. Prior to becoming anchor of "CBS Evening News," Rather had entertained a lucrative offer from rival ABC News that would have allegedly paid him a reported $8 million over five years, The Washington Post reported. However, he stuck with CBS, despite a far-lower salary estimated at $800,000 per year.That number increased over the years. According to a 1998 report from The Buffalo News, Rather's then-contract bumped up his salary from $5 million per year to a hefty $7 million a year; based on information revealed in Rather's failed lawsuit against CBS, he was earning $6 million per year at the time he and the network parted ways. 
While the size of Rather's AXS salary has not been made public, it's a certainty that it's far less than he earned while at the pinnacle of network news. However, it appears that Rather hasn't been one to squander his earnings; according to Celebrity Net Worth, he has amassed a fortune estimated at $70 million. 
Dan Rather hasn't just sat on all that money. In 2006, he donated $2 million to Sam Houston State University, his alma mater (via KTRE). He's also spent his dollars on enjoying life. Rather previously co-owned Tecolote Ranch in Las Vegas, New Mexico with Donald Rumsfeld, Former Secretary of Defense. Rumsfeld and Rather sold their 10,000 acres in 2008 "for an undisclosed sum," per Austin Business Journal. 
Dan Rather gets quite the kick out of his Family Guy character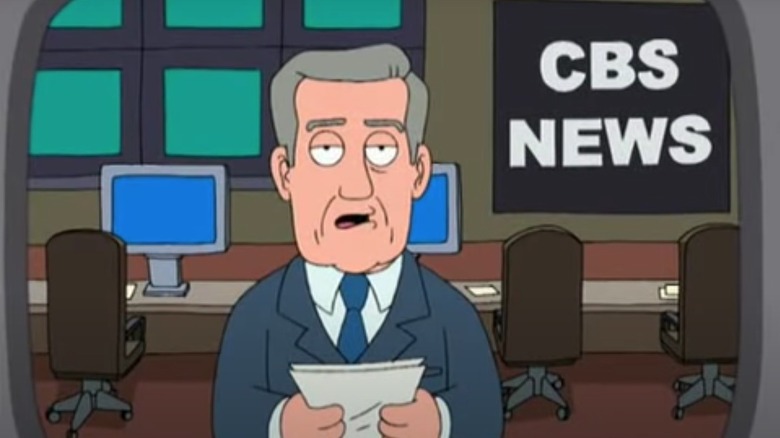 Dan Rather has been one of the many celebrities to be skewered on "Family Guy" and was once parodied memorably. In the scene, Rather's clipped vocal manner and sibilant pronunciation of words beginning with the letter "S" is spoofed when the animated Rather reads a news story declaring that "seven Saudi soldiers sodomized several of Saddam's southern settlement squatters." As Rather reads, each "S" becomes an increasingly longer whistle until steam finally begins blowing out of Rather's ear like a tea kettle.
In a Reddit AMA (via Waywire), Rather is seen watching the brief scene, having never seen it before. Rather begins to heartily laugh out loud when the visual punchline is revealed, when a stagehand enters the frame to lift up the animated news anchor and move him to another seat, thus causing the steam to subside. "So that's your reaction," an off-camera voice asks Rather of his laughter. "Exactly!" Rather declares. 
Source: Read Full Article