Trump blames Iran for tanker attacks, fears of confrontation rise
Washington: US President Donald Trump blamed Iran on Friday for attacks on two oil tankers at the entrance to the Gulf despite Tehran's denials, raising fears of a confrontation in the vital oil shipping route.
Iran has dismissed earlier US charges that it was behind Thursday's attacks that crippled two tankers. It has previously suggested it could block the Strait of Hormuz, the main route out for Middle Eastern oil, if its own exports were halted.
The blasts followed similar attacks a month earlier on four tankers, which Washington also blamed on Tehran.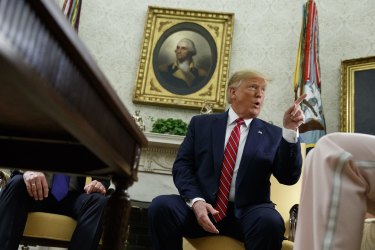 President Donald Trump speaks during a meeting.Credit:AP
Iran has repeatedly said it will not re-enter talks with the United States unless it reverses Trump's decision to withdraw from the nuclear deal.
Tehran and Washington have both said they have no interest in starting a war. But this has done little to assuage concerns that the two arch foes could stumble into a conflict.
Oil prices rose about 1% on Friday, reflecting the jitters. Insurance costs for ships sailing through the Middle East have jumped by at least 10% after the attacks, ship insurers said.
UN Secretary-General Antonio Guterres said on Friday that the truth needed to be established, after telling the UN Security Council on Thursday the world cannot afford "a major confrontation in the Gulf region."
The tanker attacks took place while Prime Minister Shinzo Abe of Japan – a big buyer of Iranian oil until it was forced by the new US sanctions to stop – was visiting Tehran on a peacemaking mission, bringing a message from Trump.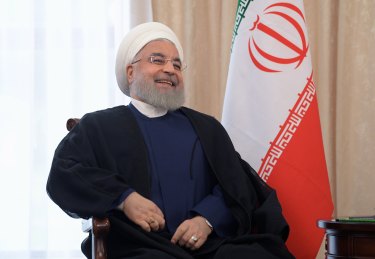 Iranian President Hassan Rouhani.Credit:Pool Sputnik
Iran dismissed Trump's message, details of which were not made public. "I do not see Trump as worthy of any message exchange, and I do not have any reply for him, now or in future," Iranian Supreme Leader Ali Khamenei said.
Trump and Abe discussed the oil tanker attacks in a phone call on Friday, the White House said.
The U.Smilitary said black-and-white footage it filmed from a US aircraft showed Iran's Guards on a patrol boat drawing up to the Kokuka Courageous and removing an unexploded limpet mine from its hull.
Britain said it took the matter "extremely seriously" and, if Iran was involved, "it is a deeply unwise escalation".
The Japanese-owned tanker, abandoned by its crew, was being towed to a port in the United Arab Emirates on Friday, after a Dutch firm said it had been appointed to salvage the ships.
The second tanker, the Front Altair, which was set ablaze by a blast, was still languishing at sea, although the fire that had charred the hull had been put out.
China, the European Union and others have called for restraint from all sides. In a notable signal that close US allies are wary of Washington's position, Germany said the US video was not enough to apportion blame for Thursday's attack.
Reuters
Source: Read Full Article